Having your pantry and fridge stocked with essential baking ingredients will save you time and stress all year long. In this post, I lay out 25 essentials baking ingredients that you should always have at home.
I bet some will surprise you!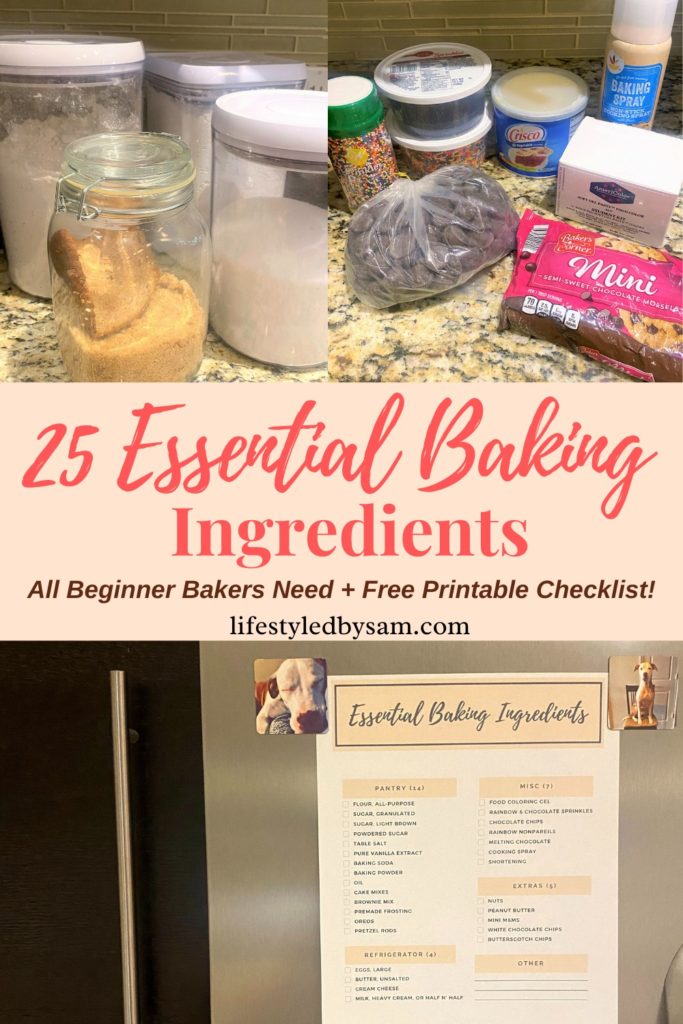 Have you ever wanted to make cookies at the spur of the moment? Or forget your friend's birthday and rush to whip up a cake after work? Or maybe you just want to save in the kitchen.
Whatever the reason may be, having your pantry and fridge stocked with these items is definitely a huge help and time-saver.
I keep a checklist of baking essentials on my fridge, and I'll check it before every other grocery store trip to see if I need to stock up on anything. You can get your own copy at the bottom of this post.
The 25 essential baking ingredients are grouped into the 'pantry', 'fridge', or 'other' categories. I've also included five 'extra' items that aren't essential, but definitely nice to have.
14 Essential Baking Ingredients For Your Pantry
1. ALL-PURPOSE FLOUR
There are so many different types of flour. There's cake flour, bread flour, self-rising flour, and more. Stick with all-purpose flour and you'll be just fine. I use it to make cakes, bread, and pastries. If you'd like to learn more about the different types of flours, and what they are best used for, check out Jessica Gavin's post on the Different Types Of Flour And Uses.
2 – 4. GRANULATED, BROWN, & POWDERED SUGAR
Similar to flour, there are a variety of different types of sugar. Unlike flour, you really need a few different types of sugar to have the baking essentials at home:
Granulated sugar is the all-purpose flour equivalent; it's multi-purpose and used in cooking and baking.
Brown sugar has a bit more flavor than granulated sugar and is commonly used in homemade peanut butter cookies and apple pie. Your options are light brown sugar and dark brown sugar; the only difference is the amount of molasses.
Powdered sugar, also known as confectioners sugar, is essential for frosting and icing.
To read more about the different types of sugars, check out The Kitchn's Sugar Guide.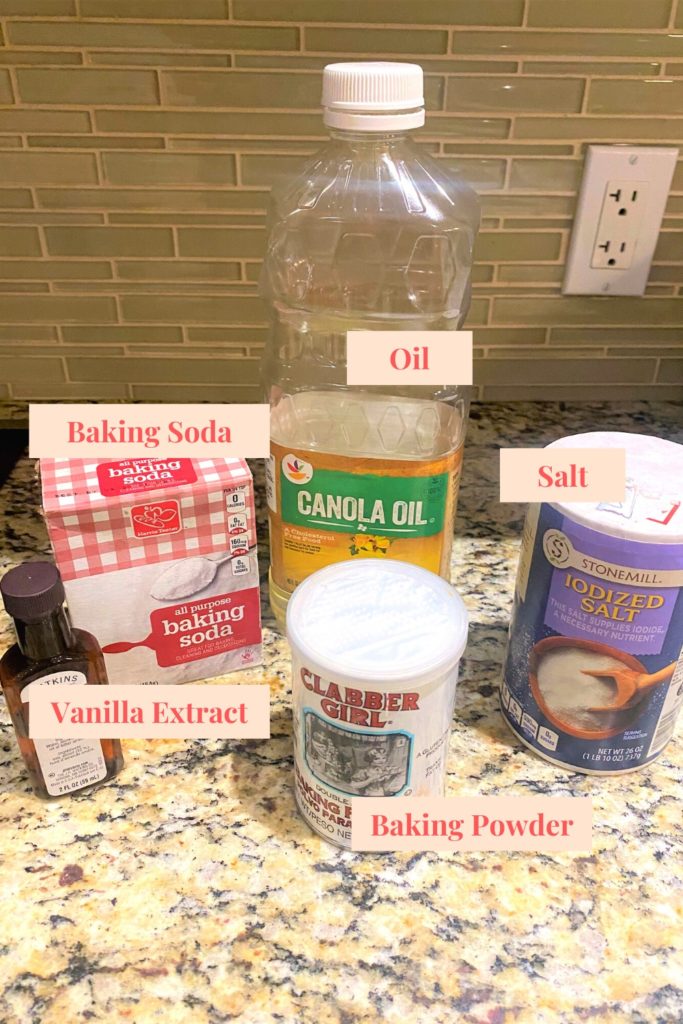 5. TABLE SALT
Simply put, salt enhances the flavor of baked goods. Table salt is perfect for everyday baking. For more information on the different types of salt, check out Country Living's guide on Salt Types.
6. PURE VANILLA EXTRACT
Vanilla extract also enhances the flavor of baked goods. Don't confuse pure vanilla extract with imitation vanilla extract; the difference is huge. It took me longer than I'm willing to admit to use pure vanilla extract since it is pricey. But I promise it is totally worth it. Note, if you're feeling up for it, you can also make your own vanilla extract.
7 & 8. BAKING SODA & BAKING POWDER
Baking soda and baking powder are leavening agents which help baked goods rise. While the names are similar, they are both different and not really substitutes; that's why it's best to have both at home. Check out Healthline's article about the Difference Between Baking Soda and Baking Powder.
9. OIL
You'll find vegetable oil on the back of most cake and brownie mixes. However, I use vegetable oil and canola oil interchangeably because canola oil has less saturated fat and don't notice a big difference in the end result. My recommendation is to have both at home, but you can't go wrong with just one or the other.
10. CAKE MIXES
Cake mixes tend to get a bad rap in the baking community, but I'm a big advocate for saving time and money, especially when it comes to hosting events. I like to have a box or two of both vanilla and chocolate cake mixes in the pantry and generally use the Duncan Hines or Betty Crocker brand.
11. BROWNIE MIX
Brownie mixes also tend to get a bad rap, but I am such a big fan. I believe both are perfect in a pinch, or just because! I recently tried the Ghirardelli brand for my Brownie Birthday Cake recipe, and it's my new favorite brand. Prior to that, I used Betty Crocker and Duncan Hines.
12. PREMADE FROSTING
I'll be the first to admit that store-bought frosting isn't the best and that you just can't beat a homemade vanilla buttercream frosting. But, sometimes, you just don't want to dig for the mixer or shift powdered sugar. Or, you are working on a relatively time-consuming recipe (like American Flag Brownies or Rainbow Cupcakes) and don't want to add homemade frosting to the picture. That's why it's always helpful to have a container or two of premade frosting at home.
13. OREOS
If you're surprised to see Oreos on a list of essential baking ingredients, you probably never made Oreo truffles before. These 3-ingredient 'cake' balls are always such a big hit on holidays or on my cookie trays. Aside from Oreo truffles, Oreos are a perfect snack to dip in chocolate and top with festive sprinkles (like I did on my Easter Dessert Charcuterie Board and my Patriotic Dessert Charcuterie Board).
14. PRETZEL RODS
Chocolate-covered pretzels are another perfect snack to dip in chocolate and top with festive sprinkles. I include them in almost all of my cookie trays because they are so easy to make and stay fresh for a few weeks.
4 Essential Baking Ingredients For Your Refrigerator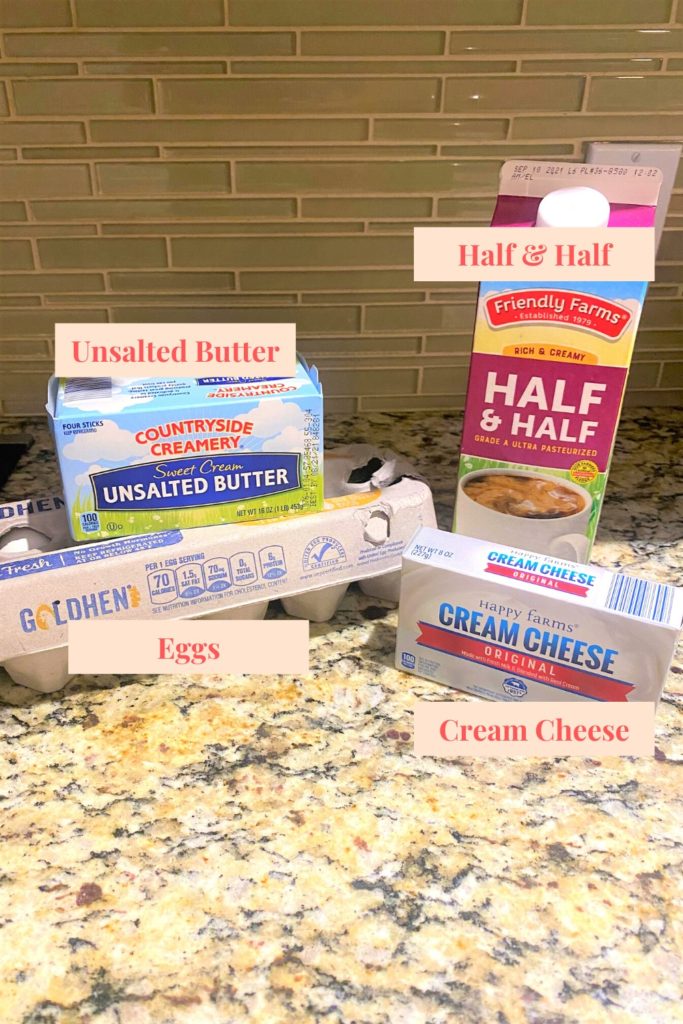 1. EGGS
Unless specifically noted in the recipe, you can assume the recipe calls for large eggs.
2. BUTTER
Butter is used in the majority of homemade baked goods and most recipes call for unsalted butter.
3. CREAM CHEESE
The primary reason I'm including cream cheese in the essentials list is for Oreo truffles, as discussed above. But cream cheese is also great to have at home for cheesecake, cream cheese frosting, and dessert cheese balls.
4. MILK
Generally, milk, heavy cream, or half and half will do. The more fat, the creamier the baked good will be. If you make homemade whipped cream often, I suggest heavy cream.
7 Other Essential Baking Ingredients You Need
Food Coloring Gel
Rainbow & Chocolate Sprinkles
Chocolate Chips
Rainbow Nonpareils
Melting Chocolate
Cooking Spray
Shortening
5 Extra 'Essential' Baking Ingredients
I wouldn't consider these ingredients 'essential' but I find it helpful to have these items in my pantry even if I don't reach for them all the time since they have a pretty long shelf life.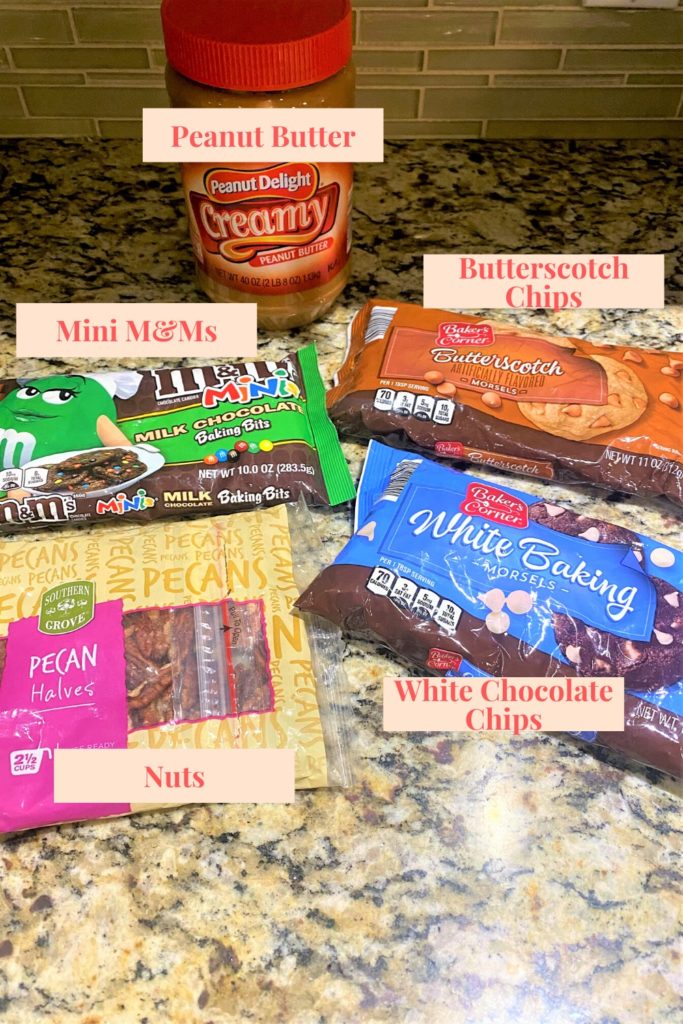 Nuts
Peanut Butter
Mini M&Ms
White Chocolate Chips
Peanut Butter
FREE Essential Baking Ingredients Printable Checklist
I Want To Hear From You!
Did you find this list helpful? Are there any other ingredients that you always like to have at home?
Share your feedback in the comments below, or DM me on Instagram at: @lifestyledbysam_
Recipes You May Like