Welcome to our blog post on creating the perfect Halloween Trick or Treat Table!
Halloween is a thrilling time of year when we can indulge in spooky delights and celebrate with friends and family.
As the autumn leaves begin to fall and the air becomes crisp, it's the perfect opportunity to gather everyone for a memorable Halloween party.
One essential element of any Halloween gathering is a creatively designed trick or treat table that will delight both young and old.
In this post, we will provide you with ideas and inspiration to help you craft a table that is both enchanting and filled with delectable treats.
So, let's dive in and discover how to create a bewitching display that will make your Halloween celebration truly unforgettable!
Table of Contents: Halloween Trick Or Treat Table
In this post, we will cover:
Once you're done checking out the six essentials below, be sure to check out my other Halloween recipes!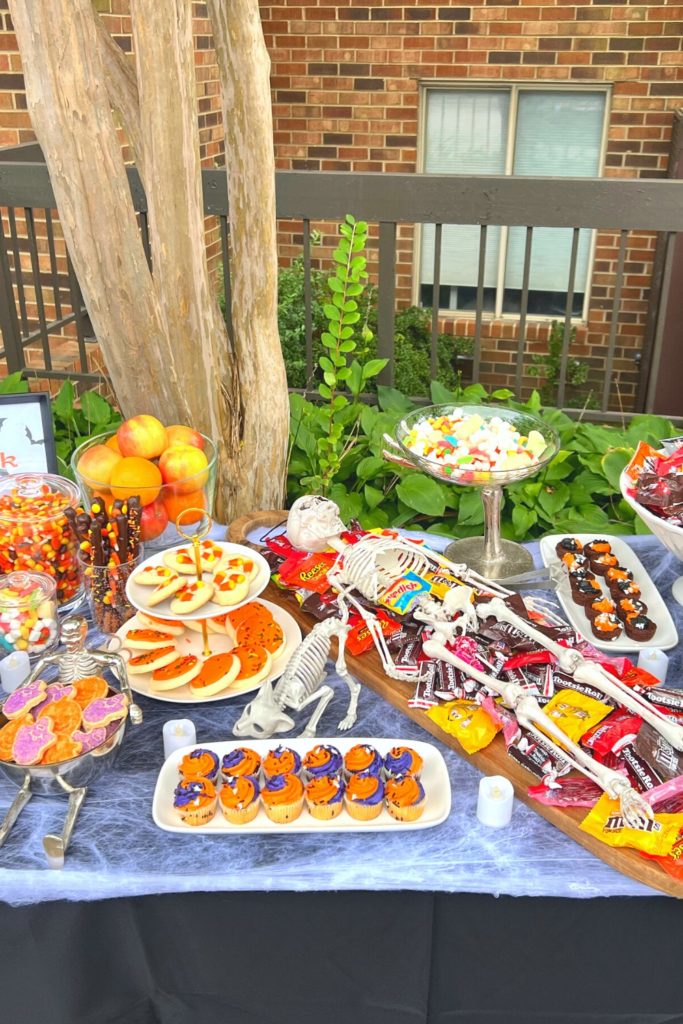 #1: Chocolate Candy
Chocolate Candy Bowl
Every trick or treat table needs a solid assortment of classic Halloween chocolates.
Think Reese's, Kit Kat's, M&M's, Tootsie Rolls, Reese's Pieces, Snickers, Milky Way, etc.
Full-size candy bars are always a plus.
Skeleton Board
Inspo for this skeleton board came from my Halloween Skeleton Charcuterie Board.
#2: Gummy Candy
Candy Corn and Candy Pumpkins
Candy corn and candy pumpkins are the quintessential Halloween candy.
I used these clear plastic jars for the candy and definitely plan to use them again for Thanksgiving and Christmas.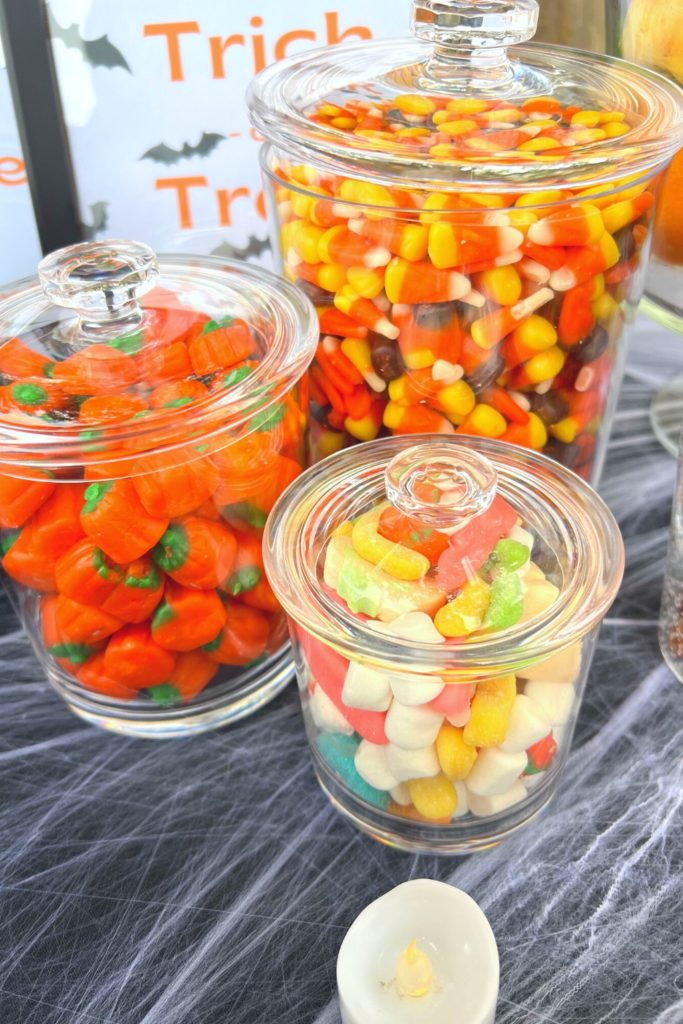 Halloween Candy Snack Mix
Believe it or not, everyone doesn't love candy corn and candy pumpkins so consider including one additional candy option!
I chose my Halloween candy mix.
Other options include gummy bears, sour gummy worms, gumballs, Twizzlers, and Skittles.
#3: Baked Goods
Everyone expects candy when it comes to trick-or-treating so make sure to exceed their expectations with some baked goods.
You can make homemade treats, buy them from the store, or choose a mix of both.
Halloween Cookies
This tiered tray contains homemade and store-bought cookies:
Store-bought frosted sugar cookies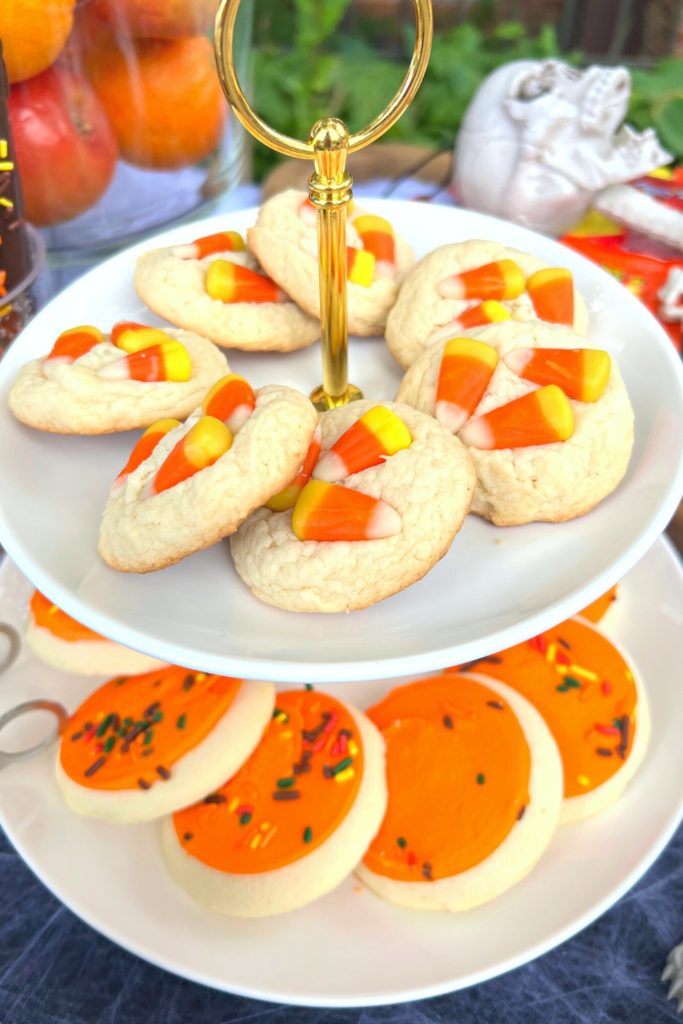 More Halloween sugar cookies! Any Halloween dishware is a bonus.
Halloween Cupcakes
These mini cupcakes are store-bought and so cute!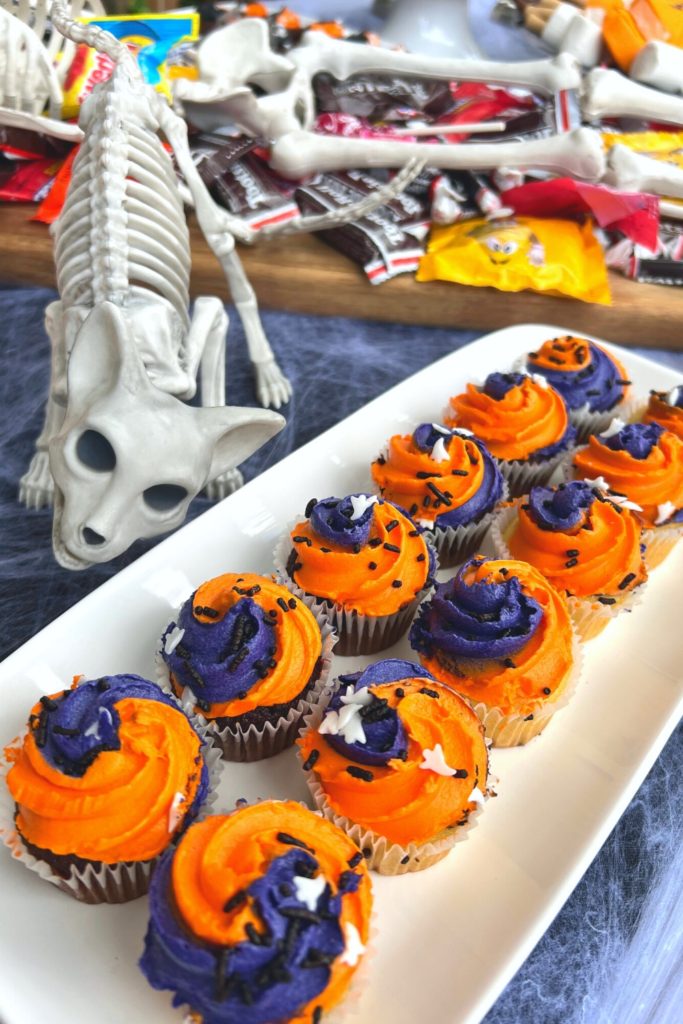 #4: Healthy Snacks
Is "#fortheparents" a thing?
Because that's what this section is all about 🙂
Balance out treats that are good for the soul with some treats that are good for the body.
Balance out treats that are good for the soul with some treats that are good for the body.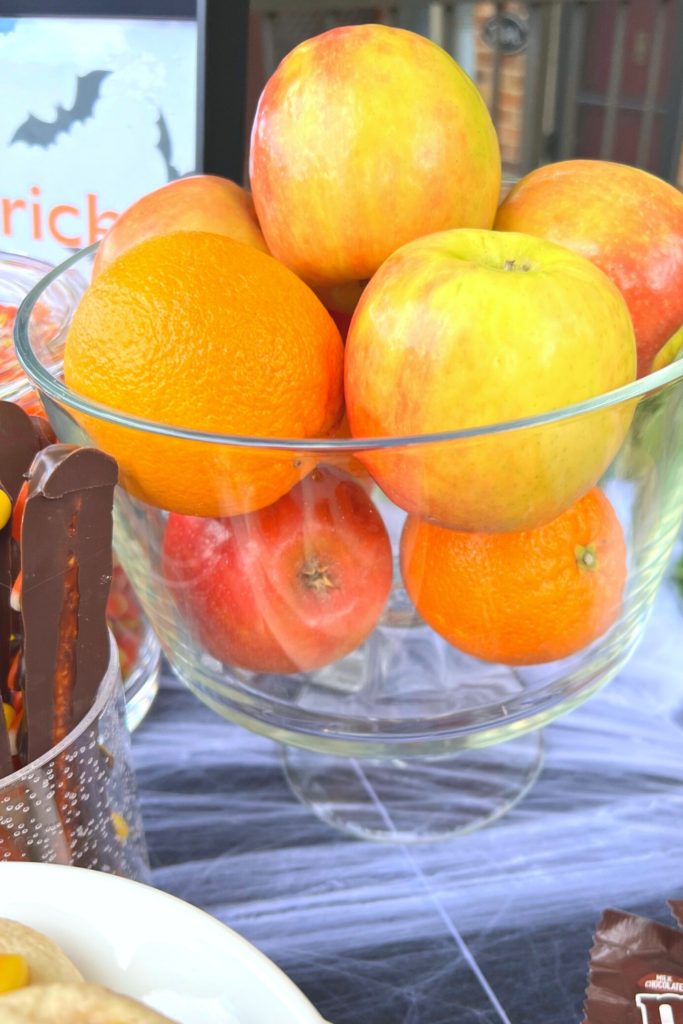 #5: 'Wow' Factor
Lastly, make sure to include a 'wow' factor in your Halloween trick-or-treats table, to make it memorable.
I chose my Halloween S'mores Board.
Kids (and adults) can take a little break to make a s'more as they are traveling through the neighborhood.
Another idea is a large punch bowl with ice hands floating in it. Or play Halloween music!
#6: Halloween Trick Or Treat Table Decor
Now that we've covered the 5 different treats, let's talk Halloween decor.
Here's what I included:
Black table cloth with cobwebs
Skeleton candlesticks
Halloween bowls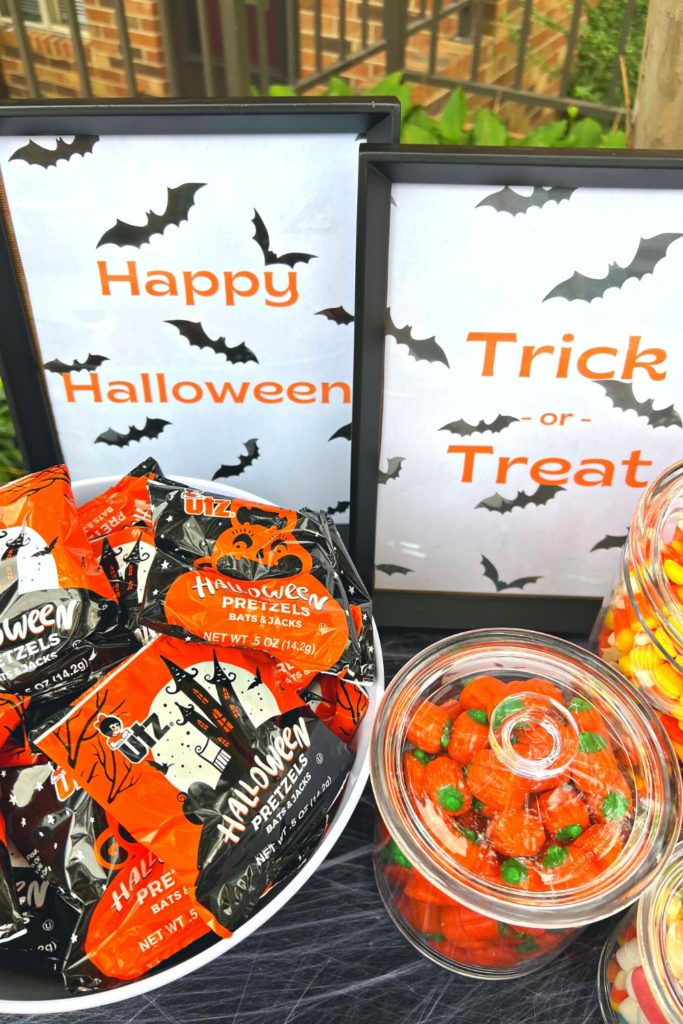 Halloween Trick or Treat Table Tips
Creating a captivating Halloween trick or treat table is an art that combines creativity, fun, and a touch of spookiness. To help you craft a table that will impress your guests and delight trick or treaters, here are some essential tips:
Consider Choosing a Theme: Set the tone for your Halloween party by selecting a theme for your trick or treat table. Whether it's a haunted graveyard, a witch's lair, or a cute and colorful pumpkin patch, a theme will bring your table to life and create a cohesive look.
Decorate with Spooky Details: Transform your table into a Halloween wonderland with eerie accents. Incorporate spiderwebs, bats, skeletons, witches' hats to add a spooky touch, or carved pumpkins as eye-catching centerpieces.
Offer a Variety of Treats: Fill your table with a diverse selection of Halloween candies and treats. From chocolate coins and candy bowls filled with ghoulish delights to non-candy treats like stickers or small toys, cater to different preferences and dietary restrictions.
Create a Visual Display: Arrange your treats in an appealing manner. Use tiered cake stands, colorful baskets, or decorative bowls to add height and visual interest. Consider organizing treats by color or type for a visually pleasing arrangement.
Provide Treat Bags or Containers: Make it easy for trick or treaters to collect their goodies by offering treat bags or containers. You can provide small paper bags, Halloween-themed buckets, or even personalized goody bags that guests can fill as they make their way down the table.
Engage with Interactive Elements: Make your trick or treat table interactive and engaging. Incorporate games or challenges that guests can participate in to win special treats or prizes. This adds an extra layer of excitement and fun to the experience. (I will be doing this next year!)
Consider Safety Measures: Place hand sanitizers or wipes on the table for both guests and treaters to use. Ensure that any candy wrappers or packaging are easy to open, especially for younger children. Safety should always be a priority during Halloween festivities.
Remember, the key to a successful Halloween trick or treat table is to let your creativity shine while keeping the spirit of the holiday alive. With these tips in mind, you'll be able to create a mesmerizing display that will leave a lasting impression on your guests and provide a memorable experience for trick or treaters. Get ready to enjoy a night filled with treats, tricks, and Halloween magic!
Make Your Halloween Trick or Treat Table Easy To Access
When setting up your trick or treat table, it's essential to prioritize accessibility. After all, you want to ensure that trick or treaters of all ages can easily reach the delicious goodies you've prepared. Here are some driveway table ideas and tips to make your Halloween trick or treat table easily accessible to everyone:
Strategic Placement: Position your table in a central location, preferably near the entrance of your house or in a visible spot in your driveway. This way, trick or treaters won't miss out on the treats while passing by.
Clear Pathways: Ensure there is a clear and spacious pathway leading to your table. Remove any obstacles or clutter that could impede the smooth flow of trick or treaters. This will prevent any accidents and allow for easy movement.
Level Surface: Make sure your table is on a stable and level surface. If you're setting up the table in your driveway, consider using wood blocks or sturdy table legs to create a stable foundation. This will prevent wobbling or accidental spills.
Kid-Friendly Heights: Adjust the table height to be easily accessible for children. You can use stacked crates or boxes underneath the tablecloth to raise it to an appropriate height. This way, even the littlest trick or treaters can reach the treats without assistance.
Clearly Marked Treats: Use colorful signs or labels to indicate the different types of treats available on the table. This will help trick or treaters quickly identify their desired goodies and make their selections without confusion. (I be doing this next year!)
Non-Candy Options: Consider incorporating non-candy treats into your display. This ensures inclusivity for children with dietary restrictions and offers a variety of options for everyone. Non-candy treats like small toys, stickers, or Halloween-themed trinkets can be a delightful surprise.
By implementing these ideas, you'll create a Halloween trick or treat table that is easily accessible to all guests. Whether it's the adorable witches or the excited neighborhood children, everyone will have a hassle-free experience as they reach for their favorite treats. So, assemble your table with care, decorate it with spooky details, and watch as the joy and excitement come to life when trick or treaters flock to your Halloween display.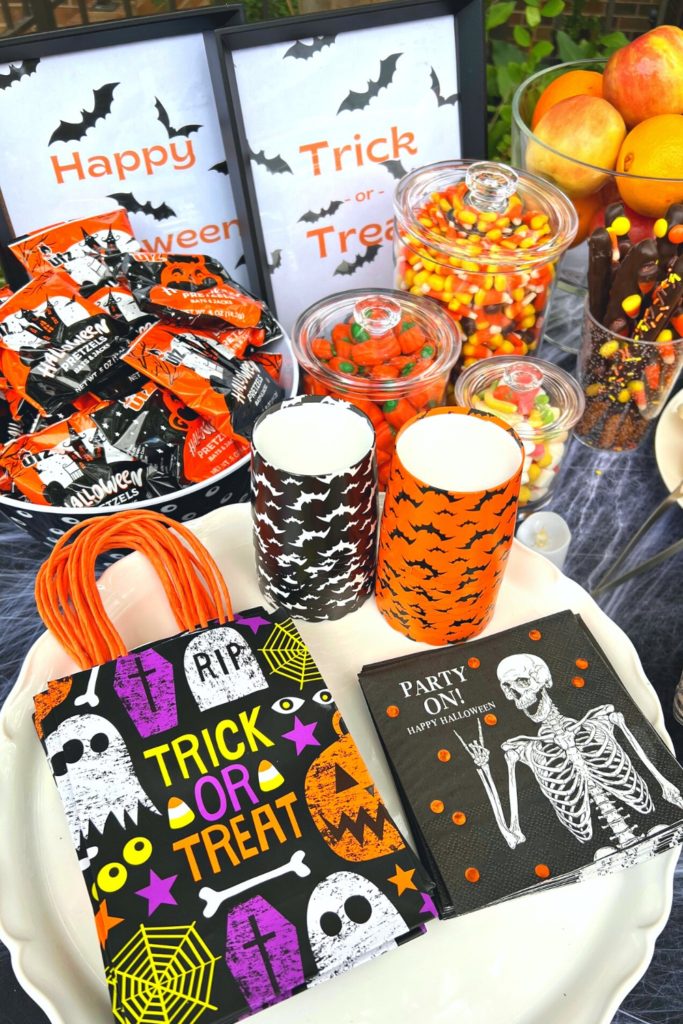 Conclusion
As the last trick or treaters venture down the dimly lit street, and the echoes of "trick or treat" fade away, it's time to bid farewell to another spooktacular Halloween.
The Halloween Trick or Treat Table you created played a significant role in the success of your celebration, enchanting guests with its irresistible treats and captivating decorations.
From the assortment of sweet Halloween candy to the ghosts to the pumpkins, your table became a centerpiece of delight and excitement.
The creative ideas you incorporated, from the candy-filled skeleton charcuterie to the fire flames, you transformed an ordinary table into a magical realm where tricks and treats came to life.
The smiles on children's faces and the joy shared by friends and family is a testament to the effort you put into creating an unforgettable Halloween experience.
Remember, the Halloween spirit is not limited to a single day, so don't forget to stock up on discounted candy and decorations for next year's festivities.
Until then, embrace the memories created, and let the spirit of Halloween linger in your heart all year round.
Happy Halloween!
Martha Stewart would be proud of you 🙂