Looking to recreate the magic of an Italian date night right at home?
Whether you're looking for a cozy evening in or simply want a special date night without heading out, "Italian Date Night At Home" is the perfect solution.
Immerse yourself in the beauty of Italian culture. Imagine setting the table with homemade pasta, the aromas of tomato sauce and garlic bread wafting through the air, accompanied by the soulful rhythms of Italian music. Pair your dinner with a curated wine tasting experience, exploring bottles from different regions of Italy. And for those who fancy a film, an Italian themed movie can be the cherry on top of your evening. This isn't just about food; it's about setting the mood, diving deep into the dolce vita, and experiencing a night in Italy without leaving your dining room. So, light those candles, pour that red wine, and say buon appetito as you embark on your very own Italian date night at home. It's so much fun and a delightful change from the usual Netflix routine.
Ready to dive into an evening of fun and Italian flair?
Let's get started!
Related: Date Night Ideas, Valentine's Date Night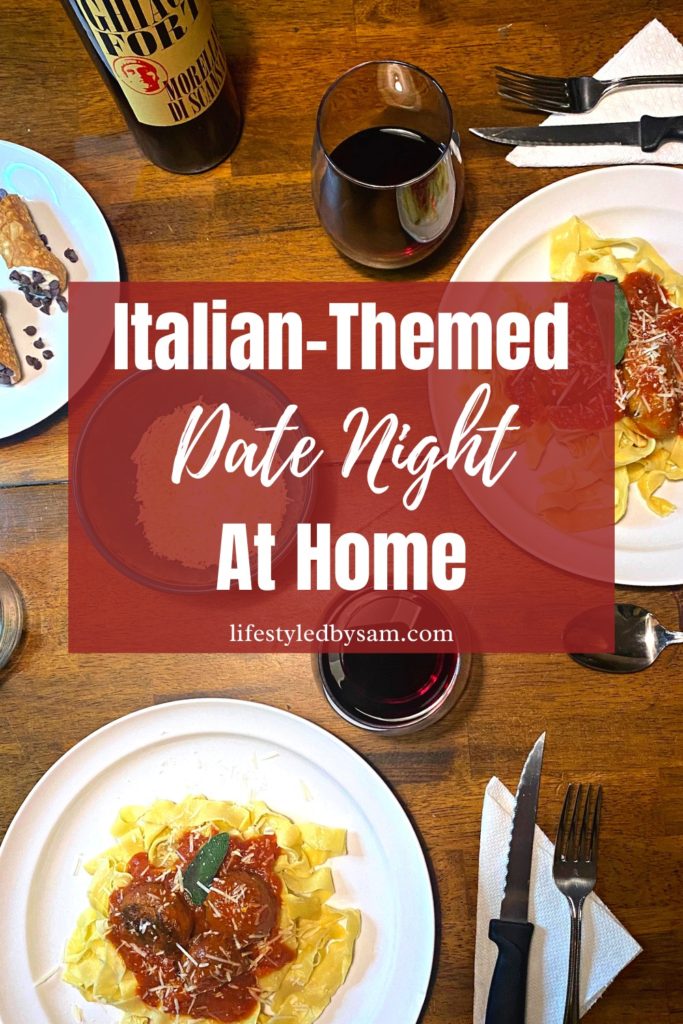 Are you looking for a fun and unique way to spice up your date night routine? Look no further than an Italian date night at home! In this blog post, we'll guide you through the steps to create a memorable evening filled with delicious food, wine, and a touch of Italian romance.
Say goodbye to ordering takeout and hello to a DIY experience that will make you feel like you're dining in the heart of Italy.
If you and your partner want to change things up, an Italian date night is the perfect solution.
How To Have An Italian Date Night at Home
This post lays out exactly what you need to do to have the best Italian date night at home in six steps.
Italian Date Night Ideas
Make Your Own Pasta
Make Your Own Cannoli
Do An Italian Wine Tasting
Watch An Italian Themed Movie
Learn Basic Italian Words
Dress Up
#1: Make Your Own Pasta
Nothing says Italian like homemade pasta. This Tasty recipe was informative and easy to follow. The recipe offers three variations of homemade pasta, each made with a different type of flour: all-purpose, '00', and semolina.
Each variation requires only four or five ingredients and makes four servings in about 1.5 hours. If you only want to make two servings for date night, cut the recipe in half, or freeze half of the dough (pre-shaped) in a Ziploc bag for up to a month.
How To Choose Your Pasta Shape
We choose pappardelle (aka fettuccine but wider) because it was the quickest and easiest. Thinner pasta would've required extra cuts (aka time) and seemed harder to work with. Bow tie pasta was much more time-consuming, and we wanted to stick with a more traditional shape.
How To Choose Your Pasta Sauce
Generally, creamy and buttery sauces pair best with wide flat pasta (like pappardelle), and tomato-based sauces pair best with thin rods, like spaghetti. However, we choose to pair our pappardelle with tomato sauce and meatballs, and it still tasted delicious.
Other Italian Date Night Meals
Not feeling pasta? Here are some other traditional Italian recipes for date night:
#2: Make Your Own Cannoli
Even though we were definitely full after our homemade pasta, we had to make cannoli for Italian date night.
We followed the cannoli filling instruction on the back of the cannoli shells we purchased from the local Italian store near us.
You can also buy cannoli shells on Amazon or make your own. I was impressed by Cooking Classy's recipe on how to make cannoli shells and filling.
#3: Italian Wine Tasting At Home
Pasta, cannoli, and wine are the Italian trifecta. We chose three red wines (purchased from Whole Foods) from different regions in Italy:
Rubicone: Globerati Sangiovese
Montepulciano: GRAN CONTI, Montepulciano d Abruzzo
Tuscany: Da Vinci Chianti
To make wine tasting even more 'official' and memorable, we used these printable wine-tasting forms.
FREE Wine Tasting Printable
Fill out the form below so we know where to send your wine-tasting printable!
#4: Watch An Italian Themed Movie
Pick an Italian-themed movie on your movie bucket list instead of the show you are currently binge-watching on Netflix. Here are some recommendations by genre:
Love: When in Rome, Letters to Juliet, Eat Pray Love
Superhero: Spider-Man – Far From Home
Thriller: The DaVinci Code, Angels & Demons, The Italian Job, Goodfellas, The Godfather
Action: Quantum of Solace
As you may have noticed in my Valentine's Day Date Night post, I love decorating my dresser below my TV for the theme of date night.
The best part is that it doesn't cost a lot of money to do this.
I simply light my candles and move my plants from the living room to my bedroom and 'decorate' with other items used during the date (wine and cannoli).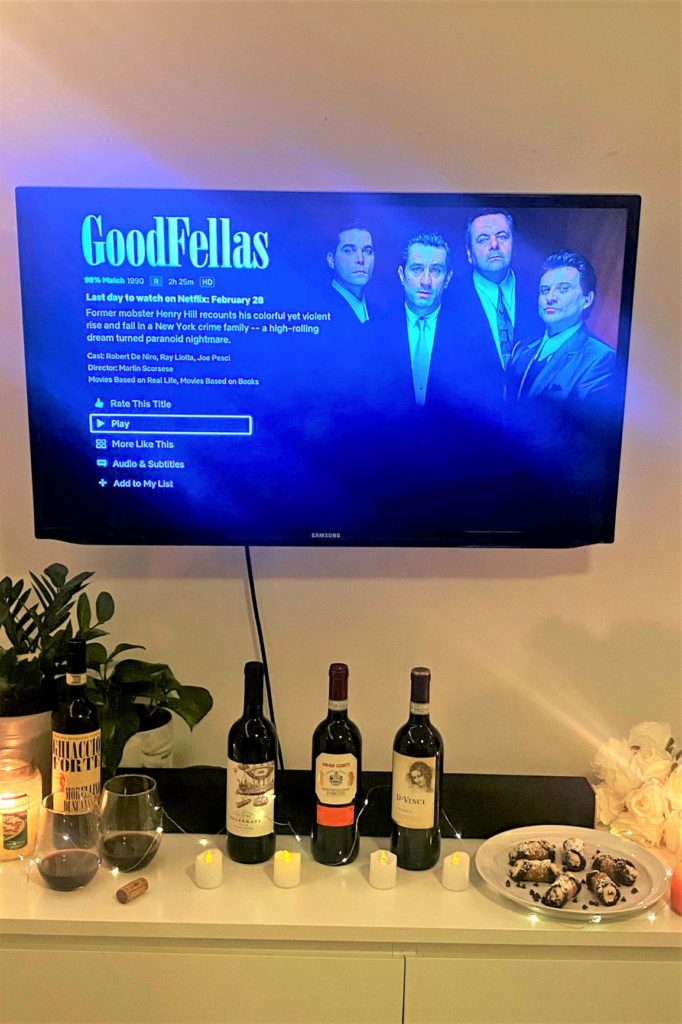 #5: Learn Basic Italian Words
These basic Italian words are not only essential if plan on traveling to Italy, but they can easily be used throughout the night while you're cooking and enjoying dinner together:
Si = Yes
"Would you like more wine?"
"Si."
No = No
"Would you like another cannoli?"
"No."
Per favore = Please
"Pass the mozzarella, per favore."
Grazie = Thank you
"Pass the mozzarella, per favore."
"Grazie."
Prego = You're welcome
"Pass the mozzarella, per favore."
"Grazie."
"Prego."
Mi scusi = Excuse me
Buna note = Good night
#6: Dress Up For Italian-Themed Date Night
Complete your Italian date night at home by getting dressed up. I recommend this Pretty Garden semi-casual long sleeve dress from Amazon for Italian Date Night.
Italian Themed Date Night: Conclusion
As we draw our Italian inspired date night to a close, it's evident that the magic of Italy can truly be captured from the comfort of our homes.
From the handmade pasta to the melodies of Italian music in the background, every moment spent during this special date night is a testament to the beauty and allure of Italian culture. It's more than just food; it's an experience that transports you straight to the bustling streets of Rome or the romantic canals of Venice.
With every bite of garlic bread and sip of red wine, you're not only tasting ingredients but centuries of tradition, love, and the very essence of the dolce vita. And while jetting off to Italy might not be on the cards right now, creating your own Italian date night at home is a delightful alternative. It's been an evening filled with fun, laughter, and authentic Italian flavors that will surely be remembered for weeks to come.
So light those candles, pour another glass of wine, and let the taste of Italy linger on your palate.
Here's to many more creative date nights and to always finding joy in the simple pleasures of life.
Buon appetito!