Ring in the New Year with a festive New Year's Eve Party At Home! This easy guide will show you how to set up a fun and stylish table filled with appetizers and snacks for your celebration.
With just a few simple steps, you can create a beautiful display that will wow your guests. So get ready to toast to the New Year with style!
Related: New Year's, New Year's Dessert Table
This post may contain affiliate links, which means I'll receive a commission if you purchase through my links, at no extra cost to you. Please read the full disclosure for more information.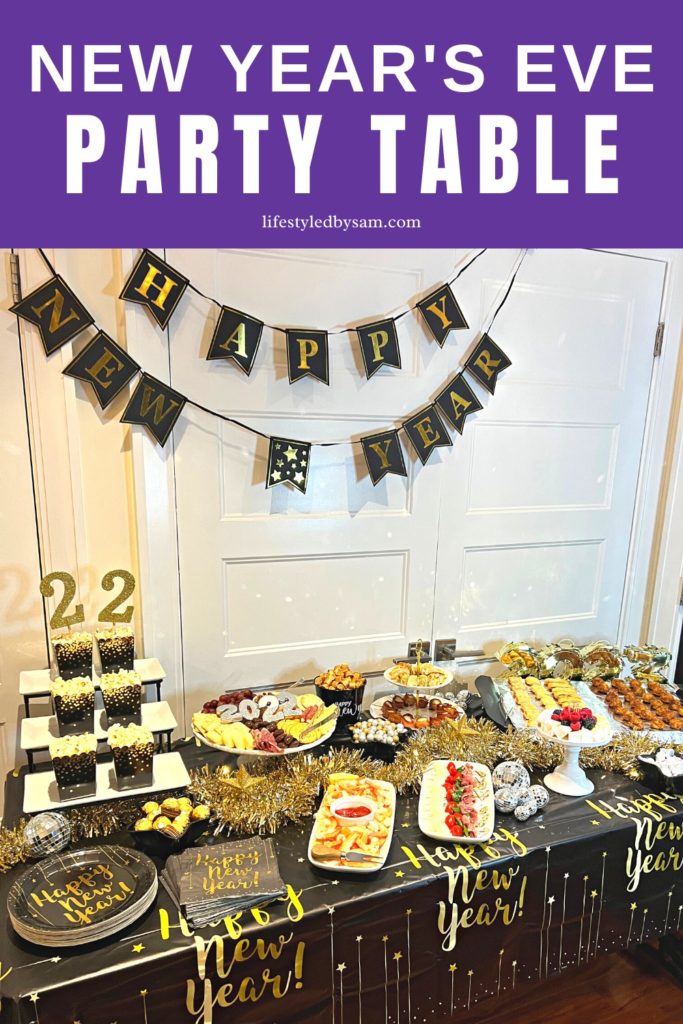 I completely believe that going out to bars, clubs, restaurants, and concerts for New Year's Eve can be a lot of fun, but it can also get quite expensive.
Also, it's probably a lot different than it used to be before the pandemic.
So instead of spending a lot of money for a bar cover, waiting over 30 minutes for an Uber, ring in the New Year at home.
Table of Contents: New Year's Eve Party At Home
In this post, we will cover the following topics: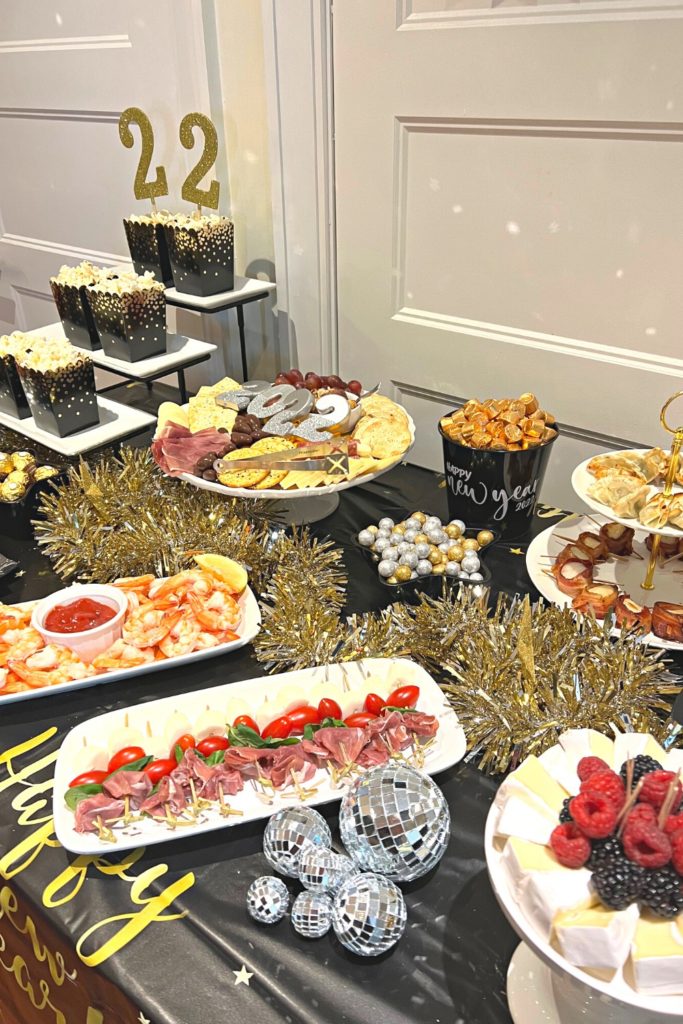 What To Serve At A New Year's Eve Party At Home
New Year's Eve parties generally start around 10 pm, which means your guests have already eaten dinner.
That's why it's best to serve finger foods and appetizers.
Some of my favorite NYE party apps include:
Popcorn
Popcorn is the quintessential late-night snack.
It's easy, inexpensive, and perfect for your NYE party.
I found the cute popcorn containers and number '2' from Hobby Lobby.
The tiered serving tray is from Amazon.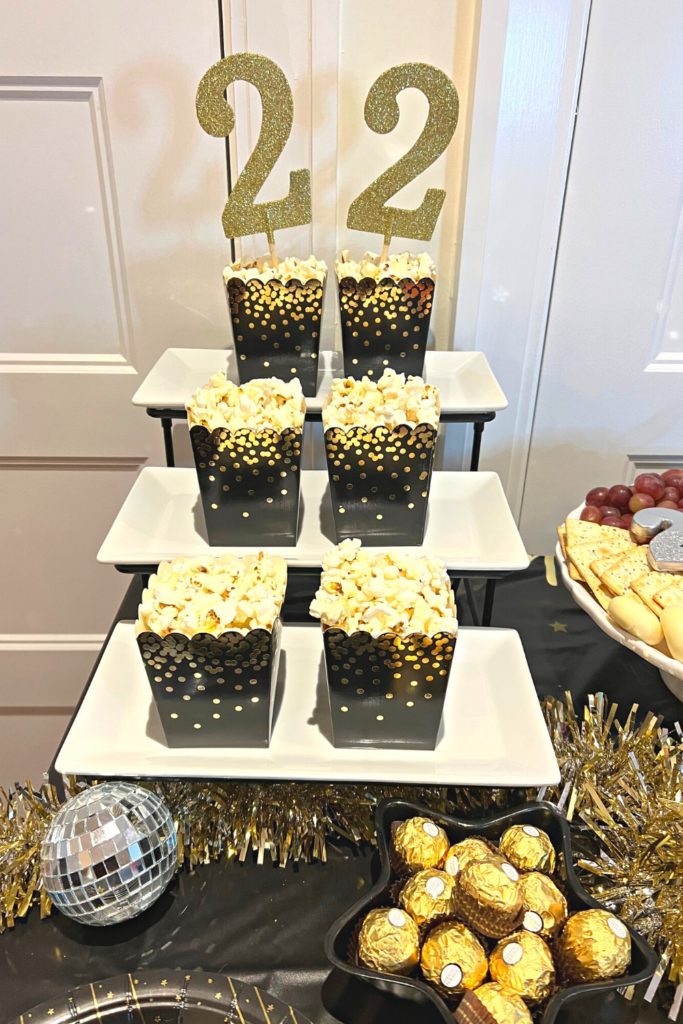 Charcuterie Board
This charcuterie board pops because of the silver 2022 'decor'.
The 2022 pieces are actually candles from Dollar Tree. I cut off the wick and stems and I think it looks so cute!
While you can really get fancy with your NYE charcuterie board, I chose to keep it simple and filled with crowd favorites:
crackers, prosciutto, grapes, mixed nuts, cheeses, and chocolate-covered almonds.
I arranged the snacks on a cake stand to dimension to the NYE party table.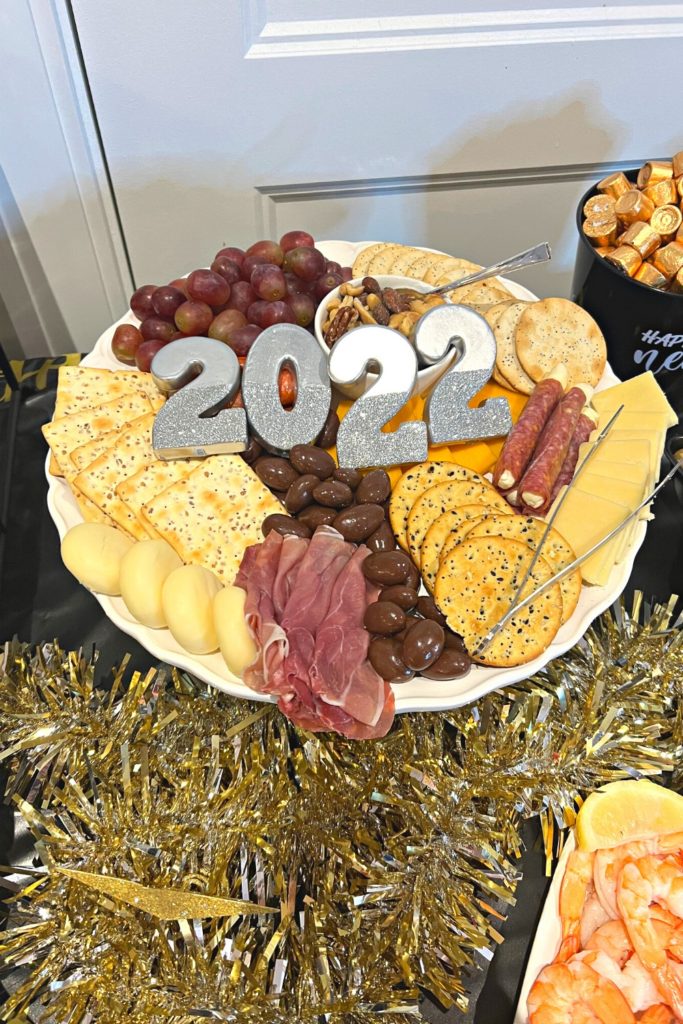 Brie Cheese
If you ask me, Brie should be served on a pedestal.
It's creamy and delicious and tastes even better with fresh fruit.
Hershey Kisses
Add an extra touch of sweetness with Hershey Kisses!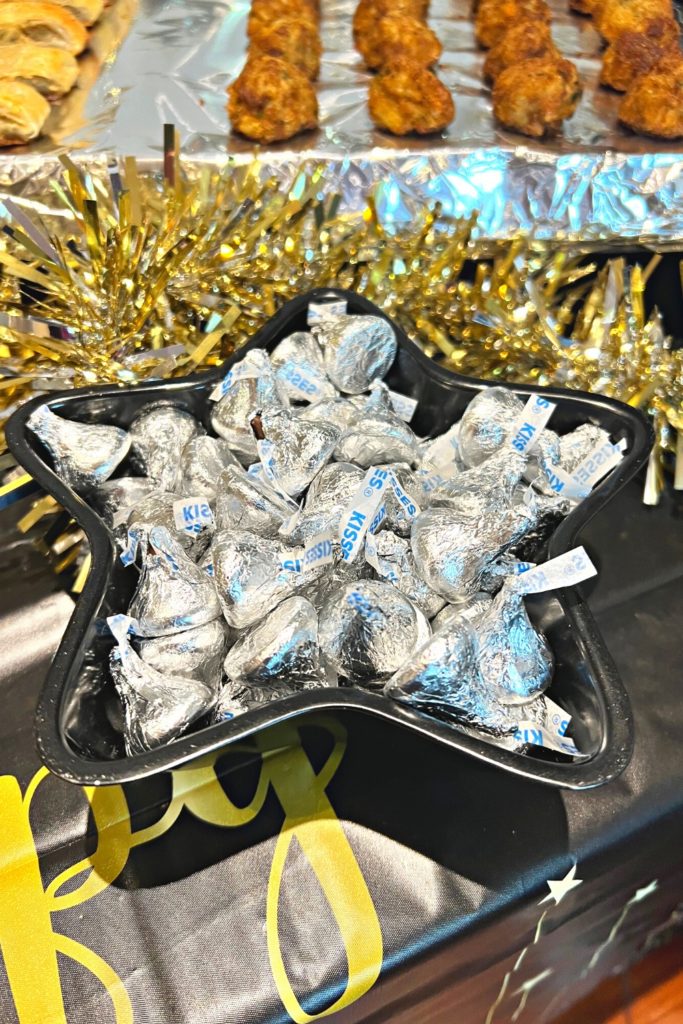 Shrimp Cocktail
Ok. now we are starting to get into more of the 'fancier' appetizers.
Shrimp cocktail is a perfect addition to your buffet table because there's really no work involved.
Simply transfer the shrimp and cocktail sauce from its original package to a cute tray and sauce bowl.
Charcuterie Skewers
These charcuterie skewers include mozzarella, tomato, basil, and prosciutto.
Originally, I was only going to include mozzarella, tomato, and basil on the skewers, but who doesn't love a little extra prosciutto?
PS: You can get those mini disco balls here.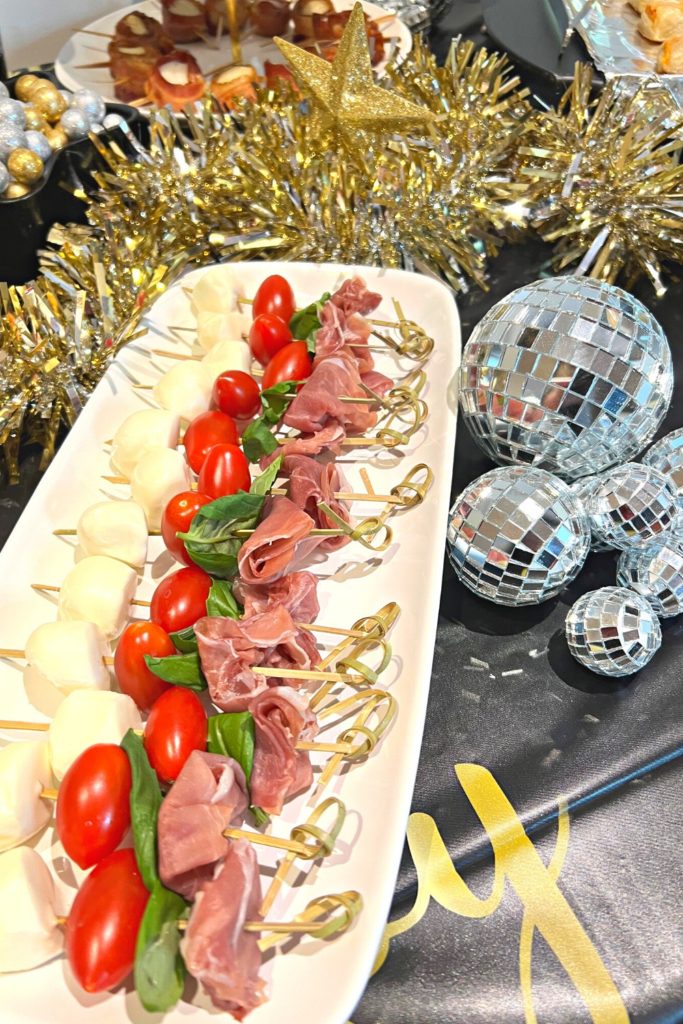 Bacon-Wrapped Scallops And Wontons
Two apps that scream NYE appetizers in my book.
Originally, I planned to serve these on my buffet warmer with puff pastry and mini crab cakes, but I ran out of room on the warmer.
Instead, I prepared these apps last, and keep them in the oven at 200 until just before guests arrived.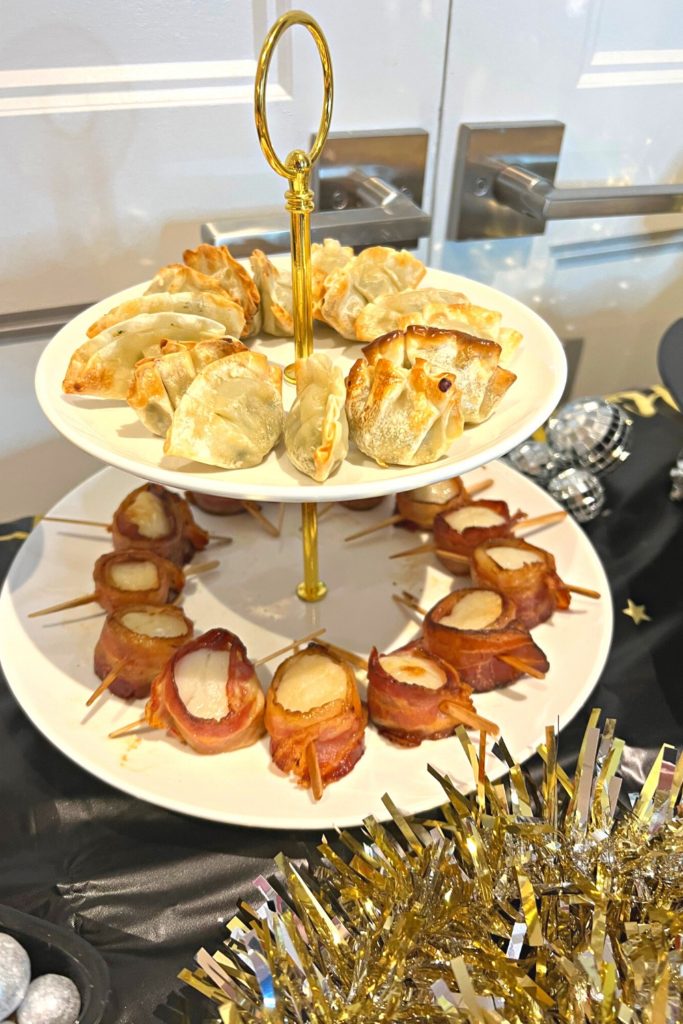 Puff Pastry And Mini Crab Cakes
These savory puff pastries and mini crab cakes were a hit.
Serve them on a buffet warmer to keep them warm until next year ?.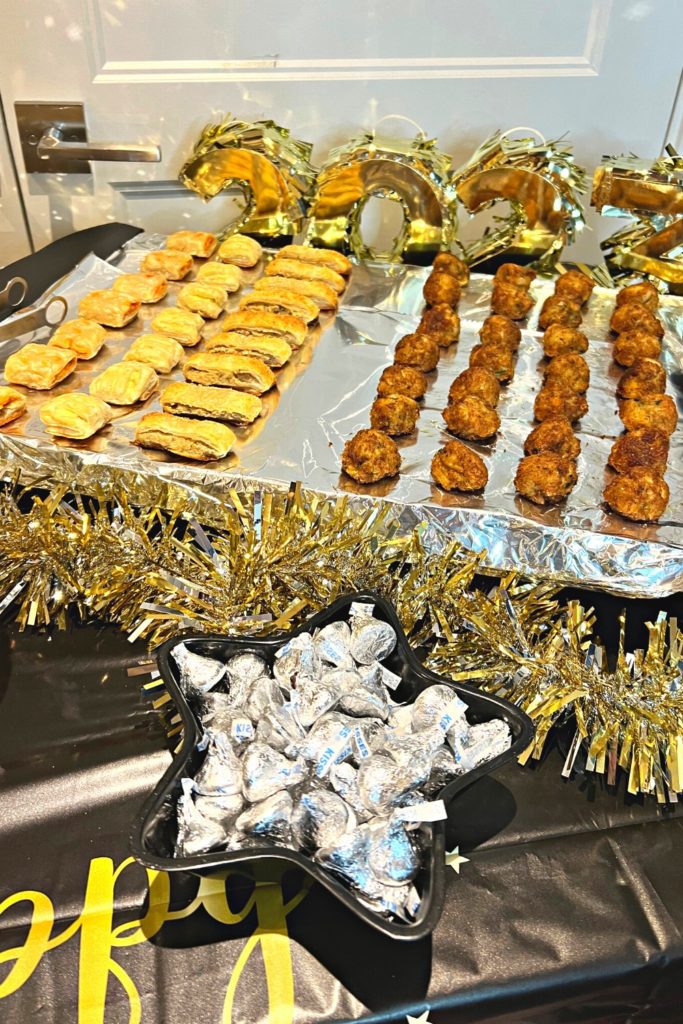 New Year's Eve Party Decorations & Equipment
Below are the decorations and equipment I used for my party. Adjust, based on what you have at home, and your budget:
How To Host A New Year's Eve Party At Home
Plan your menu.
Go shopping for groceries, decorations, and equipment.
Set up your table and table cloth.
Arrange the serving trays, buffet warmer, and decorations on the table.
Prepare the apps that can be served at room temperature (popcorn, Hershey kisses, etc.)
Make the charcuterie board.
Arrange the shrimp cocktail on a serving tray.
Bake the puff pastry apps, crab cakes, wontons, and bacon-wrapped scallops. If you have a convection oven, use that to keep the food warm.
Apply the final touches to your table and enjoy!
I Want To Hear From You!
Let me know if you have any questions or comments below.
Also, if you hosted a New Year's Eve Party, I'd love to see it!
Tag me on Instagram: @lifestyledbysam_
Other Recipes You May Like