A step-by-step guide and everything you need to know to make your own "Our Adventure Book", inspired by Ellie's "My Adventure Book" in the Disney film, Up (2009).
Related: Homemade Gift Ideas
Adventure Book Journal Introduction
Are you ready to embark on a remarkable journey through the pages of an adventure? Look no further than our adventure book ideas! Whether you're seeking a unique way to document your own exploits or searching for a great gift for a friend with an adventurous spirit, an adventure book is the perfect choice. In this blog post, we will explore the enchanting world of adventure books, filled with lined pages, incredible journeys, and the opportunity to create your very own paradise falls. From the front cover to the back cover, these adventure book journals offer a gateway to unforgettable experiences. So, let's dive into the details and discover how an adventure book can be the key to preserving your most cherished memories.
What Is "My Adventure Book"?
"My Adventure Book" is from the Disney film, Up (2009). In the movie, Ellie documents her adventure goals and experiences in this book. You can read the movie synopsis or watch the scene when the book is introduced.
What Is "Our Adventure Book"?
"Our Adventure Book" is inspired by the Disney film and can be purchased online (here) for couples to document their own adventures together.
"Our Adventure Book" Pages
Take a peek inside the book I created, for inspiration for your own book. Below this video, you'll find everything you need to know to create your own.
What You Need To Make An Adventure Book
Photos
Scissors to crop photos
Markers to add titles and captions to pages
Stickers to add decorations to pages
Post-it notes to organize photos
Tape, glue stick, and/or washi tape to attach photos to pages
How To Make "Our Adventure Book"
This section details the 5 steps to create your own adventure book. You can also jump to the summary at the bottom of the post.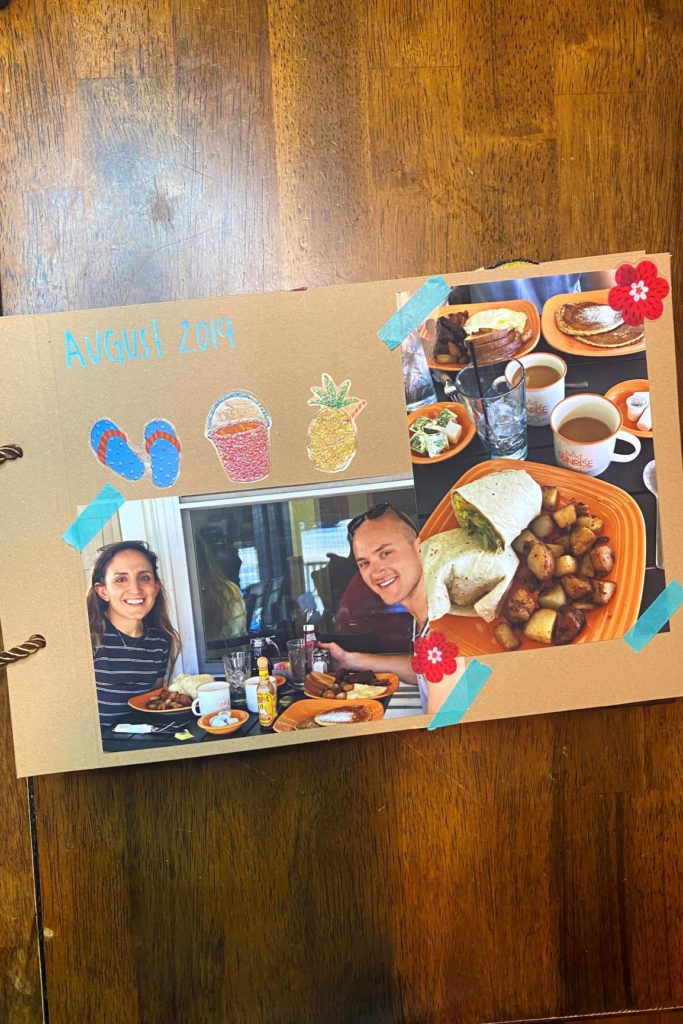 Step 1: Order Pictures
Ordering pictures is Step #1 because it could potentially take weeks for your photos to arrive at your door if you order them online. My favorite website to order prints from is Shutterfly. Other options include Snapfish and Google Photos.
You could also head to Walmart or CVS if you want to pick them up within a couple of hours.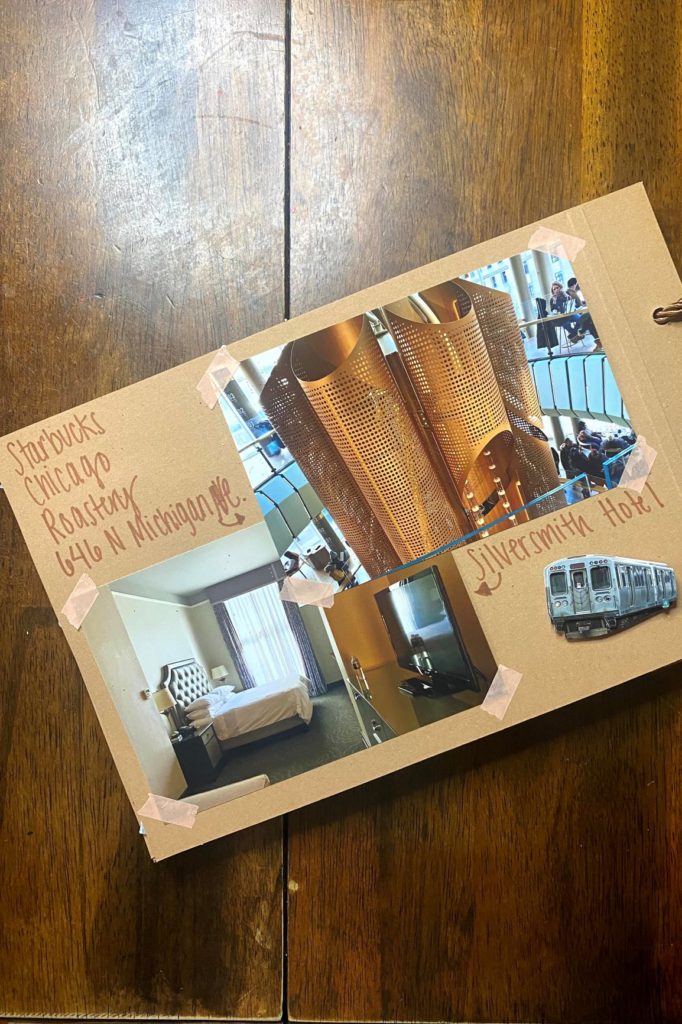 Step 2: Organize Your Photos
Next, it's time to organize your photos.
If you're feeling overwhelmed, start by grouping photos by season. Then, break it down further from there.
This step made designing my pages so much easier because I knew what I was working with.
For example, knowing that I had 5 Christmas photos, allowed me to organize the pages to fit 5 photos.
Step 3: Buy Supplies
I recommend buying supplies (especially stickers) after you organize your photos. This way, you have a better idea of what type of stickers, washi tape, and markers you want to incorporate in your scrapbook.
For example, I had over 10 photos from our trip to Chicago, so I knew I wanted to buy stickers of pizza, skyscrapers, trains, etc. (like these).
You can buy scrapbook supplies from any craft store or Amazon. I purchased my supplies from Michaels.
Step 4: Plan Your Pages
Next, decide how to organize/sort your book and page layouts. Will you start in January, the day your adventure began, or another day?
Throughout this post, you will find page layout ideas. I recommend 1-3 photos per page.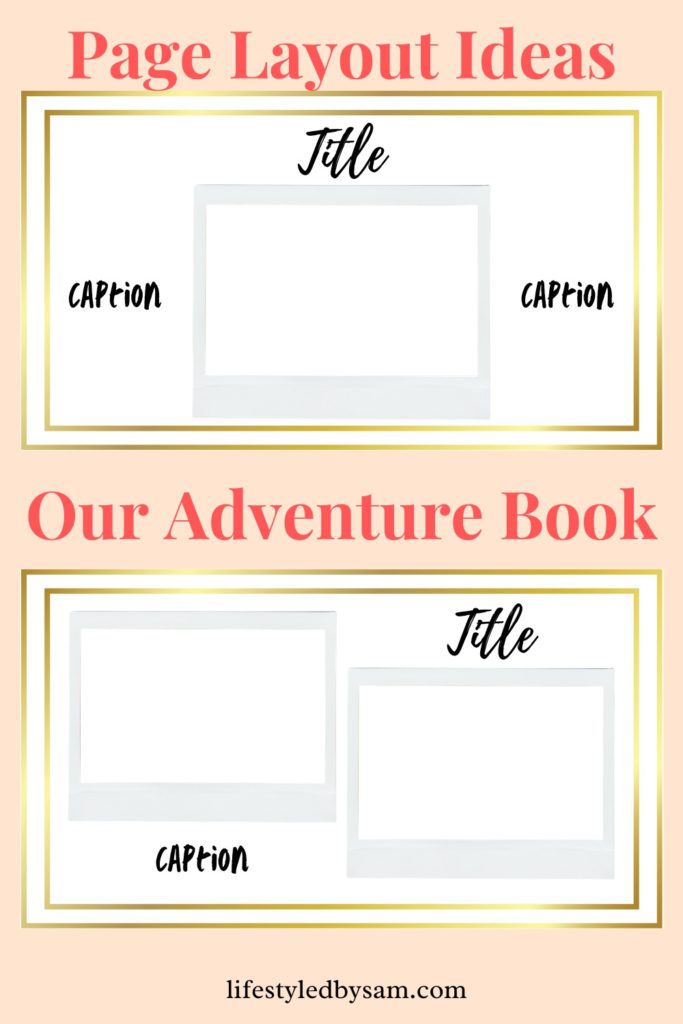 Step 5: Design Your Pages
1. Now it's time to get creative and actually attach your photos to a page using the adhesive of choice (tape, glue stick, or washi tape).
2. After you've attached your photos to a page, use your makers to add a title and caption.
3. Finally, fill up any empty space with stickers and washi tape.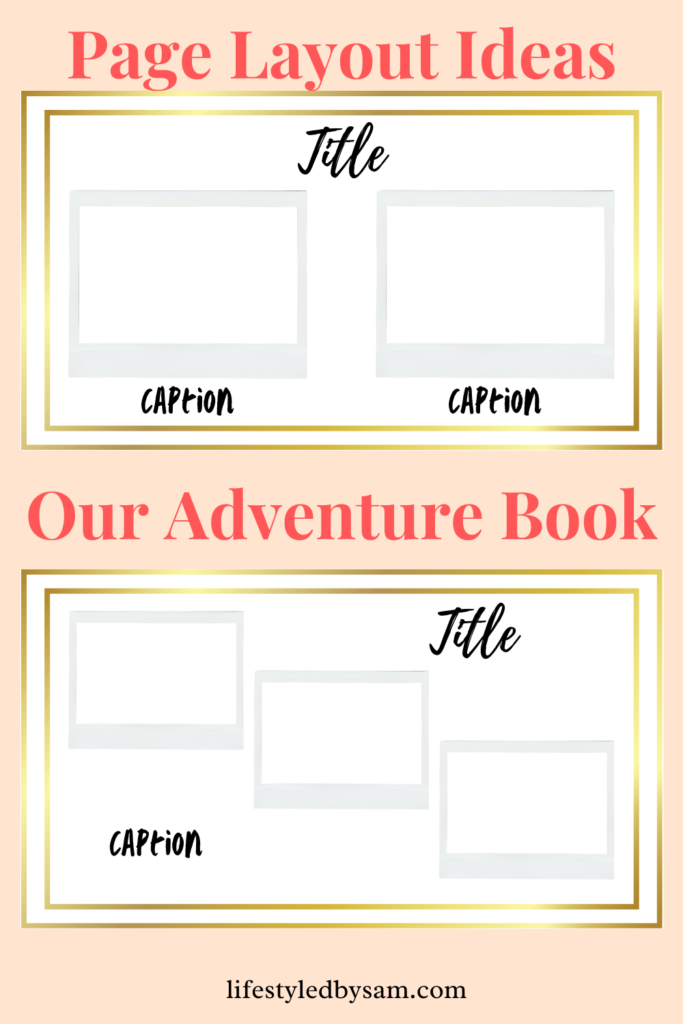 Our Adventure Book Ideas & Tips
Imperfection is key! Unlike other scrapbooks, this Adventure Book is not meant to look like a perfectly-put-together scrapbook. Handwriting is supposed to be natural and your own. Mistakes may happen and that is ok.
Washi tape alone may not be a sufficient adhesive. I loved using washi tape because I felt like it really gave my book a homemade look. However, I still used a glue stick for added adhesive.
Gifting ideas. This is a perfect gift for your boyfriend, girlfriend, husband, or wife for a birthday, Valentine's Day, Christmas, anniversary, or just because. You can check out my other homemade gift ideas here.
Conclusion
In conclusion, our adventure book ideas provide a magical avenue for capturing and reliving your adventures. With their perfect size, lined pages, and high-quality covers, these adventure books are designed to be the ideal companion on your incredible journey. Whether you're a fan of the heartwarming film "Up" by Disney and Pixar or simply love the idea of creating a personalized journal, an adventure book is a must-have. The pages within offer endless possibilities to write, draw, and fill with amazing photos, allowing you to craft a truly unique keepsake. So, don't miss out on the opportunity to embark on your own adventure and preserve your most treasured memories. Head to our store, check out the available options, and get ready to embark on a new chapter of storytelling with your very own adventure book. Start collecting your adventures, one page at a time!
Our Adventure Book – DIY
Everything you need to know to make the scrapbook inspired by Ellie's "My Adventure Book" in the Disney/Pixar movie, Up (2009).
Equipment
Photos

Scissors

Markers

Stickers

Adventure Book Scrapbook

Adhesive: tape, glue stick, and/or washi tape
Instructions
First, order/print photos.

Next, organize your photos by category.

Lastly, design your pages.
Capture your incredible journey with "Our Adventure Book," the ultimate adventure book journal. With its sturdy front and back covers, lined pages inside, and the perfect size, this adventure book is designed to be your trusted companion on every adventure. Let the pages of this book become a canvas for your own exploits, where you can write, draw, and preserve your memories in the most beautiful way. From the first page to the last, this adventure book is a tribute to the adventurous spirit within you. Imagine flipping through the pages filled with descriptions, photos, and handwritten notes, and reliving the magic of your past adventures. Whether you're a fan of the Disney-Pixar film "Up" or simply seeking a great gift for a friend, this adventure book is a treasure waiting to be filled. It's time to add your own amazing adventures to the pages, protect them with the thick corners, and let the artwork on the cover inspire new ones. So, grab your pen, tie a string to the hole, and let your imagination soar like the balloons of Paradise Falls. This adventure book is not just a book—it's a portal to a world of endless possibilities. Start your adventure today and create a whole new chapter in your own story.