With just a bit of planning, a Valentine's Day date night at home can be even more fun, special, and romantic, as going out to celebrate.
Related: Date Nights, Valentine's Day
This post may contain affiliate links, which means I'll receive a commission if you purchase through my links, at no extra cost to you. Please read the full disclosure for more information.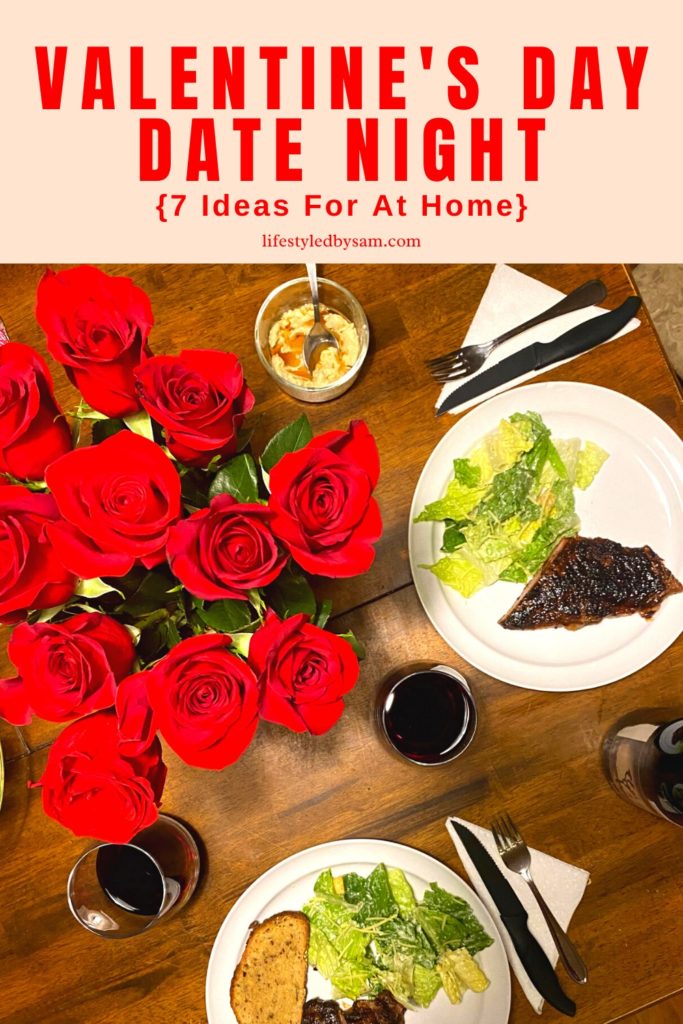 How To Have The Best Valentine's Day Date Night at Home
This post lays out 7 steps to take to have the best Valentine's Day Date Night at home:
Valentine's Day Date Night Ideas #1:
Cook Valentine's Day Dinner
Actually committing to cooking a new meal together is a great way to spend time and Valentine's Day together.
Dinner together could mean anything from taco board to steak tartare. This holiday is definitely the time to get creative and spice it up in the kitchen.
My boyfriend and I cook most of our meals at home, but we rarely cook meals together. Meal prepping for the week is generally a box that we check to eat ~relatively~ healthy and save money.
This year we choose this Ribeye Steak with Maple-Bourbon Butter recipe from the Kitchn's 10 Winning Recipes for a Romantic Date Night at Home. We paired it with a side caesar salad and bread.
Valentine's Day Date Night Ideas #2:
Indulge in Sweets
Did you really celebrate Valentine's Day if you didn't have chocolates?
This is the mini Valentine's dessert board I made for us, which was inspired by this board.
For more ideas, check out my page dedicated to Valentine's Day.
Valentine's Day Date Night Ideas #3:
Share A Special Wine
Share wine or another special drink together that pairs best with your dinner. Check out this wine pairing guide, beer pairing guide, or Valentine's Day Cocktails for ideas.
Red wine is perfect with steak, so we chose that. If we weren't having steak for dinner, we would probably make a cocktail together, since we have red wine a lot.
To make our drink selection a little more special we chose Orin Swift's 2019 8 Years in the Desert, instead of our go-to favorites like 19 Crimes and Bogle.
Valentine's Day Date Night Ideas #4:
Take Pictures Together
I have been having so much fun with this Fujifilm Instax Square SQ20 Instant Film Camera.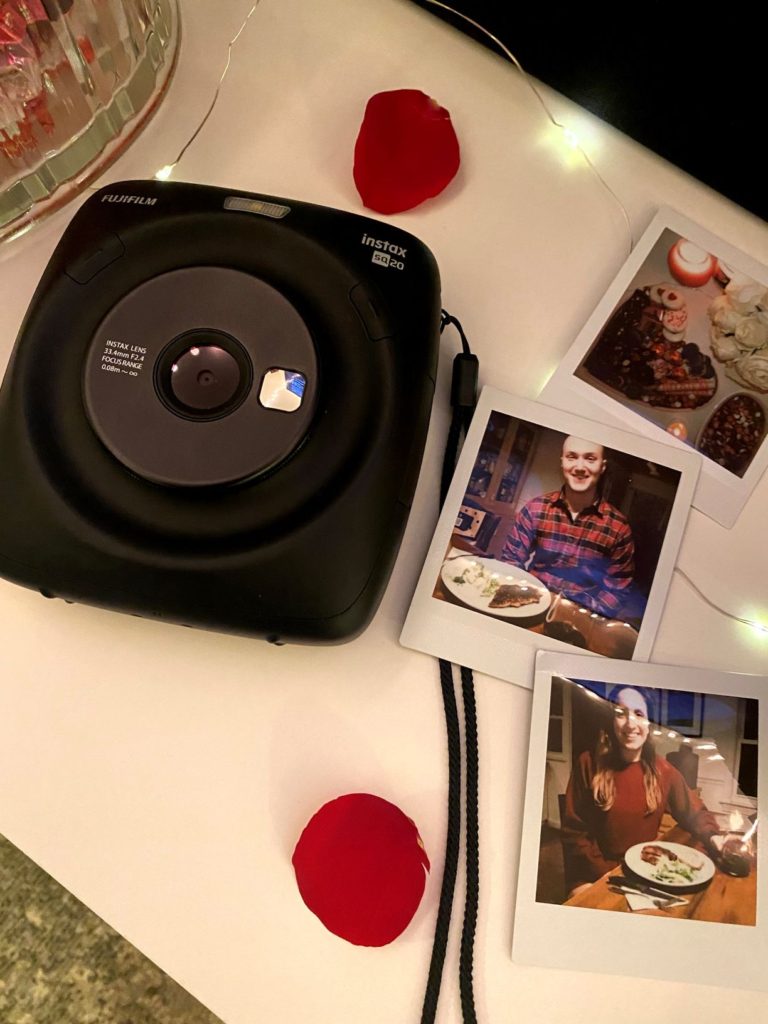 My favorite part about this camera is that pictures don't automatically print, so you can make sure your eyes are open and you like the shot before printing.
Valentine's Day Date Night Ideas #5:
Watch A Romantic Movie
What better way is there to get in the Valentine's Day mood than by watching a romantic movie?
Skip your go-to show on Netflix, and opt for a romantic movie or romantic comedy.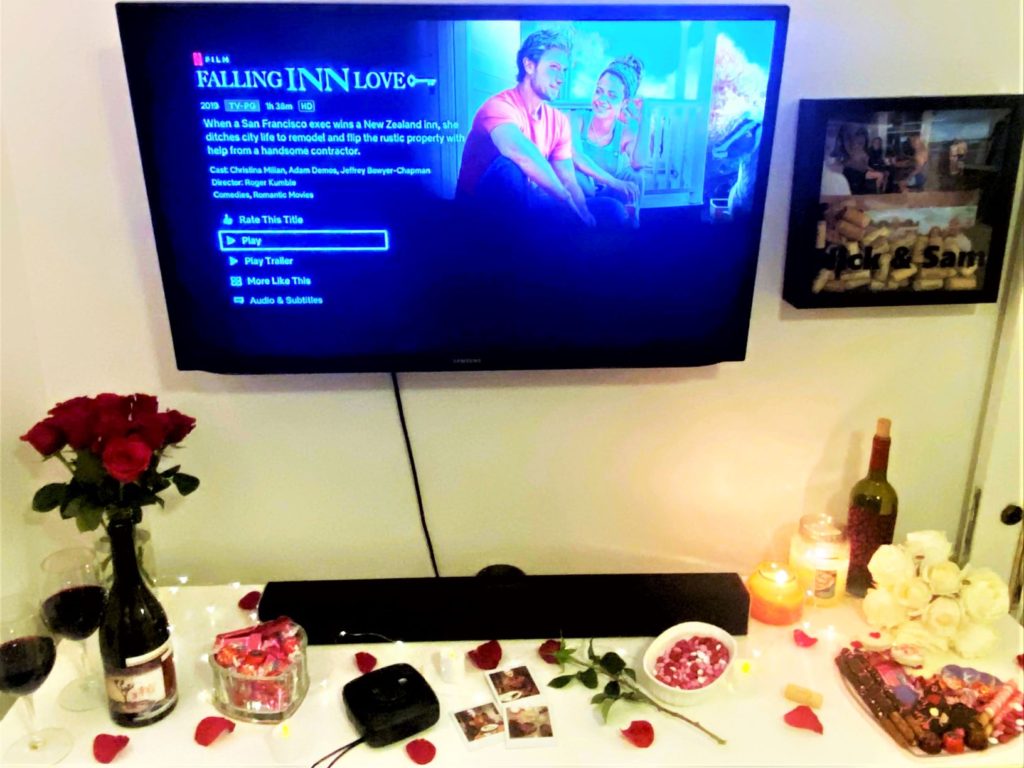 If you need some romantic movie ideas, check out:
Valentine's Day Date Night Ideas #6:
Decorate for Valentine's Day
Decorating is a great way to turn any date night into Valentine's Day date night.
You don't need to spend a lot of money to decorate either.
https://lifestyledbysam.com/wp-content/uploads/2021/01/IMG_5890.mov
Items I used to decorate that I already had at home included candles, chocolates, fairy lights, wine glasses, real roses, and artificial roses.
The only item I purchased for decorating was this heart-shaped cutting board that I will definitely use more than just Valentines' Day.
Valentine's Day Date Night Ideas #7:
Get Dressed Up
Even though you are celebrating Valentine's Day at home, you should still dress up!
For dinner, I recommend this cute Daring Heart Ribbed Midi Burgundy Dress from Pink Lilly (tip: wear an apron while you're cooking or wait until you are finished cooking before you put this on).
For relaxing, watching a movie, and dessert, I recommend this Two-Piece Pullover Sweatsuit from Amazon because it is cute and comfy.
I Want To Hear From You!
How did you celebrate Valentine's Day this year?
Do you prefer to go out or stay in?
Share your feedback in the comments section below and tag me on Instagram @lifestyledbysam_
Valentine's Desserts You May Like