Are you looking for a new way to celebrate the Fourth of July?
If so, then look no further than hosting your own Fourth of July Brunch Party.
In this post, we will cover everything you need to know to host your own party at home! From patriotic recipes and drinks to inexpensive decorations, you'll forget that there weren't hot dogs, hamburgers, and fireworks.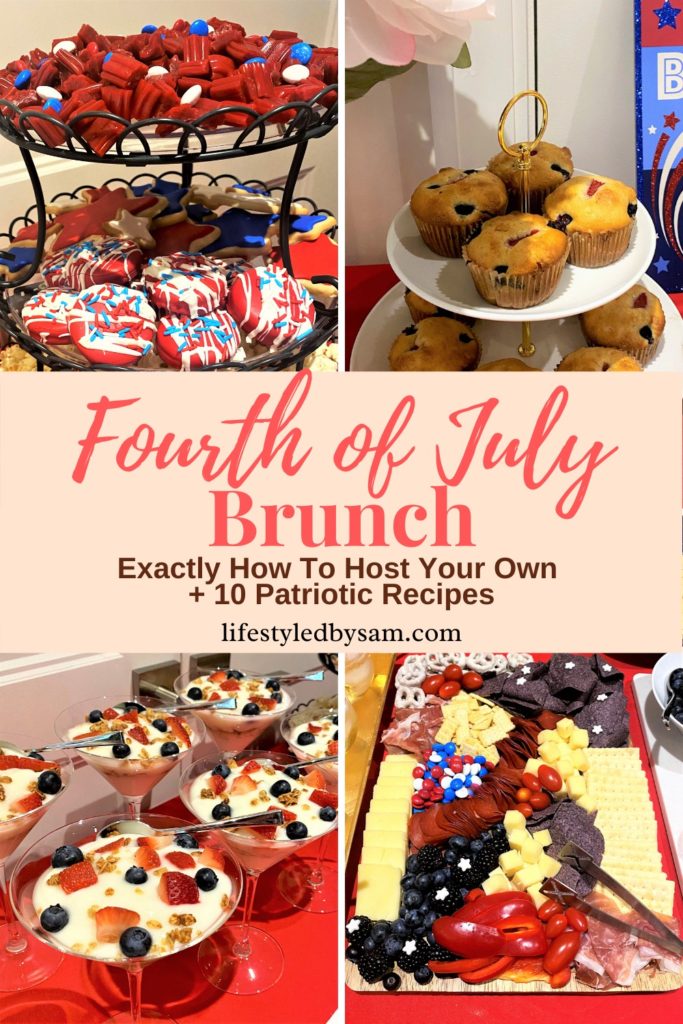 When we think about the Fourth of July, we think about outdoor barbeques, hot dogs, hamburgers, and fireworks.
However, not everyone has a big backyard or picnic nearby to throw a patriotic event outdoors.
So this year we are throwing an indoor Fourth of July Brunch.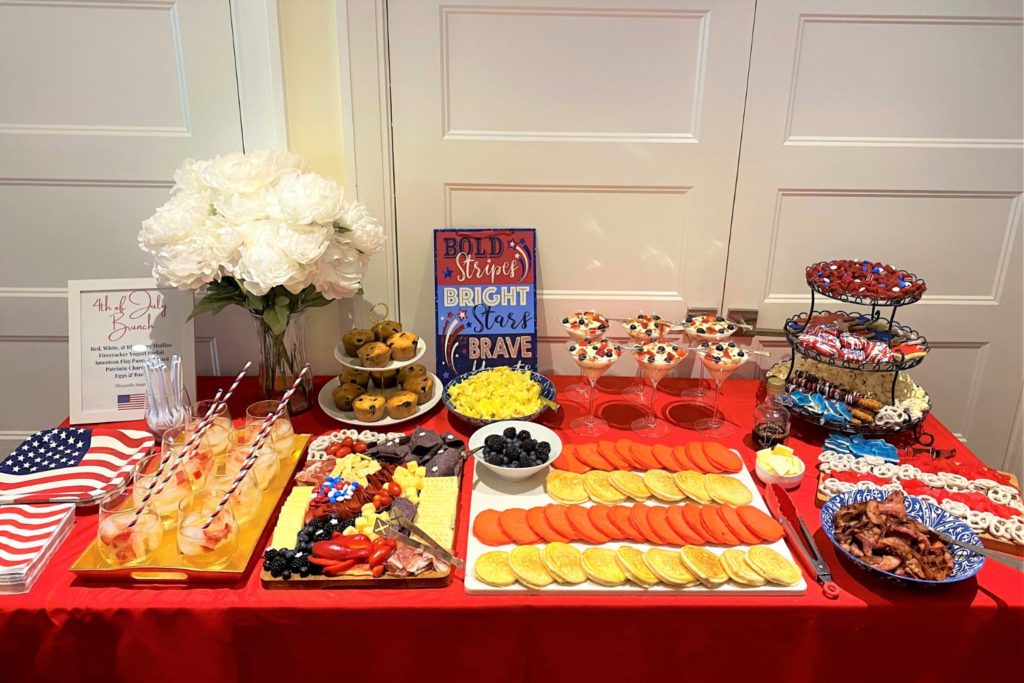 Fourth of July Brunch: Table of Contents
https://lifestyledbysam.com/wp-content/uploads/2021/06/IMG_9703.mov
How To Host A Fourth Of July Brunch
There are 5 main steps to hosting a Fourth of July brunch:
Step 1: Invite Your Guests
It's not uncommon for people to be traveling or out of town on the Fourth of July weekend, so make sure you get your event on the calendar sooner than later.
Sending out invitations is kind of old school, but I still enjoy doing it. You can get my free Fourth of July Brunch Party invites (coming 2022)!
In a pinch, you could also create a Facebook event! Just make sure your R.S.V.P date gives you enough time to complete Step 2 – Step 5. 🙂
Step 2: Pick Your Menu
If you're like me, you only want 'patriotic' recipes on your menu for a Fourth of July brunch party, but you still need to include the dietary restrictions (and preferences!) of your guests.
For example, originally, I had planned on making an American Flag Trifle but realized I would only be serving sweet dishes. Therefore, I swapped the trifle for eggs and bacon.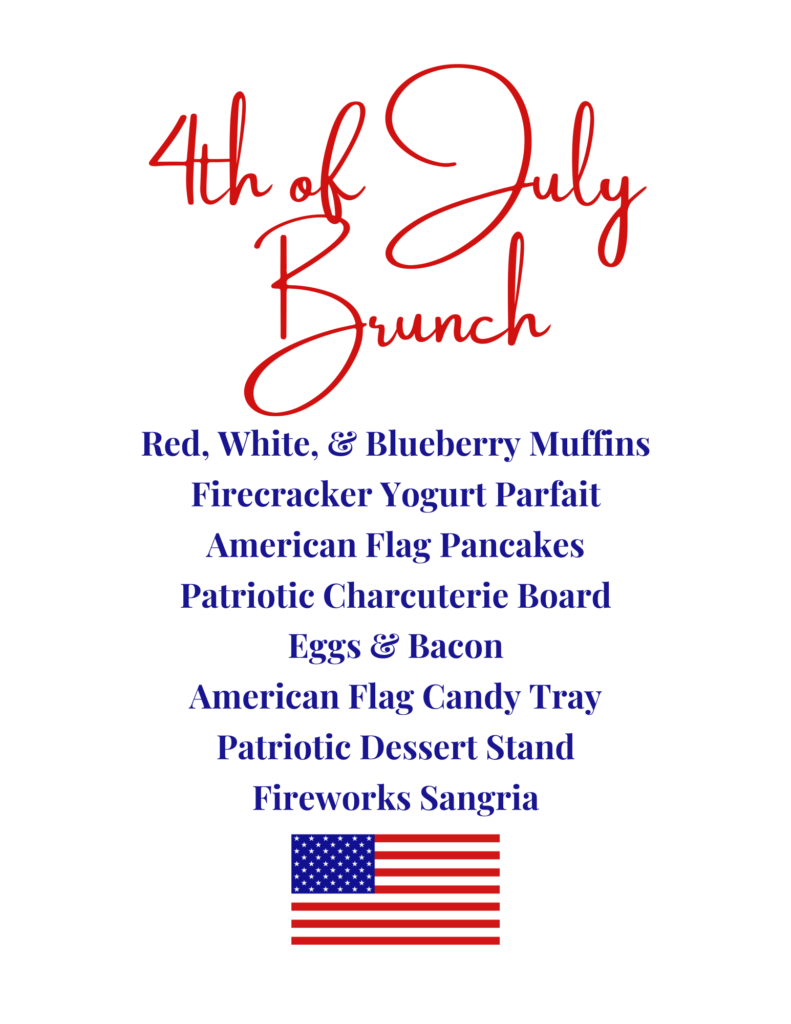 Step 3: Decide On Decorations
When I first started hosting parties, I always skipped decorations because I didn't have the money or space.
I finally realized decorations don't have to be expensive or take up a lot of space.
Brunch Menu
One of my favorite party 'decoration' ideas is printing and framing a menu.
Not only is it practically free, but it's also useful for your guests and doesn't take up space to store it after the party. (If you don't have a printer at home, it costs 10 centers to print a page at Staples and you can use a frame you already have.)
If you decide to go with my Fourth of July Brunch menu, you can get a free printable menu below.
Flowers
You can use fresh or fake! I have been loving fake flowers lately because I can't kill them and they won't die in a week.
Paper Products
Instantly make your serving table more festive with something you need for your party anyway: plates and napkins.
Step 4: Go Shopping
Now that you've decided on a menu and picked your decorations, it's time to make a list and go shopping.
Step 5: Cook and Bake
I love preparing as much as possible in advance, so party day is less busy, but most brunch foods are best when served immediately. Therefore, I always like to schedule brunch parties for 1 pm, so that I have more than enough time to cook and bake.

Fourth Of July Brunch Menu
I choose a menu that is patriotic, light, sweet, and easy to make: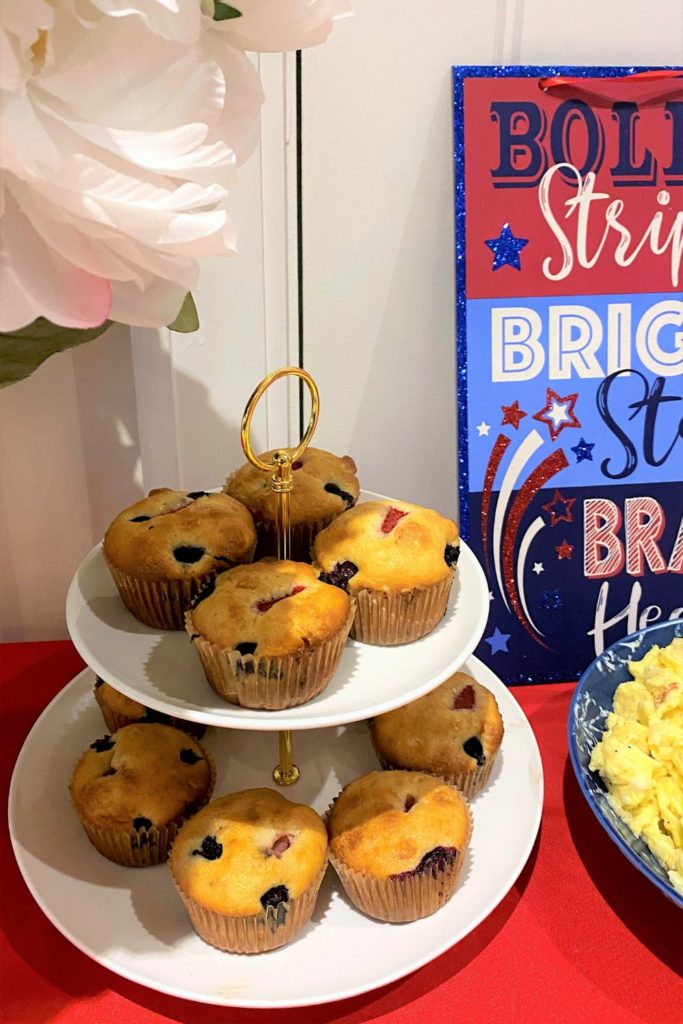 1. Red, White, and Blueberry Muffins
I followed Allrecipes' muffin recipe and added fresh blueberries, strawberries, and white chocolate chips.
2. Firecracker Yogurt Parfait
This recipe is almost cheating.
Simply grab your favorite glassware (I used these IKEA martini glasses) and layer yogurt, granola, and fresh berries to make delicious yogurt parfaits. Optionally, top with mini chocolate chips and/or honey.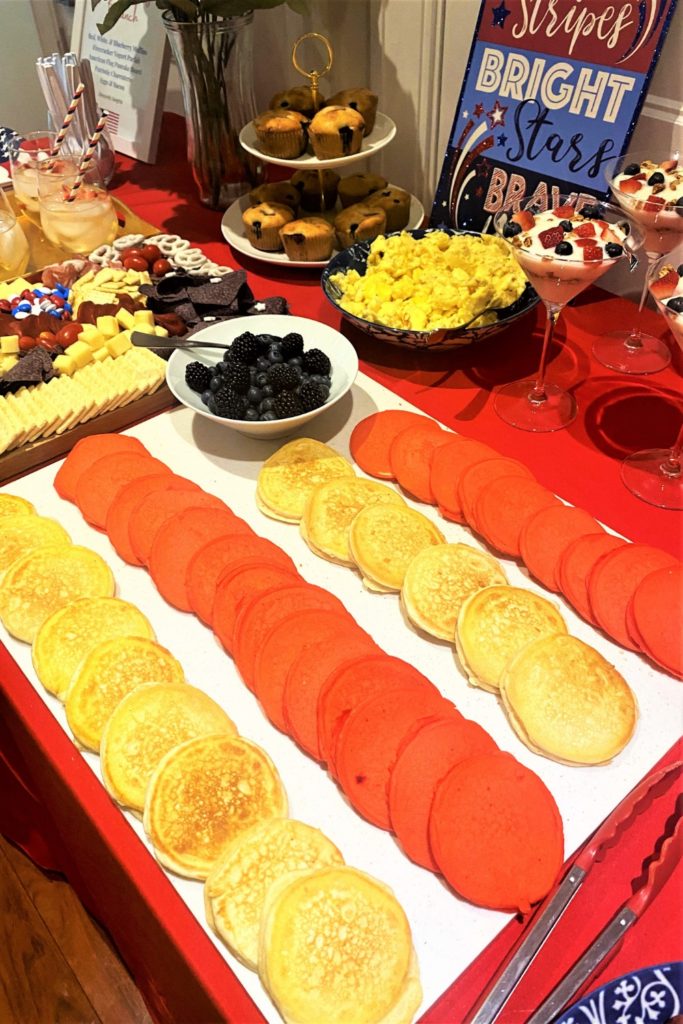 3. American Flag Pancakes
Coloring pancake batter red, and arranging the pancakes in the shape of the flag was an easy (and fun) way to take a pretty basic brunch food and make it patriotic.
4. Red, White, and Blue Charcuterie Board
Was it really brunch if there wasn't a charcuterie board?
This sweet and salty snack tray can be as minimalistic or extravagant as you would like – one of the many reasons why I love charcuterie boards 🙂
Ingredients I used:
White: white-chocolate covered pretzels, cubed and sliced white cheddar cheese, mini and regular-sized crackers, star sprinkles, m&m's
Red: red pepper, grape tomatoes, turkey pepperoni, prosciutto, m&m's
Blue: blue corn chips, blackberries, blueberries, m&m's
5. Eggs & Bacon
Eggs and bacon were a last-minute addition once I realized my menu was primarily sweet, and boy was it a good call. The bacon was gone almost immediately and paired so well with the eggs and pancakes.
6. American Flag Candy Tray
This American flag candy tray is one of my most popular 'recipes' so far. All you need is a baking tray, white chocolate-covered pretzels, Swedish fish, and blue gummy sharks.
Check out the full post, along with other American flag snack board ideas here.
7. Patriotic Dessert Stand
I wanted to add some height to my brunch buffet table, so I dusted off my Wilton 3-Tier Customizable Scalloped Dessert Stand and loaded on desserts from my Patriotic Dessert Charcuterie Board (and some other red white, and blue treats I had at home).
You can certainly stick to candy and premade treats (cookies, brownies, etc.) from the grocery store in a pinch!
8. Fireworks Sangria
Ahhh, last but not least. The most important part of brunch: sangria. I followed Celebrating Sweet's White Sangria Recipe and only included the red fruit.
Other Fourth of July Brunch Recipes
I Want To Hear From You!
Was your Fourth of July Brunch a success? I would love to see your take on a Fourth of July Brunch so feel free to tag me on Instagram @lifestyledbysam_ !