Easy Halloween date night ideas for a festive night at home.
As spooky season descends upon us, there's a hauntingly delightful aura that calls for unique celebrations. Gone are the days when Halloween meant only trick or treating or attending a crowded costume party.
Enter: a thrilling Halloween date night at home, tailored just for you and your special someone. If you're looking to immerse yourself in the Halloween spirit without stepping foot outside, you're in for a treat! From crafting chilling cocktails to cuddling up for a scary movie marathon, these fun Halloween date ideas are designed to keep the eerie vibes alive, all from the coziness of your home.
Ready to embark on some spooktacular adventures this Halloween night?
Table of Contents
Halloween Date Night Ideas #1:
Decorate Haunted Halloween Cookie Houses
Haunted Halloween Cookie Houses are becoming more and more popular and are such a fun activity (and snack) for a Halloween date night at home.
As the cool breeze begins to usher in the Halloween season, many couples are on the hunt for fun date night ideas. Haunted Halloween Cookie Houses have quickly risen to the forefront of popular Halloween activities. They're not only an embodiment of the spooky season but also offer a delicious treat after the decorating is done! What could be a better way to immerse oneself in the Halloween spirit than to craft your very own haunted house while having a Halloween date night at home? Whether you're going for the classic haunted mansion or a quirky ghost-infested cottage, the creative possibilities are endless.
For more information, check out my Haunted Halloween Cookie House Party Guide.
Halloween Date Night Ideas #2:
Make Your Own Halloween S'mores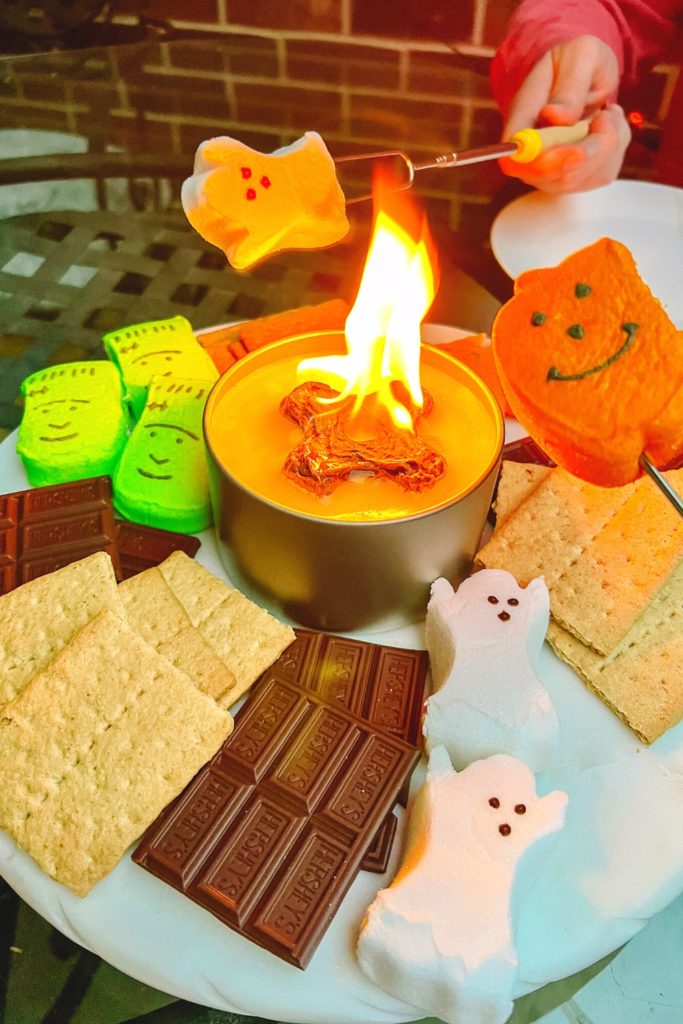 Another sweet, creative, and easy Halloween activity for couples!
Gone are the days when s'mores were exclusive to campfires and summer nights. Step into the world of Halloween S'mores – a delightful blend of traditional s'mores with a spooky twist. These are easy-to-make, creative treats that are perfect for couples looking for a sweet bite during their Halloween date night. Imagine marshmallow ghosts or chocolate bats sandwiched between graham crackers. Intrigued? Dive into the world of haunted flavors with my Halloween S'mores Board post.
For more information, check out my Halloween S'mores Board post.
Halloween Date Night Ideas #3:
Craft Halloween Cocktails
There are so many creative Halloween cocktails out there!
Halloween isn't just about treats; it's also about the tricks you can play with your drinks! There's a vast ocean of creative Halloween cocktails to choose from, catering to all tastes. From bubbling brews to blood-red concoctions, the spooky season is brimming with drinkable delights. While my personal mixology journey is still in its infancy (hence the basic margs with a Halloween spin), there are countless recipes out there that promise to set the perfect Halloween mood. If you're in search of eerie and enchanting cocktail ideas, don't hesitate to explore this list.
For actual Halloween cocktail ideas, check out this list.
Halloween Date Night Ideas #4:
Watch A Halloween Movie
Indeed, it might seem cliché, but a Halloween date night at home is incomplete without a spooky film to set the tone. From animated classics to spine-chilling horrors, the world of Halloween movies offers something for every couple. Whether you're laughing at the antics of the Sanderson Sisters in Hocus Pocus or gripping your seat during A Nightmare on Elm Street, there's no better way to round off your night than with a Halloween classic. If you're wondering which movies to dive into, here's a list of some of the best Halloween movies that you shouldn't miss. Happy watching and… don't forget to check behind the curtains!
Here are some of the best:
The Nightmare Before Christmas
Hocus Pocus
Halloweentown
Beetlejuice
Get Out
Us
Edward Scissorhands
The Addams Family
It
Ghostbusters
A Nightmare on Elm Street
Halloween
For more ideas, check out The 75 Best Halloween Movies Of All Time.
Halloween Date Night Ideas #5:
Halloween Themed Dinner
Whisk your partner away on a culinary journey, right in the comfort of your own home, with a Halloween-themed dinner. Go beyond traditional dishes by curating a halloween themed meal with dishes like pumpkin soup, mummy hot dogs, and caramel apples. Not only does it taste delicious, but the fun presentation also gets you both in the Halloween spirit.
And if you want to add a twist, how about dressing up in Halloween costumes, perhaps as chefs from a haunted kitchen?
Halloween Date Night Ideas #6:
Pumpkin Carving
Looking for a hands-on activity for your date night? Pumpkin carving is the way to go! As Halloween approaches, carving pumpkins can be both artistic and intimate.
From making traditional jack-o'-lanterns to attempting more intricate designs, it offers ample fun. Amplify the excitement by holding a pumpkin carving contest. Whoever carves the most unique design wins a Halloween treat!
Halloween Date Night Ideas #7:
Share Ghost Stories
Ever reminisced about those nights when you'd share ghost stories under a dim light, feeling the eerie atmosphere enveloping you? Re-create that experience in your living room.
Take turns telling ghost stories, delving deep into spooky tales and urban legends. Feel the chills run down your spine as you engage in this fun Halloween activity, drawing each other closer in the process.
Halloween Date Night Ideas #8:
Dance Party
Who says you need a crowded club for a dance party? Your living room can be the perfect spot for a Halloween dance party. Build a playlist with Halloween-themed tunes, from classics to modern beats.
Dress up in your Halloween costumes and let loose on the dance floor. Whether you're dancing like zombies or witches, it's a way to be silly, have fun, and burn off those Halloween treats!
Halloween Date Night Ideas #9:
DIY Halloween Crafts
Engage in some creative fun with DIY Halloween crafts. Whether you're making spooky lanterns, decorating a halloween house, or crafting paper mummies, it's an opportunity to bond and make lasting memories.
Displaying your creations around your home will serve as a reminder of your special Halloween date night.
Halloween Date Night Ideas #10:
Halloween Games
Spice up your evening with some Halloween games. From indulging in a Halloween scavenger hunt around your house, solving Halloween-themed puzzles, or playing board games with a spooky twist, these activities infuse an element of playful competition.
Plus, it's an excellent way to celebrate Halloween in a relaxed and intimate setting.
Halloween Date Night Ideas #11:
Visit a Virtual Haunted House
Bring the thrill of haunted houses into your living room. With several virtual haunted house tours available online, you can embark on a spooky adventure without stepping out.
Navigate creepy hallways, learn about haunted histories, and maybe even get a little scared – all while snuggled up together on the couch.There are virtual haunted house tours available online, offering a spooky adventure without leaving your couch.
Halloween Date Night Ideas #12:
Halloween Baking
If you both have a sweet tooth, Halloween baking is a delightful way to spend your date night. Dive into recipes for Halloween treats like ghost-shaped cookies, witch hat cupcakes, or bloody red velvet cakes.
The process of mixing, baking, and decorating can be as much fun as savoring the final product. Don't forget to enjoy your creations during a cozy Halloween movie night.
Halloween Date Night Ideas #13:
Spooky Stories Session
Apart from ghost stories, dive deeper into the Halloween theme night by exploring spooky stories or novels. Pick out spine-chilling tales from renowned authors or explore indie gems.
Reading them aloud, with the lights dimmed and candles flickering, can add a sense of drama, making it an unforgettable date experience.
Tips for a Halloween Date Night at Home
Set the Mood
Immerse yourselves in the Halloween spirit. Use candles, Halloween-themed decorations, and spooky background music to really get into the Halloween mood.
Dress Up
Even at home, embrace Halloween costumes. It sets a playful tone for the evening and can lead to fun photo opportunities.
Plan Ahead
Decide on your activities beforehand. Whether you're leaning towards a Halloween movie night, crafting, or a mix of various activities, a plan ensures a smooth date night.
Stay Safe
If you're trying out a new Halloween-themed dinner recipe or lighting candles, always prioritize safety. Don't leave candles burning unattended.
End on a Sweet Note
Keep Halloween candy or homemade Halloween treats handy to wrap up your date with something sweet.
Halloween Date Night At Home – FAQs
How can I surprise my boyfriend on Halloween?
Surprise your boyfriend with a Halloween date night complete with Halloween movies, Halloween candy, and perhaps even a cozy evening of carving pumpkins. Consider organizing a surprise costume party where both of you can dress in Halloween costumes and invite a few close friends to join in the Halloween spirit.
What do we do on Halloween night?
Halloween night is brimming with possibilities. For a classic evening, delve into a Halloween movie marathon or share ghost stories by candlelight. For those seeking something more interactive, a Halloween scavenger hunt or a visit to a haunted house can set the spooky mood. And, of course, trick or treating is always an option for the young at heart.
How to make Halloween special at home?
To celebrate Halloween at home, set the Halloween mood with dim lighting, candles, and spooky music. Prepare a Halloween themed dinner, engage in Halloween crafts, or bake Halloween treats. For a memorable evening, watch scary movies back-to-back or partake in fun Halloween activities like board games with a ghostly twist.
What can I do with my boyfriend for Halloween?
Consider exploring a ghost tour together, diving into spooky season with a Halloween date night filled with Halloween movies and snacks, or even visiting a haunted hayride. If you both love dressing up, brainstorming and creating Halloween costumes together can be a fun project.
What can I do on Halloween with my girlfriend?
Halloween with your girlfriend can be a mix of spooky and romantic. Opt for a Halloween themed date night with Halloween movies that blend romance and thrill. You could also prepare a special Halloween themed meal, followed by pumpkin carving or a stroll to see local Halloween house decorations.
What can I do with my partner on Halloween?
Embrace the Halloween spirit by attending Halloween events in your town or creating your own Halloween activities at home. Dive into the fun Halloween date ideas such as a Halloween dance party or a visit to a corn maze. If you both enjoy challenges, a Halloween scavenger hunt can be a thrilling experience.
How do you make Halloween romantic?
Set the stage for a perfect Halloween date night with romantic Halloween movies, a Halloween themed dinner, and a cozy night under the blankets. A Halloween themed date night could include sharing caramel apples, watching the sunset from a pumpkin patch, or taking a night stroll to admire the autumn leaves and Halloween decorations.
What can I do with my girlfriend for Halloween?
Celebrate Halloween by indulging in Halloween activities that both of you would enjoy. Organize a Halloween costume contest with friends, venture into a haunted house or simply enjoy a cozy Halloween movie night. Creating memories by crafting Halloween treats or decorating your space with Halloween themes can also be a delightful way to spend time together.
Remember, Halloween is all about having fun and embracing the spookiness, so choose activities that both of you will enjoy and make the most of the Halloween season!
Conclusion
There you have it – the best Halloween date ideas without even having to leave the house. Whether you're indulging in deliciously spooky treats or immersing yourselves in classic Halloween movies, these date night ideas are sure to bring you both closer, all while celebrating the essence of this fun and festive holiday. So, grab your favorite Halloween candy, set the Halloween mood, and dive into these enchanting activities. After all, who says you need a haunted house or a ghost tour to feel the Halloween spirit? With the right ambiance and company, every night can be the perfect Halloween date night.
Happy Haunting!
I Want To Hear From You!
Which Halloween Date Night Idea was your favorite?
Let me know in the comments below.
Also, I'd love to see how this post inspired you!
Tag me in your date night photos on Instagram: @lifestyledbysam_