Looking for the ultimate Halloween candy charcuterie board? Look no further!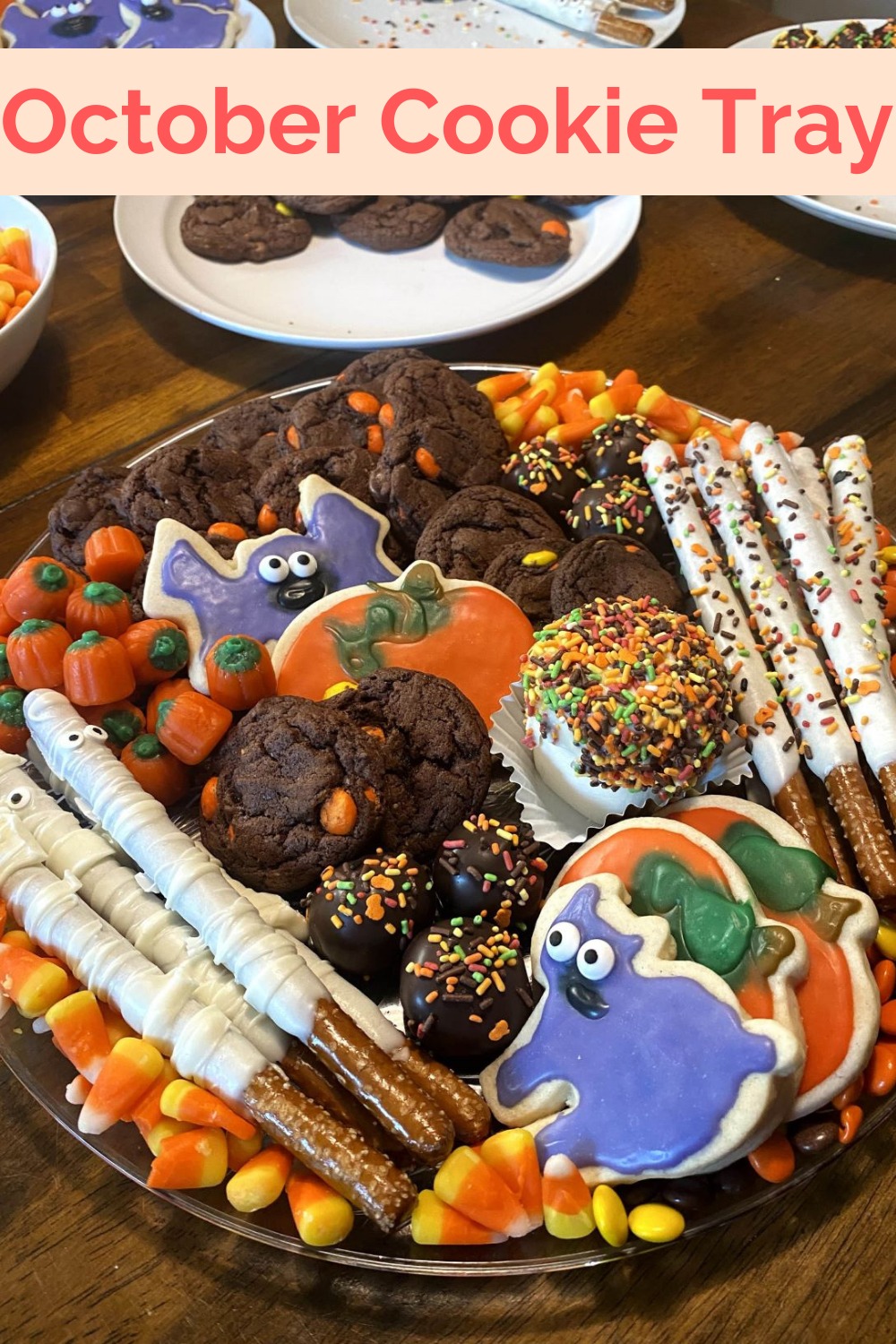 When you think of Halloween, ghosts, goblins, pumpkins, and of course, candies immediately spring to mind. As this spooky season approaches, you might be scouring Pinterest for fun ideas for your next Halloween party. This post will introduce you to a Halloween party must-have: the Halloween candy charcuterie board.
Why the Halloween Candy Charcuterie Board?
Charcuterie boards have taken the food world by storm.
Traditionally filled with meats, cheeses, and crackers, these boards are the epitome of gourmet snacking.
Now, imagine taking that idea and blending it with the fun and candy-filled theme of Halloween.
That's right! The Halloween candy board is here to make your party so much fun.
About This Halloween Cookie Tray
Halloween is not just about costumes and trick-or-treating; it's also about the delicious flavors that come with it.
Every family has its traditions, but one thing friends and family universally look forward to is a tray loaded with an assortment of delectable treats.
The Halloween cookie tray, in its myriad forms, is the culmination of this celebration of flavors.
The heart of any Halloween cookie tray is, of course, the Halloween cookie itself.
Sugar cookies, for instance, offer a blank canvas for artistic expression.
With just the right amount of sugar to tantalize the taste buds, these cookies become delightful spooky canvases when decorated with royal icing.
Ghosts, goblins, witches, and more – the only limit is one's imagination.
Yet, the cookie tray doesn't limit itself to just sugar cookies.
The addition of Oreo truffles offers a delightful contrast, both in terms of flavor and texture.
But why stop there? White chocolate-covered pretzels bring a perfect blend of sweetness and saltiness, creating a delightful dance of flavors in one's mouth.
For chocolate lovers, 4-ingredient chocolate peanut butter cookies provide an irresistible treat that leaves everyone asking for more.
But a Halloween cookie tray is not just about cookies. It's a celebration of Halloween in its entirety.
Hence, no tray is complete without the iconic candy corn, candy pumpkins, and the much-loved Reese's Pieces.
Every single item on the tray is curated to perfection, ensuring a treat for every palate.
Halloween Charcuterie Board Dessert Ingredients
Handle The Heat's Sugar cookies with royal frosting
Chocolate-covered pretzels and marshmallows
Candy ideas: candy corn, pumpkins, and Reese's pieces
Substitution ideas: chocolate covered oreos, peanuts, chocolate fruit
Setting the Board
Start with a large platter or wooden board.
This will serve as your canvas.
Decide on a color theme.
Maybe you want to go for the classic orange and black, or perhaps a spooky purple and green combination.
This theme will guide the candies and decorations you'll add.
Filling the Board
The real fun begins when you start adding the candies.
You can never go wrong with chocolate. Whether it's chocolate ghosts, pumpkins, or simple bars, ensure you have plenty.
For variety, sprinkle in some of your favorite candies.
From sour treats to the sweetest ones, let your Halloween candy charcuterie board be a reflection of your taste.
Create sections on your board.
A section dedicated solely to gummy worms, another filled with the colorful burst of candy corn, and maybe one with just chocolate.
Remember to play around with the placement until you find a layout that looks as delicious as it tastes.
Making it Kid-Friendly
If kids are a part of your Halloween party, then the Halloween snack board is an awesome idea to keep them engaged. Kids love candies.
Let them decorate the board, place the candies, and maybe even add their favorite candy.
Trust us, it will be the highlight of their night.
Finishing Touches
Don't forget the details. Decorate the surroundings of your board with Halloween items.
Maybe a "hocus pocus" pin near your candy board or tiny artificial pumpkins to amplify the Halloween theme.
Small bowls filled with extra candies can be placed around for those who'd love to grab a handful.
A Halloween charcuterie board is all about presentation, so go all out!
Why This Idea Rocks
This Halloween candy charcuterie board isn't just about the candy.
It's about creating a centerpiece for your Halloween party, something that your guests will talk about and remember. It's a fusion of fun, flavor, and festivity.
Whether you're planning a quiet Halloween night with family or a large party with friends, the Halloween charcuterie board will be a hit.
Halloween Charctuerie Board FAQs
How do you make a Halloween candy charcuterie board?
Creating a Halloween candy charcuterie board is an exciting and fun way to add some spooky cheer to your next Halloween party.
Begin with a wooden board or a large platter as your base.
Select a color theme for your board, perhaps drawing from classic Halloween colors like orange and black or venturing into purples and greens.
Fill small bowls with iconic Halloween candies such as candy corn and gummy worms.
Add a variety of your favorite candies to ensure a diverse flavor palette.
For added fun and a creepy touch, sprinkle in some candy eyes.
Melted chocolate in a bowl can be a delicious dip, and don't forget other sweet treats like ghosts made of marshmallows or chocolate pumpkins.
Decorate with some fun Halloween pin or trinkets, and of course, ensure there's plenty of candy!
What do you put on a charcuterie board for Halloween?
A Halloween charcuterie board is filled with a mix of savory and sweet.
Traditional charcuterie boards feature meats, cheeses, and crackers.
For a Halloween twist, include Halloween candies like candy corn, gummy worms, and chocolate ghosts. You can even include popcorn for a salty crunch.
For a fun idea, why not add some Halloween-themed peeps?
Consider placing smaller items in bowls to make them stand out.
Don't forget the Halloween theme by decorating your board with artificial pumpkins, cute Halloween-themed pins, and other spooky decorations.
Can you put candy on a charcuterie board?
Absolutely! A candy charcuterie board, especially during Halloween, is a fun and delightful twist on traditional charcuterie boards.
It's all about blending the gourmet idea of a charcuterie board with the fun-filled world of candy.
For a Halloween candy board, layer in a variety of candies, from chocolate to gummies.
Remember to keep it festive with candies that are both delicious and resonate with the Halloween theme.
What do I need to make a hocus pocus charcuterie board?
For a "hocus pocus" themed charcuterie board, think magical and mysterious!
Start with a base board or platter, and choose a color theme that evokes the world of hocus pocus – maybe deep purples, blacks, and shimmering silvers.
Feature candies and treats that have a magical twist.
Think chocolate broomsticks, candy eyes, and of course, the iconic candy corn.
Gummy worms can be added for that eerie touch.
For more fun ideas, check Pinterest for "hocus pocus" themed food and snacks.
Popcorn sprinkled with edible glitter can bring a magical touch.
And finally, decorate with a hocus pocus pin or any other trinkets that resonate with the enchanting world of witches and magic.
Conclusion
In the world of snack boards and charcuterie boards, the Halloween candy charcuterie board stands out. It's unique, filled with sweet treats, and so much fun to create.
So, as you start your Halloween party preparations, let this blog post be your guide to creating the most epic Halloween candy board. It's not just a treat for the taste buds but a visual delight too. With just a bit of planning, creativity, and of course, lots of candies, you can create a Halloween candy charcuterie masterpiece that's as spooky as it is sweet.
Next Steps
If you made this cookie tray, I'd love to see it!
Tag me on Instagram at @lifestyledbysam_
If you have any questions about this recipe, please comment below.
And don't forget to check out my other Halloween recipes.