I love a classic charcuterie board for many of the same reasons that I love dessert boards –
they can be customized for any event, they stand out in all tablescapes, and you can substitute ingredients based on what you have at home, what's on sale, and what's in season.
Creating Your Own Classic Charcuterie Board
Your options may seem endless when it comes to creating your own charcuterie board and that's because they essentially are. You've got pancake charcuterie boards, savory charcuterie boards, cookie charcuterie boards, taco charcuterie boards, and so on.
For this post, I'm going to be focusing on your classic board filled with cold-cooked meats and cheeses.
If you are interested in checking out my other charcuterie boards, save this Charcuterie Board list for later.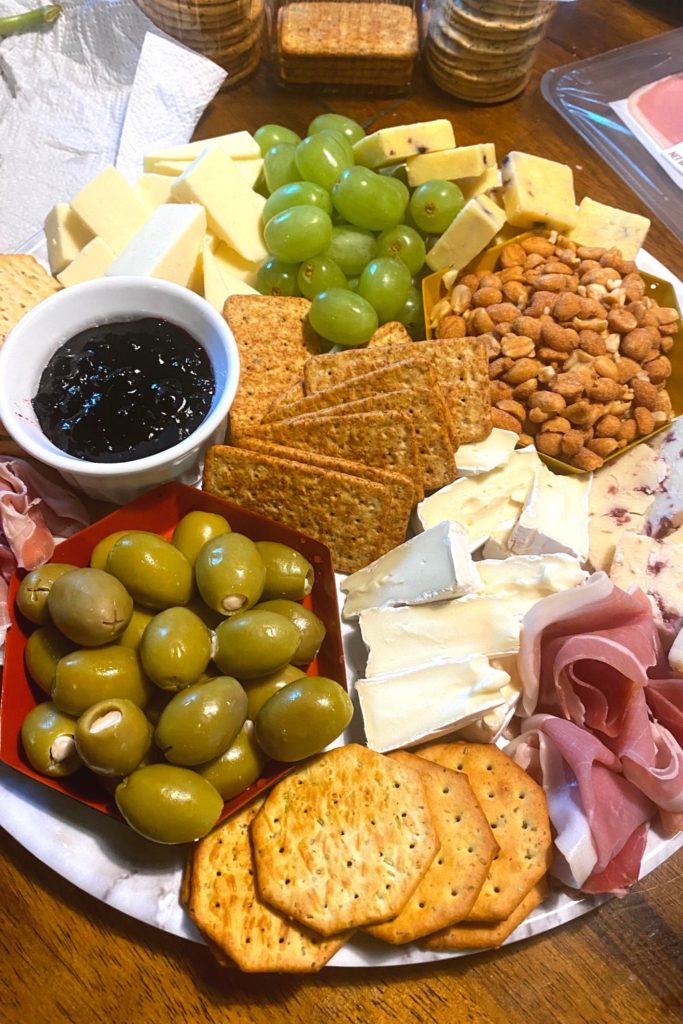 Classic Charcuterie Board Ingredients
Cheese
I generally go for 3 different types of cheeses when preparing a board:
1. Classic
This is your 'safe' cheese that even the pickiest eater at your event will enjoy (think mozzarella and mild cheddar).
2. Color
Color helps your charcuterie board pop. Ask yourself two questions:
What colors are already part of my board? Reddish-pink from the pre-cooked meats? Green from the grapes? Brown from the nuts? How can I add more color to my board or help existing colors pop?
What event am I hosting? If it's Christmas time, I'll try to incorporate red. If it's the Fourth of July, I'll try to incorporate red and blue.
3. Cheese-lover
This is where you either experiment with a new cheese that you and (most of) your guests (probably) haven't tried yet OR you go with an existing favorite like brie, gruyere, or Havarti.
Crackers
I buy this cracker assortment box from Aldi for a few reasons: the crackers are tasty, it's inexpensive, and includes a variety of flavors (I'm sure you can find similar products at all grocery stores). The best thing about this box, though, is the variety of shapes: circles, squares, rectangles, and octagons. This adds visual interest to your board.
Fruit
Fruit is totally optional, but berries and grapes are a great way to take your board to the next level. The best berry options are raspberries, blackberries, blueberries, and strawberries. For both strawberries and grapes, you can leave the stems on for visual interest, or remove them so your guests can easily pop them in their mouths.

Chocolate
Chocolate is my favorite way to sweeten my board (yes, fruit does this too, but who isn't looking for an excuse to eat chocolate?). Chocolate covered almonds or just a dark chocolate bar are both great options.
Nuts
Alright, you've just stocked up cheese, meat, fruit, and chocolate, so you're probably wondering "do I really need to add nuts to my charcuterie board?"  And the answer is, no. In fact, nuts are the first ingredient I'll skip when preparing a charcuterie board. With that said, nuts are a great option if you already happen to have them at home in the pantry.

Where To Buy Charcuterie Board Ingredients
Buying a variety of cheeses, cold meat products, nuts, and chocolates from most grocery stores can get expensive pretty quickly.
I always try to buy the majority of my ingredients from Aldi and Walmart.
Occasionally, I'll pick up ingredients from Trader Joe's, but that's generally only if I was there for something else.
Where To Buy Charcuterie Board Equipment
Charcuterie Boards
I used this 14″  plastic 'marble' platter that I just bought from Target for $10. Prior to using this platter, I've used wooden cutting boards and even baking trays covered in tin foil.
There are so many really nice charcuterie boards out there that can really take the presentation of the board to the next level, but if your only option right now is a baking tray covered in tin foil, you shouldn't let that stop you.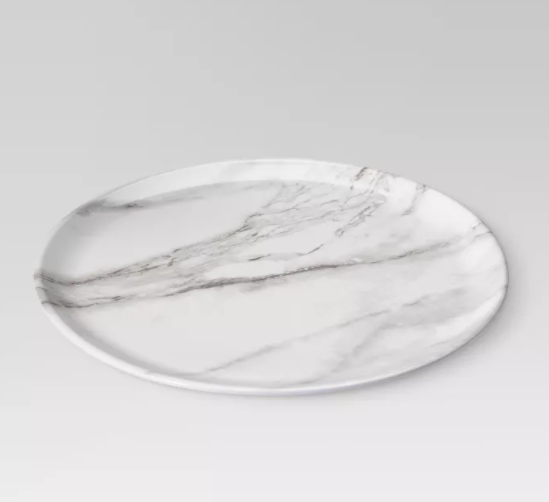 Cheese Knife Set
My Yiayia got me this knife set for Christmas one year and I use it with every charcuterie board I make. I know she didn't buy it on Amazon, but I was able to find it here: YXChome 4 Cheese Knives Set.
Sauce/Dipping Bowls
I used two different types of bowls on my charcuterie board: white ceramic and colorful hexagon bowls. I received the white ceramic bowls for Christmas. This Amazon set isn't an exact match to what I have, but it's close: Bellemain Porcelain Ramekins, set of 6. I couldn't find a similar match online for the colorful hexagon bowls I bought at Target, but maybe you'll get lucky at the store. 😉
How To Build And Arrange Your Classic Charcuterie Board
Arranging your charcuterie board may seem like the hardest and most intimidating part, but it should really be the most fun! As soon as you start adding a variety of shapes, textures, and colors, your board will look professional.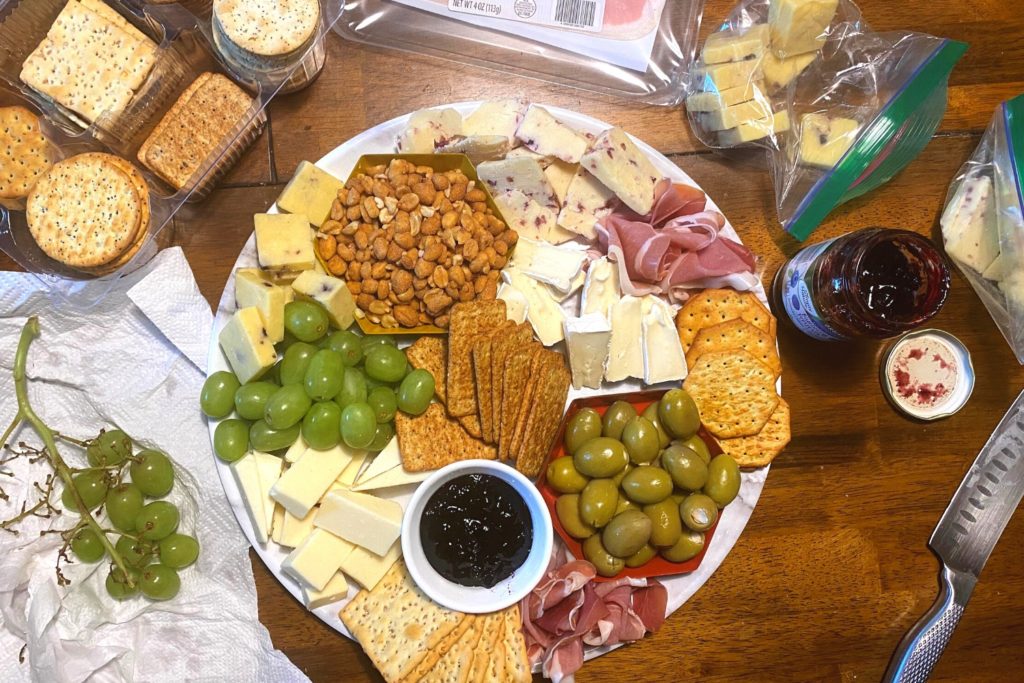 Step 1: Setup
Clear off a large section of your kitchen table or counter.
Place your equipment on the table (charcuterie board, cheese knives, dipping bowls).
Prepare all of your ingredients: slice your cheese, wash your fruits, remove crackers, olives, nuts, etc. from its packaging.
Place nuts, fruits, jams/preserves in dipping bowls.
Step 2: Arrangement
Arranging the dipping bowls on opposite ends/sides of your board.
Place a handful of cheeses and crackers around the edges of the dipping bowls.
Then add meats, fruits, chocolates, etc.
Repeat steps 1 and 2 until your board is completely covered.
Reminders
Make sure cheese and meat are reachable from all angles of your board, so it's easy for your guests to reach.
Add dimension to your tray by stacking ingredients and placing them on the board at different angles.
When To Serve A Charcuterie Board
My favorite events to serve a charcuterie board include:
Birthday parties
Watch parties (season premiers, election night, etc.)
Wineries (that allow bring-your-own-snacks)
Other Boards You May Like
I Want To Hear From You!
What ingredient is always on your classic charcuterie board? For me, it's brie cheese. Do you have more fun arranging your charcuterie board or eating it? Share your feedback in the comments section below!
Also, if you made this board, I'd love to see it! Tag me on Instagram at @lifestyledbysam_
Classic Charcuterie Board
Step-by-step instructions for the easiest classic charcuterie board that you can customize for your event and guests.
Equipment
Charcuterie board (1)

Cheese knives (2-3)

Dipping bowls (2-3)
Ingredients
8

oz

Asiago

8

oz

Cranberry white cheddar

8

oz

Brie

1

box

Crackers

assortment

1

cup

Nuts

assortment

1

jar

Olive

green

1

cup

Grapes

seedless

1/2

cup

Blueberry preserves

6

oz

Prosciutto
Instructions
Prep
Place nuts and blueberry preserves in dipping cups. Place grapes in a dipping cup or directly on the charcuterie board if you are limited to 2 dipping cups.
Arrangement
Start by placing 1 dipping cup in the upper right of your tray.

Place 2 types of cheese, a handful of crackers, and grapes around the dipping cup. Be sure to stack the cheese, crackers, and grapes to add dimension to your tray.

Then place the prosciutto in two separate spots on the tray, so guests can easily reach all snacks.

Place the second dipping cup towards the bottom left of your tray. Continue to arrange different crackers and cheese around the tray.

Continue these steps until the tray is completely covered.