The Bachelorette watch party ideas for your next viewing party! Here you will find 13 ideas perfect for the season premiere to the finale and final rose ceremony. You could also use these ideas at a watch party for The Bachelor, too! #bachelornation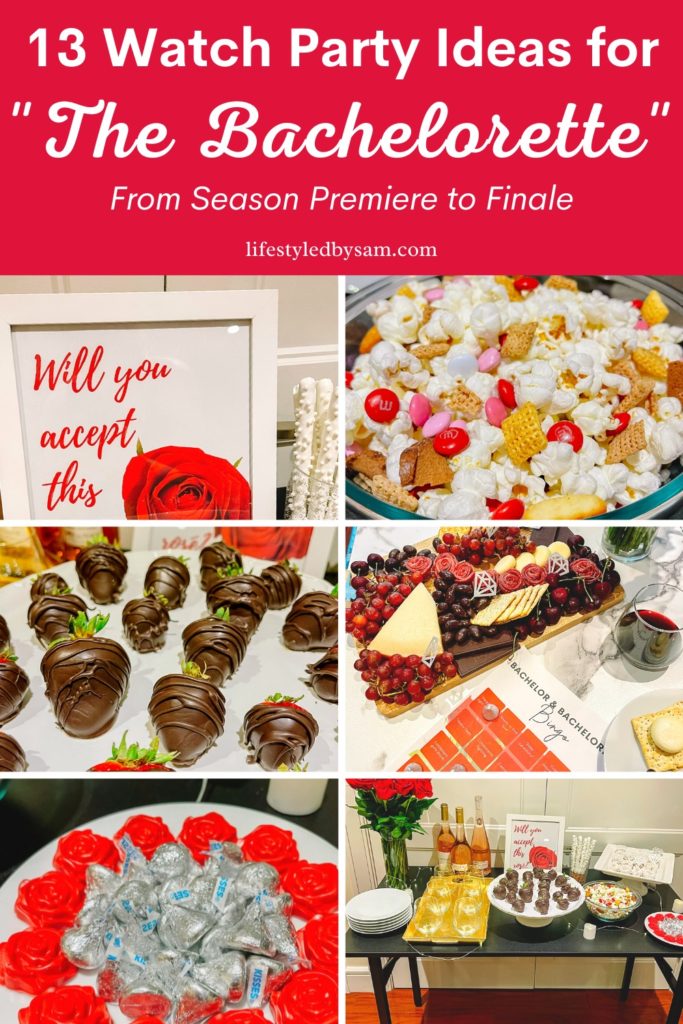 Bachelorette Watch Party Ideas: Overview
Hi, hi, Bachelor Nation! I'm really excited to share these 13 watch party ideas for The Bachelorette (and The Bachelor) with you!
The Bachelorette and Bachelor watch party ideas range from easy, themed snacks and desserts, to essential drinks, to affordable and reusable decor.
You will also find 10 free bingo cards and 8 free signs at the bottom of this post.
Quick Disclaimer! I didn't start watching The Bachelor or The Bachelorette until recently and honestly my favorite part of the show has always been the excuse to hang out, laugh, and drink wine with friends on a Monday night.
But you know, me I love any excuse for a themed party! So, in this post, we will cover: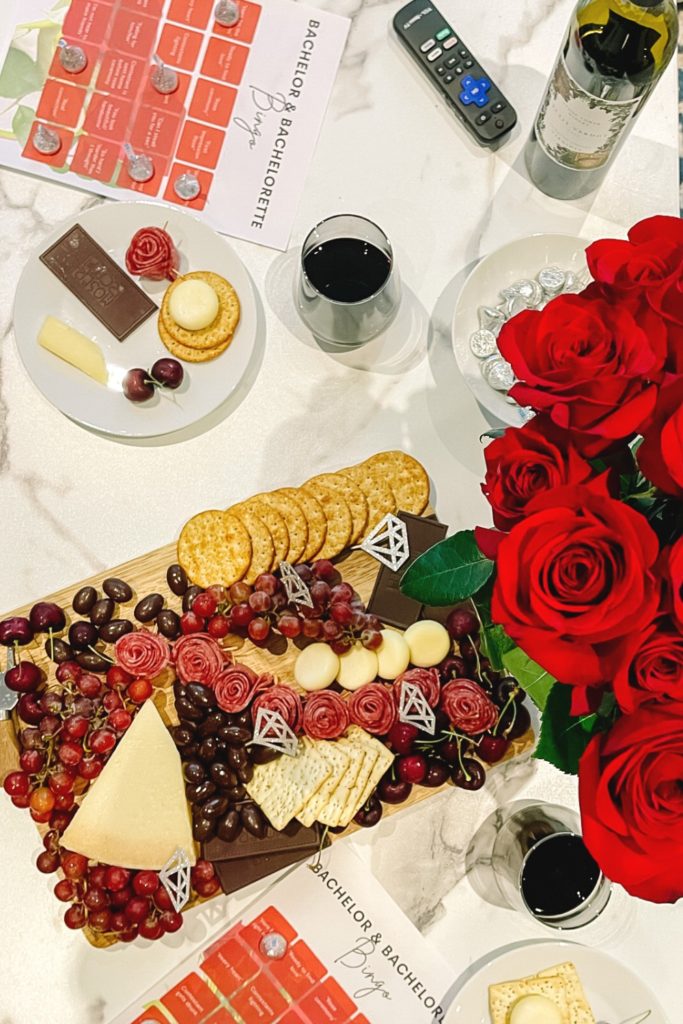 Bachelorette Watch Party Setup
Before we jump into the party ideas, let's talk about your setup for hosting a watch party.
Setup really depends on the size of your space and the number of guests.
I set up a spare black folding table in my kitchen for the rosé and desserts (below) and I used our coffee table for wine and the charcuterie board (above).
This made the food and drinks easily accessible for guests without overcrowding the living room.
Other setup ideas include the kitchen counter, dining room table, and bar cart!
Bachelorette Watch Party Ideas: Food
One of the many great things about hosting a Bachelorette watch party is that it doesn't require serving a large meal since the show starts at 8:00 pm (assuming you are on the east coast), which means you don't need to stress about the party while you're at work.
You can simply serve some of the easy, themed dessert ideas and drinks below.
1. Chocolate-Covered Strawberries
Nothing says "bachelorette watch party dessert" like chocolate-covered strawberries.
I recommend making these last/closest to show time since they don't stay fresh for very long.
But don't worry! They are very easy to make and will definitely be a hit for the show:
Dip whole strawberries in melted dark chocolate and place them on a baking tray lined with parchment paper. Optionally drizzle additional melted dark (or white) chocolate on top.
The chocolate will harden within 5 to 10 minutes and you can serve them at room temperature or chilled (just pop them in the fridge until guests arrive).
2. White Chocolate-Covered Pretzels
Inspiration for these pretzels came from my engagement party desserts board.
Unfortunately, they didn't photograph well for this post, but I highly recommend white chocolate-covered pretzels for an easy, sweet, and salty snack!
You could also stick to dark chocolate if you're already using it for the chocolate strawberries.
I recommend this Wilton Valentine Sprinkle pack, which is the perfect variety for this event (and Valentine's Day, of course).
3. Rose Chocolates
The rose chocolates are a cute way to add a pop of red to your dessert table!
Just like the chocolate pretzels, inspiration for these rose chocolates came from my engagement party dessert board (check out the post for detailed instructions!).
I arranged them on a small plate with the Hershey Kisses that we used for bingo!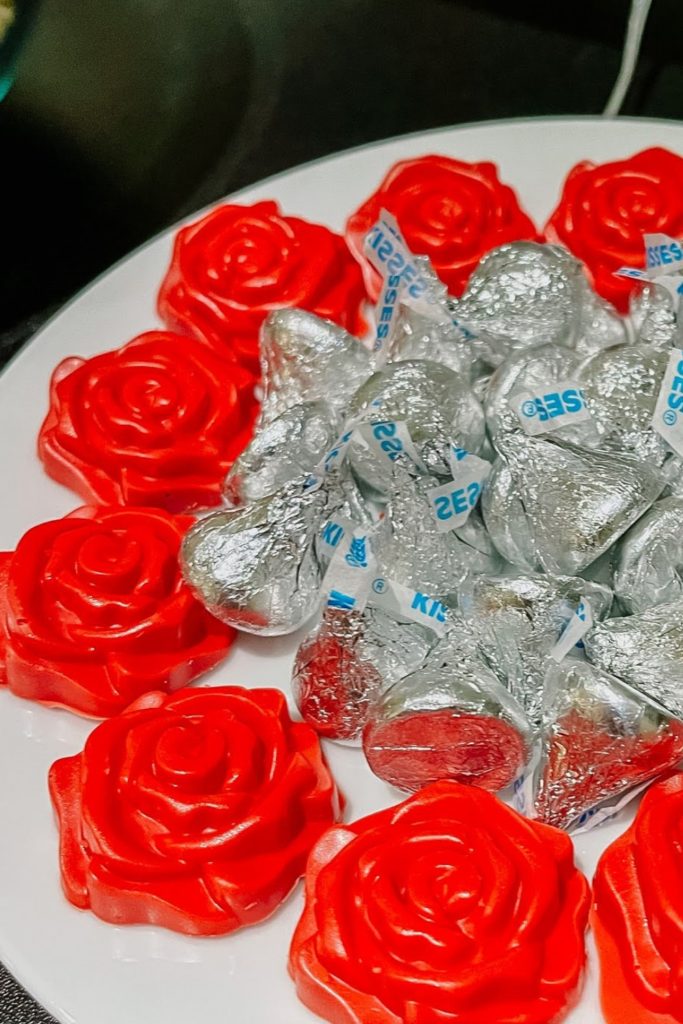 4. Charcuterie Board
How cute is this engagement charcuterie board?!
The diamond ring toppers, meat roses, red grapes, and chocolate almonds really make this tray perfect for a special event.
5. Engagement Ring Donuts
These engagement ring donuts are an especially perfect, easy, no-bake treat for the season finale!
All you need are mini powdered donuts and diamond ring toppers.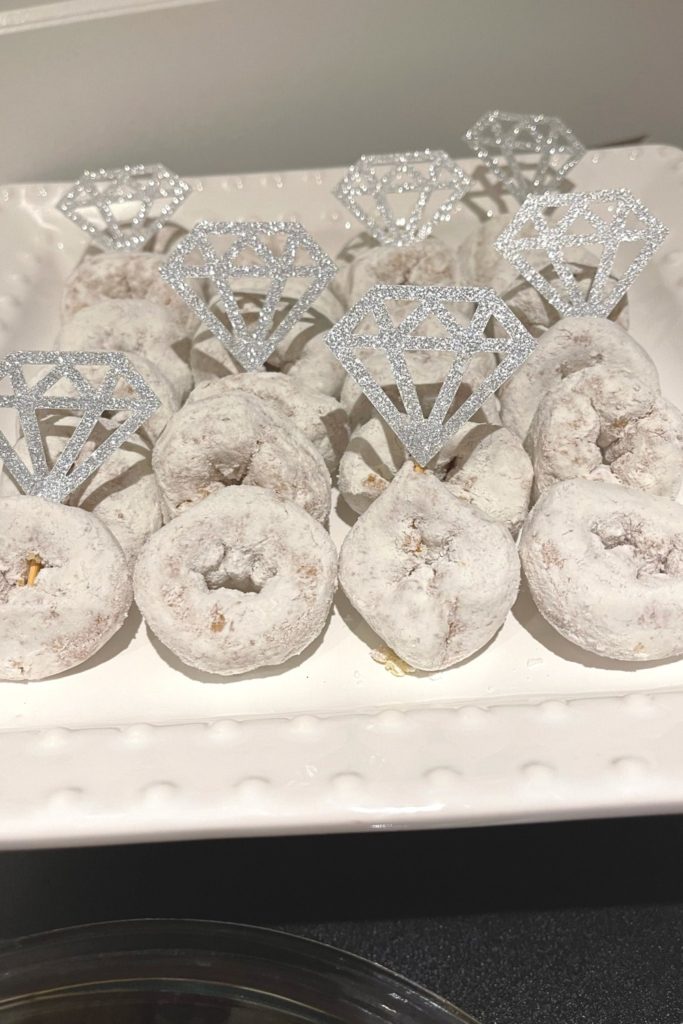 6. Popcorn Mix
Popcorn is essential for any watch party.
Simply mix popcorn, red, and pink M&Ms, and check mix, and voila; you have another bachelorette watch party snack.
Note, depending on the time of year, you may have a hard time finding red and pink M&Ms. Here's what I could find on Party City: pink M&Ms and red M&Ms.
Bachelorette Watch Party Ideas: Drinks
7. Red Wine
Red wine is another essential watch party item in my book, and especially for a bachelorette watch party.
8. Rosé
Let's not forget rosé, though!
Rosé bottle labels are generally super cute, so they also serve as a cute decor piece for your table.
9. Champagne
What better way to start the season premiere than with a champagne toast!?
You can also 'cheers' with champagne after any final rose ceremony for the night.
Bachelorette Watch Party Ideas: Decor
10. Red Roses
Roses are a must for a Bachelorette watch party.
Trader Joe's is a great place to get roses at an affordable price.
I grabbed two dozen from Costco for $15 before the show and then the winner of bingo got to take them home!
You could also decorate your table with the petals of one rose. I did this for my Valentine's Date Night At Home and it made the night extra special.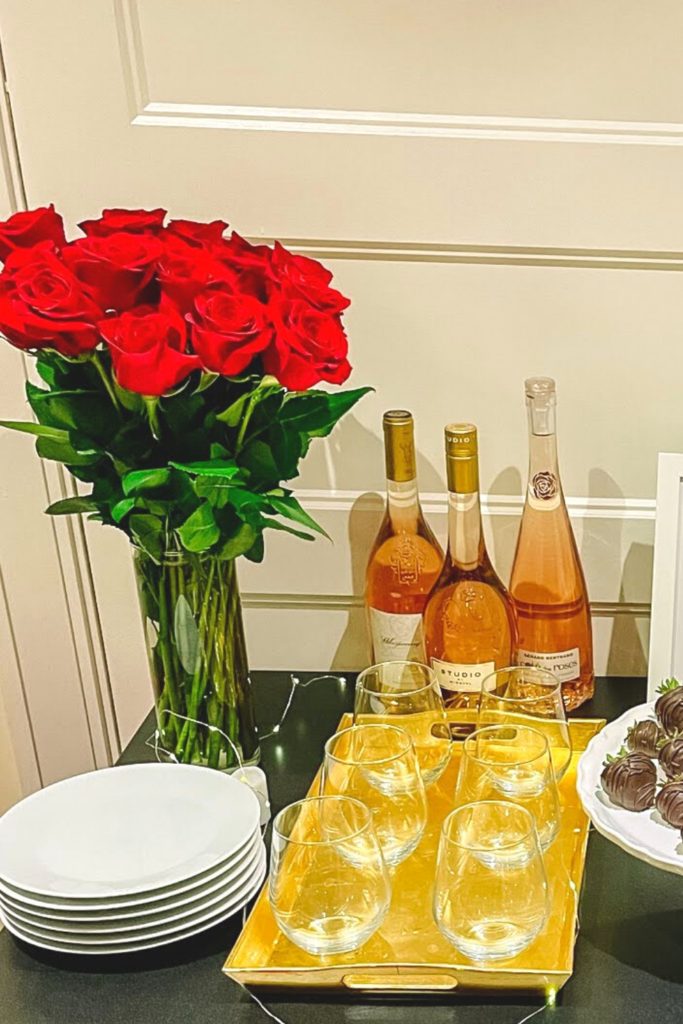 11. Candles And Lights
Fairy lights and mini electric candles are such versatile decore pieces. I decorated my desserts table with them and I also use them to decorate for the holidays.
It's difficult to see from the picture above, but they add a cute touch when the lights are low and you're watching the show!
Free Printables For A Bachelorette Watch Party
Take your Bachelorette watch party to the next level with 18 free printables!
Use the form below to have these printables sent straight to your inbox.
12. Bachelorette Bingo
There are 10 unique bingo cards included in this printable set!
You can either provide pens for your guests to mark their bingo spaces or use small wrapped candy, like Hershey Kisses!
To make bingo even more fun, have a prize for the winner! This could be the red roses that you used to decorate, an inexpensive bottle of wine, or the leftover chocolate-covered strawberries from your desserts table.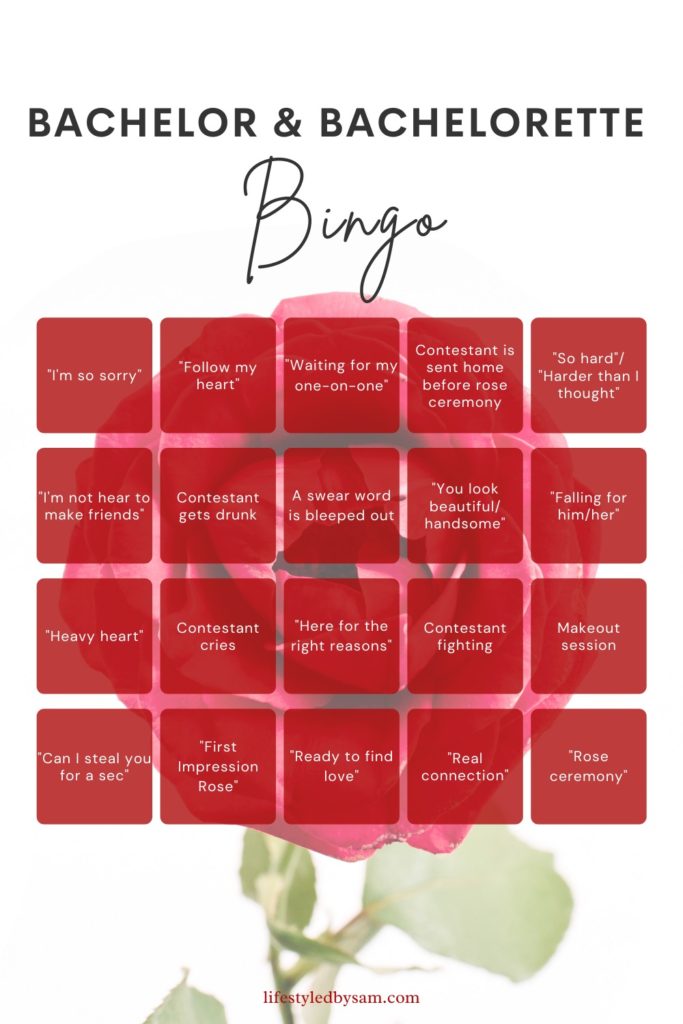 If case you are hesitant about printing colored and detailed bingo cards at home, I also included a black and white set of bingo cards without backgrounds or designs in the printable set!
13. Bachelorette Signs
There are 8 unique, free signs included in this printable set for your Batchelorette watch party! A sample is displayed in the image below.
Will you accept this rosé? (4 signs)
Here for the wine (2 signs)
Here for the right reasons (1 sign)
Fantasy Sweets (1 sign)
I Want To Hear From You!
Let me know if you have any questions or comments below.
Also, if you hosted your own Bachelorette (or Bachelor) watch party, I'd love to see it!
Tag me on Instagram at: @lifestyledbysam_
Other Recipes You May Like