Six Galentine's Brunch party essentials that are practical, affordable, and cute AF.
Related: Valentine's Day
This post may contain affiliate links, which means I'll receive a commission if you purchase through my links, at no extra cost to you. Please read the full disclosure for more information.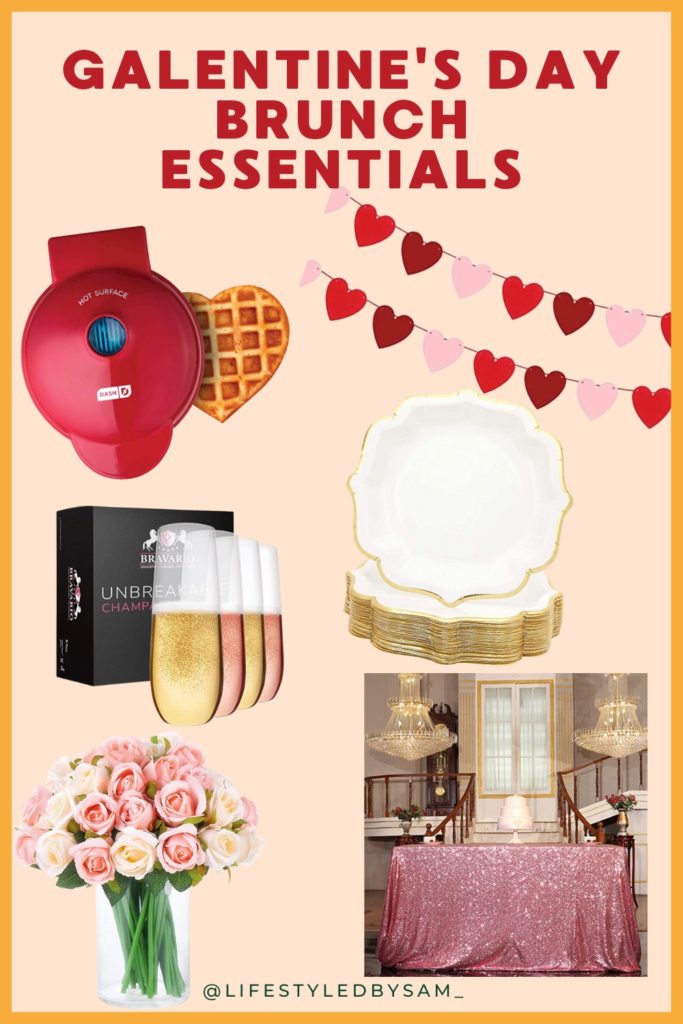 6 Galentine's Day Brunch Essentials
Mini heart waffle maker: heart-shaped waffles on a waffle board are a great way to turn a classic brunch dish into a Galentine's brunch dish. Tip: after you are done cooking each waffle, keep them warm by placing them on a tray in an oven heated to 200 degrees.
Heart garland: this garland really 'ties' everything together ?. I generally don't like to spend much on decor for a party, but nothing is worse than spending hours prepering the perfect meal for the pictures to make it look low-effort and underwhelming.
White and gold plates: honestly, I'm always torn between reusable plates and disposable plates when hosting parties. On one hand, I don't need paper plates and it's bad for the environment. On the other hand, standard dinner plates can really clash with the team if they aren't plain white dishes.
Sequin table overlay: okkk, this tablecloth is extra, but I LOVE it. It's probably one of those things that you either love or hate. I am definitely on team LOVE. Regardless of what you think about this tablecloth specifically, make sure you have one for your brunch party.
Valentine's & Galentine's Recipes You May Like
I Want To Hear From You!
Let me know if you have any questions or comments below.
Also, if hosted a Galentine's Day brunch, I'd love to see it!
Tag me on Instagram: @lifestyledbysam_