Exactly how to style a fall bar cart that is cute, affordable, and practical.
This fall-themed bar cart is perfect for autumn from September to November and will impress your guests this Thanksgiving.
Fall Bar Cart
Hosting season is right around the corner y'all!
And there is arguably no better way to get cozy and relax with friends than a fall bar cart.
What You Need To Style A Fall Bar Cart
#1: Bar Cart
In my other bar-cart-type posts (such as my Margarita Bar Cart and Mimosa Bar), I mention that you don't realllyyy need a bar cart and that you could get by with a kitchen table or counter space.
However, if you are setting up a fall bar cart for Thanksgiving or Friendsgiving, then I do recommend an actual bar cart because your kitchen and dining room are going to be packed with people and food.
You want to make sure that your guests have enough breathing room to comfortably poor a drink with enough space so they don't have to worry about knocking into something.
https://lifestyledbysam.com/wp-content/uploads/2021/11/video-output-18031F13-0ADB-4370-97C9-10E996D15228.mov
#2: Apple Cider Bourbon Cocktail
Is it just me or do apple cider and bourbon go together like peanut butter and jelly? ?
I served this Bourbon Apple Cider Sangria by Nellie Bellie with a cinnamon sugar rim and cinnamon stick garnish.
Pro tip: Regarding the cinnamon sugar rim, use a minimal amount of caramel sauce so that it doesn't drip. (I learned this the hard way, as you can see from the photo below).
For other cocktail ideas, check out 47 Fall Cocktails That Are Even Better Than A Pumpkin Spice Latte.
#3: Pumpkin Drink Dispenser With Stand
Let me start off by saying, I searched high and low for this pumpkin drink dispenser and finally found an affordable option at Michaels.
While you definitely don't need a pumpkin-shaped drink dispenser, it really helps the fall vibes.
#4: Pumpkin Candles
If you're reading this post, I'm going to guess you already have pumpkin candles at home, so why not add one to your fall bar cart for an extra spark?
Make sure it's positioned to the side and won't get in the way of guests as they pour their cocktail.
Also, I recommend a small candle over those large Yankee candles, so it doesn't take up too much room, and it just smells really, really good.
#5: Wine Glass Markers
My first experience with wine markers was when I created this Wine Gift Basket and it's a total game-changer when it comes to hosting.
Your guests can write their names on their glass with these erasable wine glass markers so they can keep track of their glass and don't need new glass for every drink.
#6: Fall Decor
I choose a set of three mini woven pumpkins, a real mini pumpkin, and pampas grass for fall decor.
#7: Ice Bucket
It took me longer than I'm willing to admit to purchase an ice bucket.
I always thought I could just 'get by without it.'
However, this is another product that truly elevates your hosting game because guests can prepare their cocktail completely at the bar instead of having to go into the freezer for ice.
#8: Printable Art
I'm going to save you from my speel about free printable art since I've discussed it multiple times before.
If you're interested in adding Thanksgiving wall art, you can download it here: Thanksgiving Wall Art & Printables.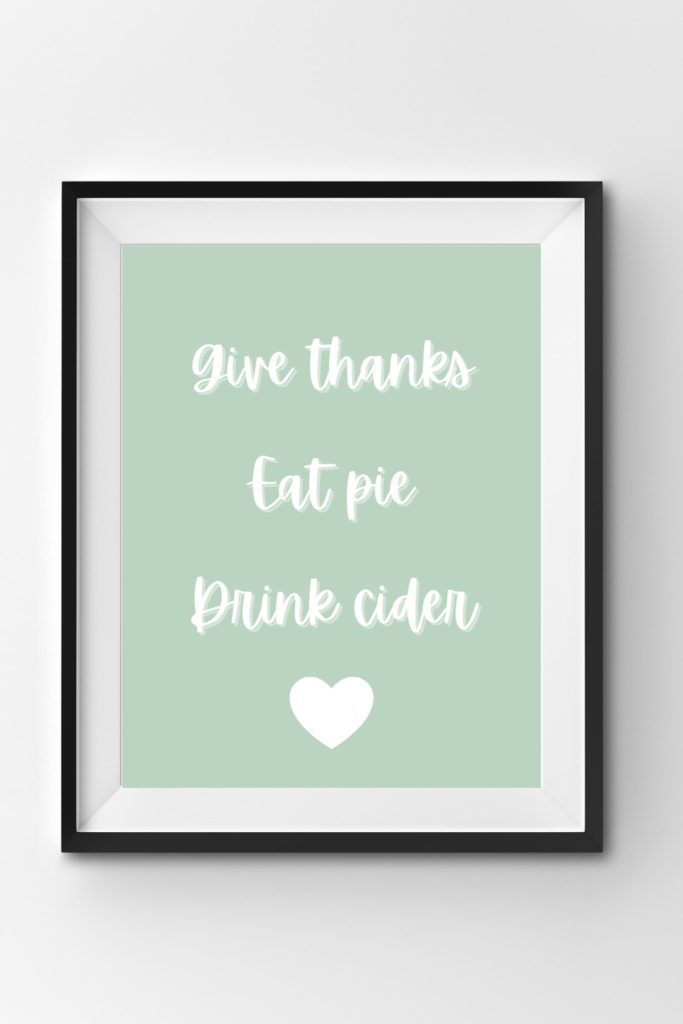 How To Style A Fall Bar Cart
These instructions work whether your bar cart is 2 tiers or 3 tiers.
If your bar cart is 3 tiers, I recommend leaving your liquor bottles and barware on the bottom shelf.
If your bar cart is 2 tiers, I recommend leaving a bottle or two of liquor and some barware on the bottom shelf and moving the rest to a separate space or cabinet.
Set Up The Top Shelf:
First, add the framed printable art in the back left corner.
Position the wine marker and small candle in front of the frame.
Add garnish to your glassware and place it in the center.
Place the drink dispenser to the right of the glassware.
Position the pampas grass in the back right corner.
Lastly, place the ice bucket in front of the pampas grass.
Set Up The Bottom (Or Middle) Shelf:
Position the three mini pumpkins on the left side.
Place the mini orange pumpkin on top of cocktail recipe books.
I Want To Hear From You!
Let me know if you have any questions or comments below.
Also, if you styled a fall bar cart this year, I'd love to see it!
Tag me on Instagram: @lifestyledbysam_
Fall Dessert Recipes You May Like