How To Host Your Own Cinco de Mayo Party! Including Cinco de Mayo Party Ideas for May 5th such as easy Mexican recipes, Cinco de Mayo desserts that'll impress, margaritas, and affordable Cinco de Mayo decorations.
Cinco de Mayo Party Ideas
The Cinco de Mayo party ideas we will cover in this post include:
Recipes For A Cinco de Mayo Party
Sheet-Pan Crunch Wrap Supreme
This sheet-pan crunch wrap recipe is easy to make and definitely a crowd favorite.
It is filled with ground beef, so much cheese, and sauteed peppers and onions.
I like to top my slice with salsa and sour cream. Guacamole would be another yummy option!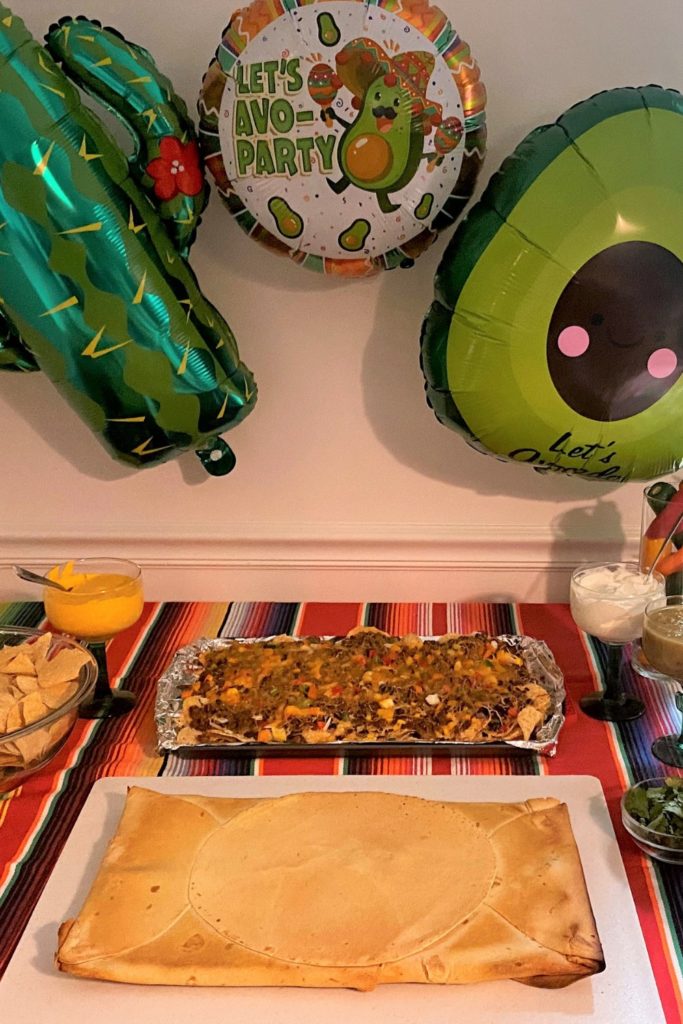 Sheet Pan Nachos
Nachos are so delicious and perfect for a party because they only take 5 minutes to prepare:
1. Add tortilla chips to a baking tray lined with tin foil.
2. Next, add your favorite nacho toppings. I chose cheese, ground beef, peppers, and onions.
3. Lastly, heat in a 350-degree oven for about 5-7 minutes, or until the cheese has melted.
Other recipe ideas for Cinco de Mayo include taco board with steak and shrimp and the easiest fish tacos.
Desserts For A Cinco de Mayo Party
Cinco de Mayo Desserts Board
My favorite Cinco de Mayo dessert is this Cinco de Mayo desserts board.
It includes cactus chocolate-covered pretzels, mini churros, festive cupcakes, sugar cookies, and more.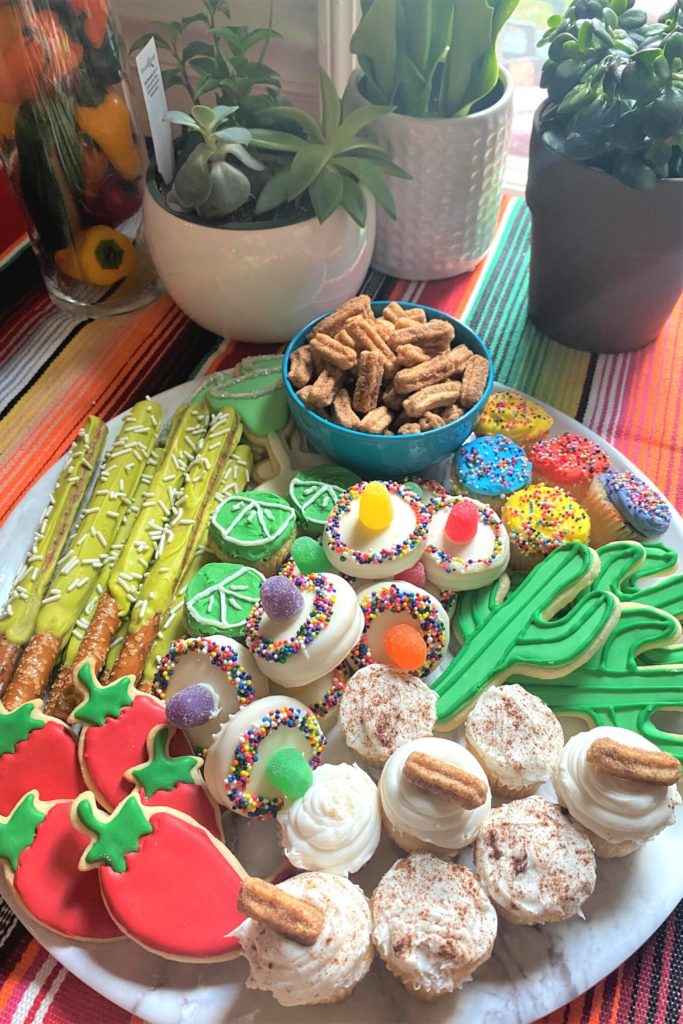 Fiesta Sugar Cookies With Royal Icing
If you decide to go with just one dessert for your party, I highly recommend these fiesta sugar cookies!
They are festive and really contribute to the theme of the party.
Check out my post for everything you need to know: Fiesta Sugar Cookies.
PS: if you are new to working with royal icing, I promise you will be much more confident after decorating your first batch.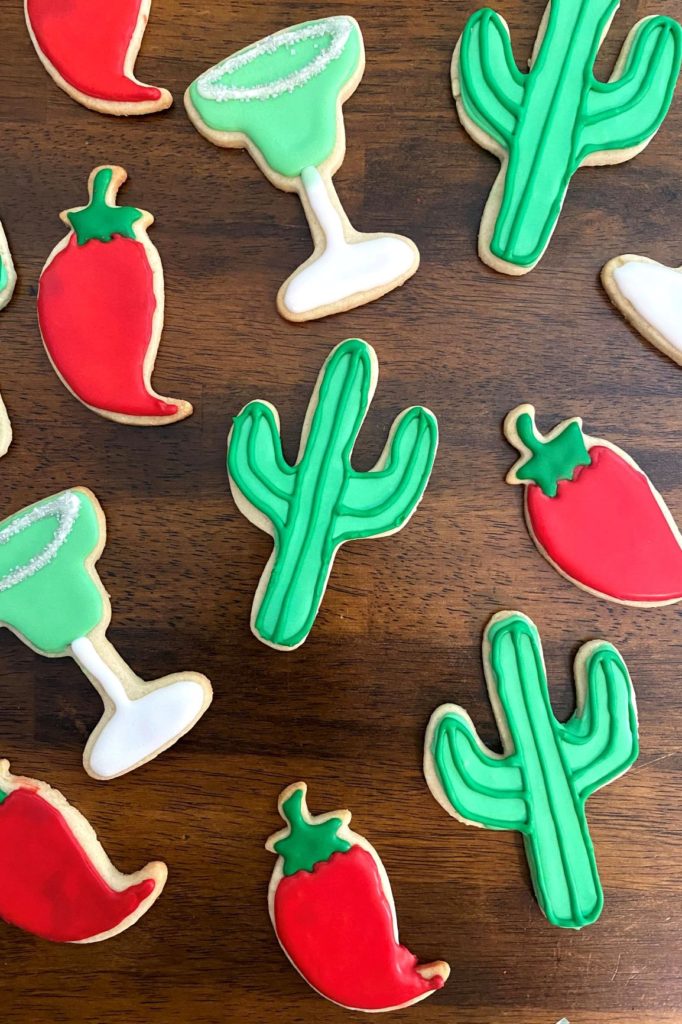 Fresh Fruit
I added a bowl of fresh strawberries, blackberries, and pineapple because it is colorful and healthy.
You could also add (or substitute) orange slices and grapes.
Other authentic Mexican dessert ideas for your Cinco de Mayo desserts table include tres leches cake, Mexican wedding cakes (aka Russian tea cakes), buñuelo, Mexican brownies, and sopapilla.
Decorations For A Cinco de Mayo Party
Tablecloth: I used this colorful Mexican tablecloth for my Cinco de Mayo table. I love the stripes and vibrant colors. It is so soft and can also be used for a picnic or as a light blanket in the summer.
Balloons: These fiesta balloons are so festive! There are 27 pieces in a package and many of the pieces are reusable. The air pump makes blowing up the balloons a breeze. Just make sure you don't overfill the balloons with air or they will pop. I accidentally did this. 🙂
Plants and Flowers: I added mini cactus (not pictured), succulents, and yellow tulips to the back of the table to fill up some empty space.
Artificial plants are a great way to decorate for parties on a budget.
Margarita Glasses: I filled these cactus margarita glasses with queso, salsa, and sour cream. This is a fun way to elevate your sauces!
Drinks For A Cinco de Mayo Party
Did you really celebrate Cinco de Mayo if you didn't have margaritas?
Check out my Margarita Bar Cart guide.
https://lifestyledbysam.com/wp-content/uploads/2021/03/IMG_7210.mov
How To Host Your Own Cinco de Mayo Party
Invite your guests
Pick your menu (food and drink)
Go grocery shopping
Pick your decorations
Order your decorations
Prep what you can a couple of days in advance
Prep what you can the night before

Prepare the meats (if serving a crunch wrap and nachos)
Slice the fruit and store in separate containers (if serving a fruit bowl)
Set up your margarita bar cart.

Finish cooking, baking, and add final touches to the decorations before your guests arrive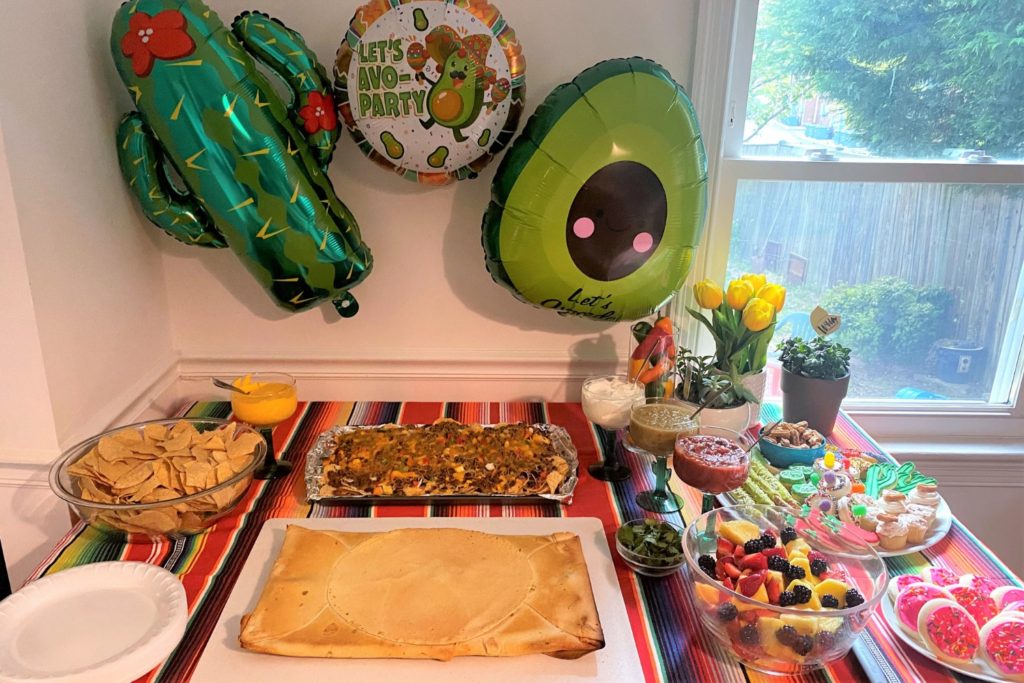 I Want To Hear From You!
Do you usually celebrate Cinco de Mayo? Did this post give you inspiration for your fiesta? Share your feedback in the comments section below!