10 football brunch party ideas for a winning game day! Ideas range from easy recipes to inexpensive decorations to fun games. Enjoy these ideas for any football Sunday or the Super Bowl!
Related: Super Bowl, Super Bowl Party Essentials
This post may contain affiliate links, which means I'll receive a commission if you purchase through my links, at no extra cost to you. Please read the full disclosure for more information.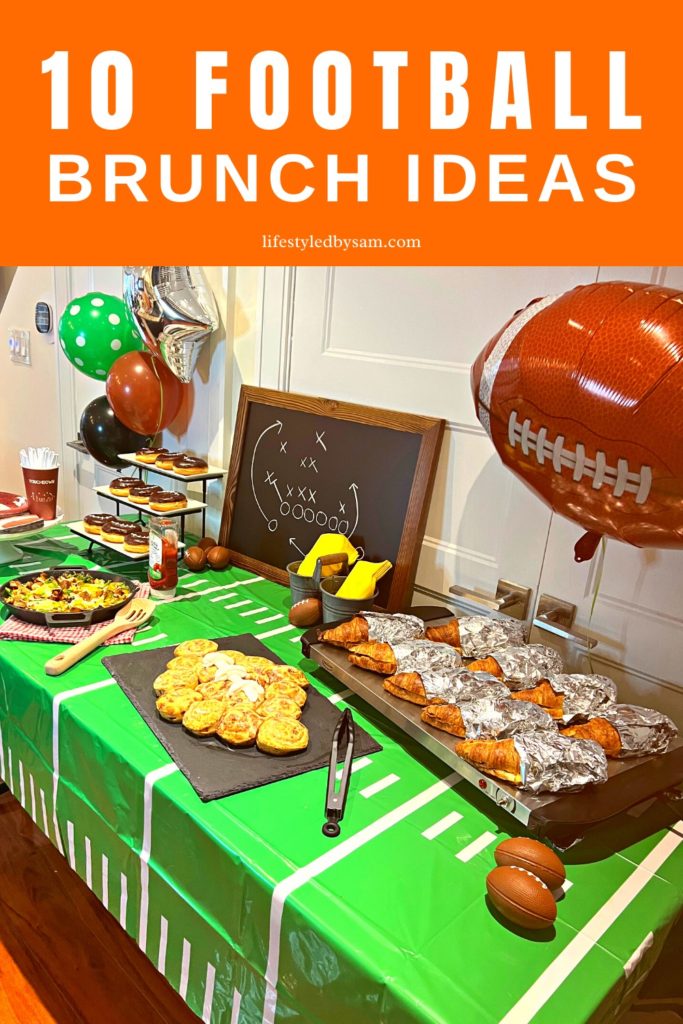 Football Brunch Party Ideas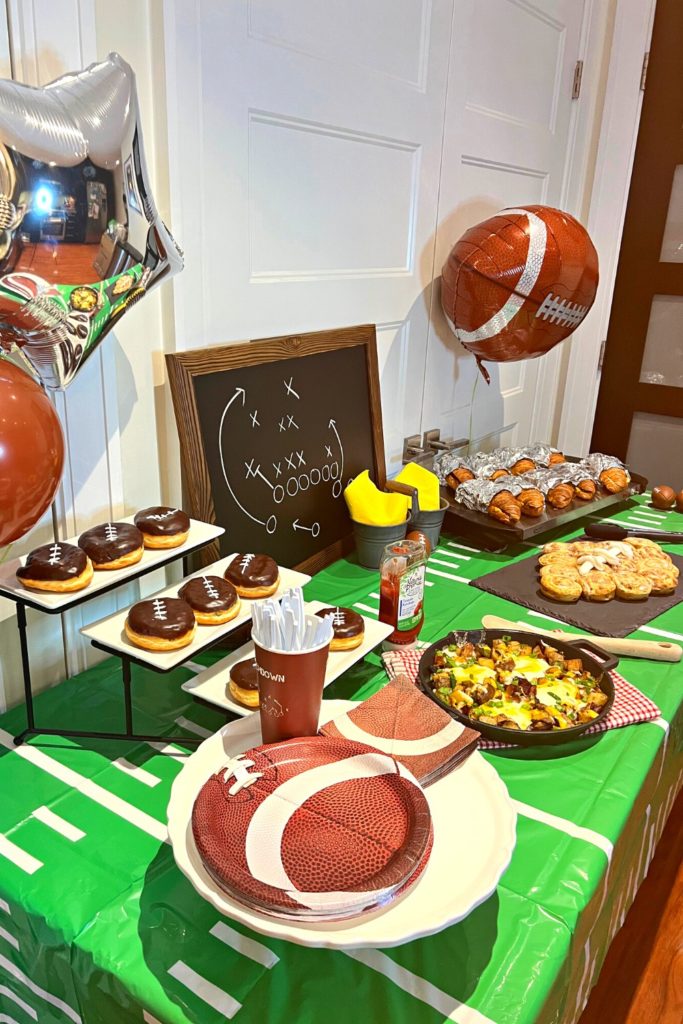 Football Brunch Party Ideas #1:
Football Donuts
Kicking things off with these easy football donuts!
Use white cookie icing to make the laces on your favorite Boston cream donuts.
Tip: depending on how many donuts you plan to buy, you may want to call your donut shop in advance to make sure enough donuts are ready for pickup.
I served the donuts on this tiered tray.
Football Brunch Party Ideas #2:
Breakfast Skillet
This hearty, savory breakfast skillet is sure to satisfy hungry football players (and friends that don't like sweets for brunch).
Football Brunch Party Ideas #3:
Football Cinnamon Rolls
These football cinnamon rolls are made with 2 cans of pillsbury cinnamon rolls and 1 container of vanilla frosting.
Instructions:
First, lightly grease a lined baking tray with spray butter.
Next, arrange the uncooked cinnamon rolls in a football shape.
Then, bake according to the package instructions.
Next, add the glaze that comes in the cinnamon rolls container.
Then, transfer the frosting from its container to a zip lock bag and cut a corner off the pouch.
Lastly, create the laces shape with one horizontal line and 3 intersecting lines.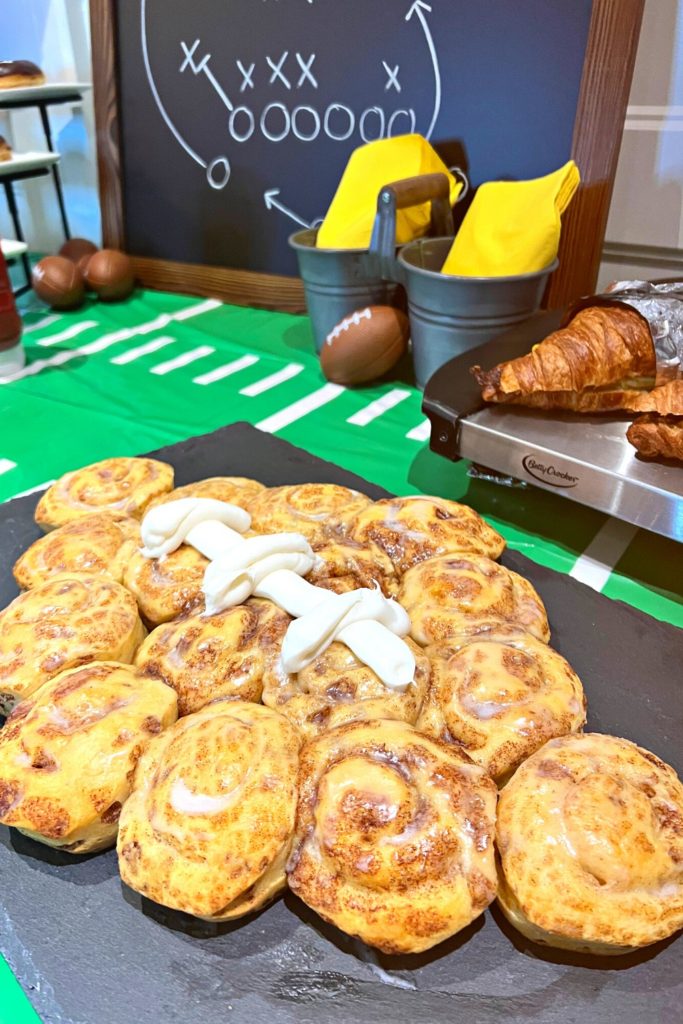 Football Brunch Party Ideas #4:
Breakfast Sandwiches
I made the Kitchn's croissant breakfast sandwiches, wrapped them in aluminum foil, and served them warm on this buffet warming tray.
Football Brunch Party Ideas #5:
Football Bingo
Make brunch even more fun with football bingo!
Use the form below this image to receive your free 10 bingo cards to print at home on 8.5 x 11 paper.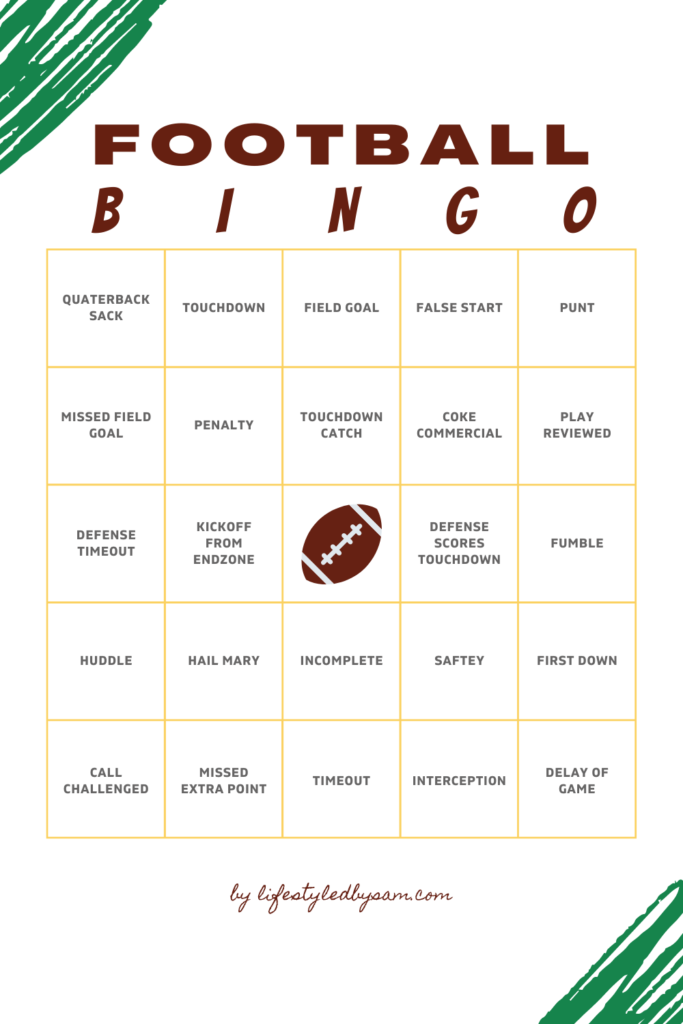 Football Brunch Party Ideas #6:
Football Plates & Napkins
These football plates and napkins are probably the most practical yet festive option for your football brunch table.
Plus, they make clean up a breeze!
Football Brunch Party Ideas #7:
Chalk Board
This chalk board might just be my favorite part of this whole table!
You can copy the football play I used, or check out other football plays here.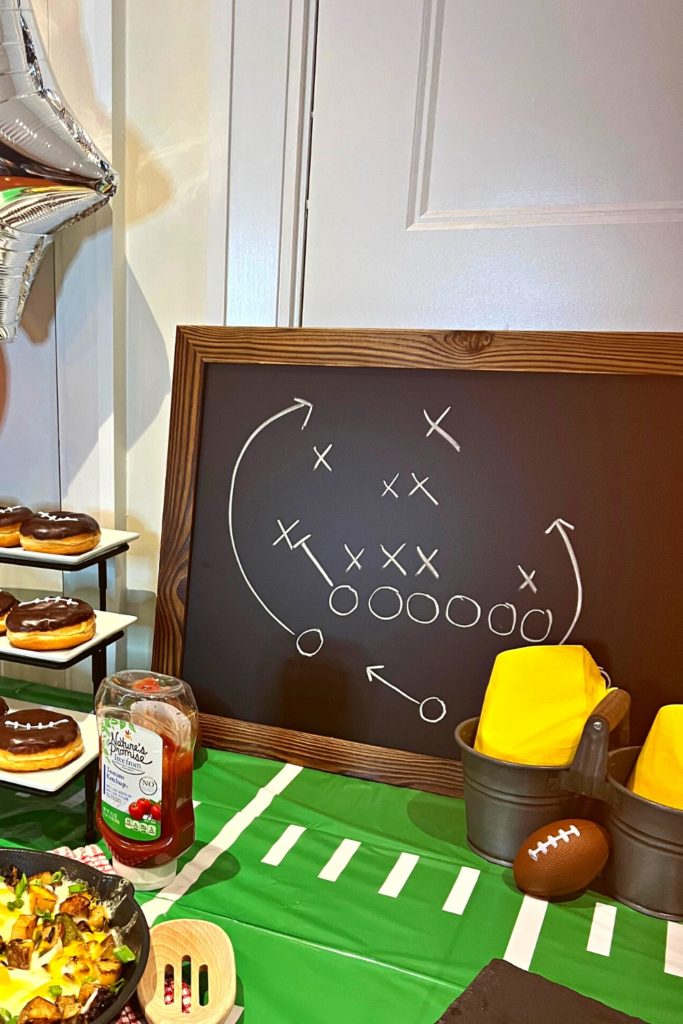 Football Brunch Party Ideas #8:
Balloons
Don't underestimate the power of balloons!
They are an inexpensive way to elevate (get it? ☺️) your buffet table.
I used this football balloon set from Amazon.
Football Brunch Party Ideas #9:
Football Party Pack
If you're looking for JUST ONE thing to make your football brunch stand out, then choose this football themed party pack.
It includes a game day table cloth, penalty flags, and paper products.
Football Brunch Party Ideas #10:
Mini Footballs
These mini footballs are a great way to fill up empty space on your table in a festive way.
(They also make a great party favor for kids!)
I Want To Hear From You!
What's your favorite football brunch idea?
Let me know in the comments below!
Also, if you hosted a football brunch party, I'd love to see it!
Tag me on Instagram: @lifestyledbysam_
Other Game Day Recipes You May Like