This Super Bowl Party Desserts Board is filled with easy, delicious, football-themed, and football-shaped party snacks that your guests will love on game day.
Related: Super Bowl
This post may contain affiliate links, which means I'll receive a commission if you purchase through my links, at no extra cost to you. Please read the full disclosure for more information.
Who else look forward to Super Bowl food more than the game itself?
After a long, cold, and dark January, I always get so excited to host an all day Super Bowl event for friends to get together and share food, drinks, and desserts while 'watching' the game.
If you've seen any of my other themed dessert boards, you know I'm a sucker for any food or dessert that fits the theme of the event.
This Super Bowl Party Desserts Board is no exception.
How to Make a Super Bowl Party Desserts Board
This Super Bowl Party Desserts Board is packed with the following five desserts:
Cake Pops
Chocolate Covered Pretzels
Sugar Cookies
Cupcakes
Brownies
1. Football Cake Pops
I promise my Football Cake Pops will be the first dessert to go.
If you'd rather use a no-bake Oreo filling instead of cake, check out my No-Bake Cake Ball recipe.
2. Football Chocolate Covered Pretzels
Chocolate pretzels are the perfecttt combination of sweet and salty. Check out my football chocolate pretzels recipe for more details.
Tip: It is easiest to add a vertical line to each pretzel and go back to add the three vertical lines than it is to add all four lines to one pretzel before moving on to the next.
3. Super Bowl Sugar Cookies
These Super Bowl sugar cookies are perfect because they do not require you to be an expert in cookie decorating.
Check out my post for details on how to easily create them yourself for game day.
4. Stadium Cupcakes
Stadium cupcakes are a great way to add color and filler to your desserts board.
Bake mini cupcakes, frost green, and top with rainbow nonpareils.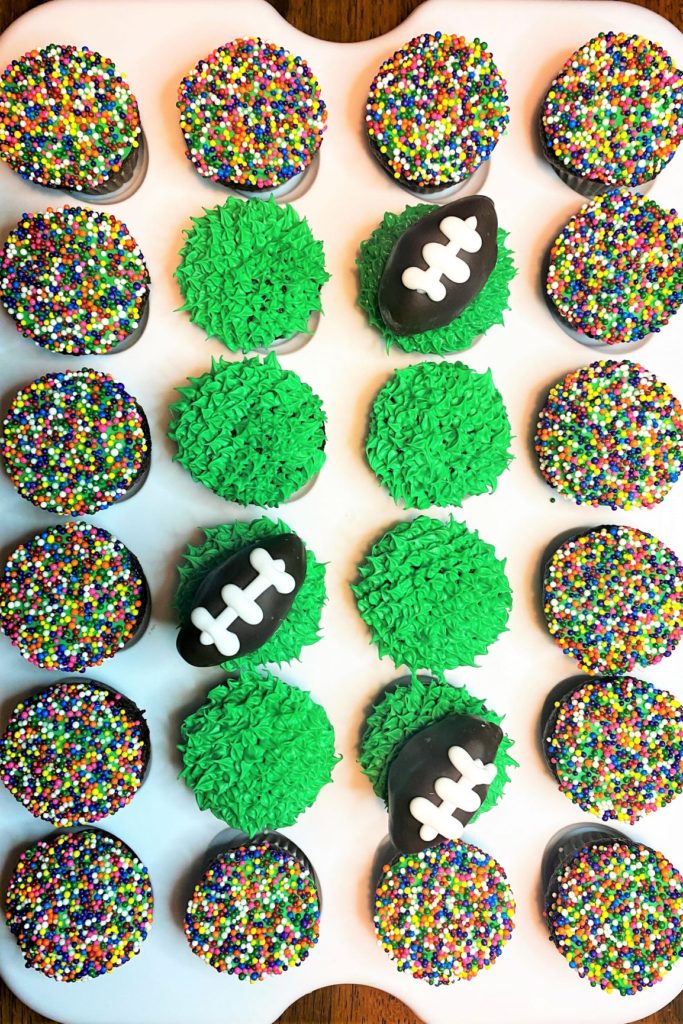 5. Football Brownies
Bake your favorite brownie mix according to the package instructions.
Next, once the brownies have cooled completely, then create footballs using a football cookie cutter.
Finally, add chocolate or peanut butter frosting and top them off white laces.
How To Arrange A Super Bowl Party Desserts Board
You May Also Like
I Want To Hear From You!
What is your favorite dessert in this Super Bowl Party Desserts Board?
Share your feedback in the comments below!
Also, if you made this super bowl desserts board, I'd love to see it!
Tag me on Instagram at: @lifestyledbysam_