Make your Yiayia proud with this easy Greek gyro recipe! Using beef, chicken, or lamb, you can quickly whip up this gyro recipe at home with just a few ingredients.
Whether you're trying to make your 'Yiayia' (Greek for grandmother) proud, or just need a break from having chicken for dinner, this Greek gyro recipe is for you. You can easily double or triple the ingredients for this recipe to serve a crowd without doubling or tripling your time and effort.
Easy Greek Gyro Recipe Ingredients
Pitas, tzatziki sauce, meat, and veggies are essential to any Greek gyro recipe.
Pitas
White or whole wheat pitas work great for this recipe. Warm them in the microwave for about 15 seconds each before assembling your gyro.
Tzatziki Sauce
The tzatziki sauce is a yogurt-based cucumber and dill sauce that can be purchased at most large grocery stores (I typically find it near the hummus). You can also make it yourself (check out this recipe here).
Beef
For this recipe, I'm using Trader Joe's pre-cooked beef slices. Check out the substitutions section below for beef substitutes.
Veggies
My go-to veggies for gyros are lettuce, tomato, cucumber and onion. You can also garnish with feta cheese and dried dill.

How to Make An Easy Greek Gyro Recipe
This recipe is truly three simple steps:
Cook the beef
Prepare the toppings
Assemble and enjoy!
Step 1: Cook the beef
Cook the meat on a non-stick skillet (such as this one).
If you use the Trader Joe's pre-cooked beef slices, just warm and brown the beef on each side.
Step 2: Prepare the toppings
Wash and slice your veggies.
Transfer the tzatziki sauce from its package to a bowl, or make your own tzatziki.
I like to arrange all of the gyro ingredients on a large board, so everyone can build their own.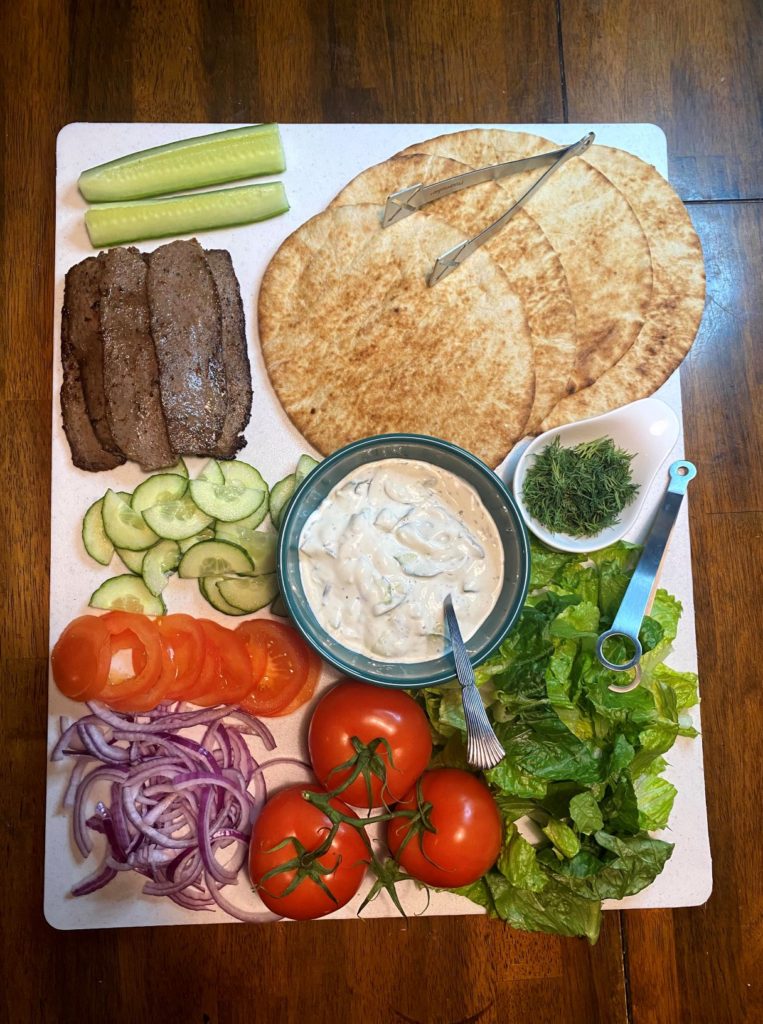 Step 3: Assemble and enjoy
Top your pita with lettuce, beef, veggies then Tzatziki sauce. Finally, enjoy!
Easy Greek Gyro Recipe Substitutions
You definitely don't need to cook this gyro with beef. Chicken, veggies, and lamb are all great options.
Chicken
I typically make gyros with chicken because I always have it at home. How to swap:
Cut the chicken breasts into 1-inch cubes.
Place the cubed chicken in a large zip-top bag and add olive oil, salt, pepper, and Italian seasoning.
Marinate the seasoned chicken in the refrigerator for one hour to overnight.
Remove the chicken from the refrigerator and let it come to room temperature (about 20 minutes).
Heat a large nonstick skillet over medium heat.

Note: You don't need to add olive oil because the chicken is already covered with it.

Add the chicken to the hot skillet.

Note: Be careful not to overload the pan. Each cube should have 'breathing room'.

Cook the chicken for 5 – 7 minutes and flip the chicken using tongs a spatula and cook for 5 – 7 more minutes.
Note: you can also cook the chicken on a skewer on the grill (this is my favorite for summertime!).
Veggie
Sauteed peppers and onions are a great vegetarian substitution. How to swap:
Slice 2-3 green peppers and 2-3 yellow onions into long thin strips.
Heat 2 tbsp of olive oil on a large nonstick skillet over medium heat.
Add the sliced peppers and onions to the skillet and season with salt and pepper.
Cook for about 15-20 minutes.
Lamb
I use lamb the least, but it's definitely Yiayia's favorite. A separate lamb gyro recipe is coming soon.
What To Serve With This Easy Greek Gyro Recipe
Gyros are pretty filling all by themselves, but when I do serve a side with gyros, it's either a Greek side salad, Caesar salad kit, or sweet potato fries.
Easy Greek Gyro Recipe Equipment
You'll need the following kitchen equipment to make this recipe (note this may change slightly if you make any of the substitutions above):
Greek Gyro Recipe With Beef And Tzatziki Sauce
Make your Yiayia proud with this Greek gyro recipe with beef strips and tzatziki sauce. This gyro recipe can quickly and easily be made at home with just a few ingredients.
Equipment
Nonstick skillet

Spatula

Cutting board

Chefs knife
Ingredients
4

Pitas

8

Beef slices

Iceberg lettuce

1

large

Red onion

1

large

Cucumber

2

large

Tomatoes

8 oz

Tzatziki Sauce

Dill

fresh, for garnish
Instructions
Cook the beef on a large non-stick skillet over medium heat for about 5 minutes on each side. Remove from heat.

Slice the lettuce, onion, cucumbers, tomatoes, and dill.

Assemble the gyro in the following order: pita, lettuce, two beef slices, cucumber, onion, tomato, tzatziki sauce, and dill.
I Want To Hear From You!
Have you ever made gyros before? Would you make this one again? What is your favorite Greek dish? Share your feedback in the comments section below!