This healthy-ish ice cream sundae charcuterie board for two is a great way to cool off after a hot day with your SO without totally overindulging.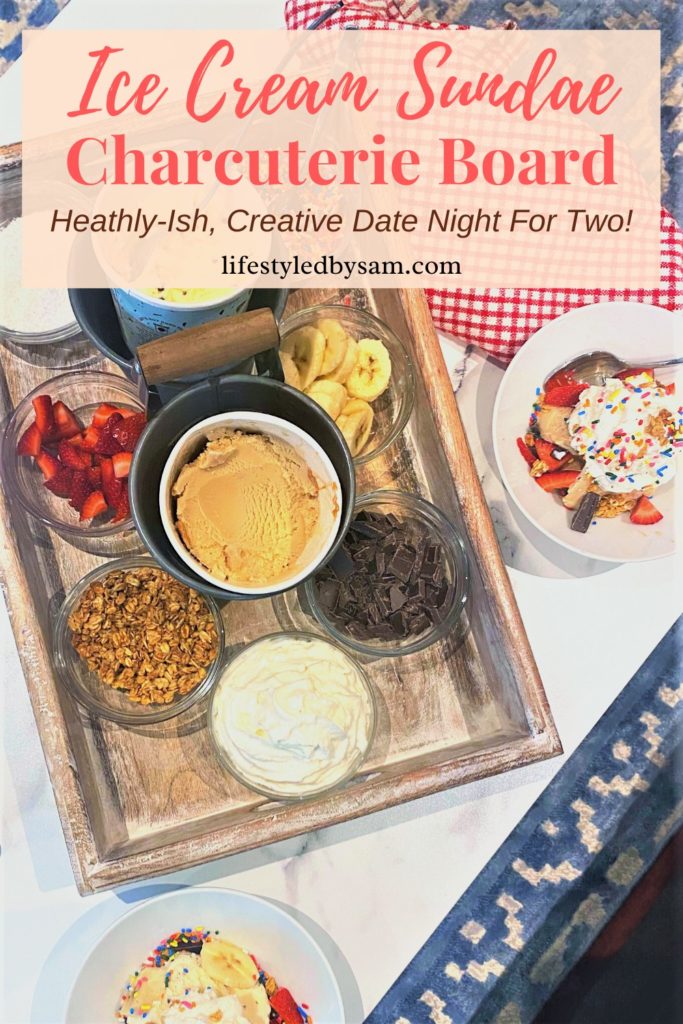 Life after COVID is already in full swing and I've been looking for an excuse to have a Netflix night with Nick (if you are interested in other date night ideas, check out my page for Date Night Ideas At Home).
An ice cream sundae charcuterie board seemed like the perfect way to 'sprinkle in' some extra fun.
Instead of loading up on all of the classic ice cream sundae toppings that you would find at Coldstone, I decided to stick with healthy-ish toppings since we are still are still trying to undo the 'COVID-19'.
Table of Contents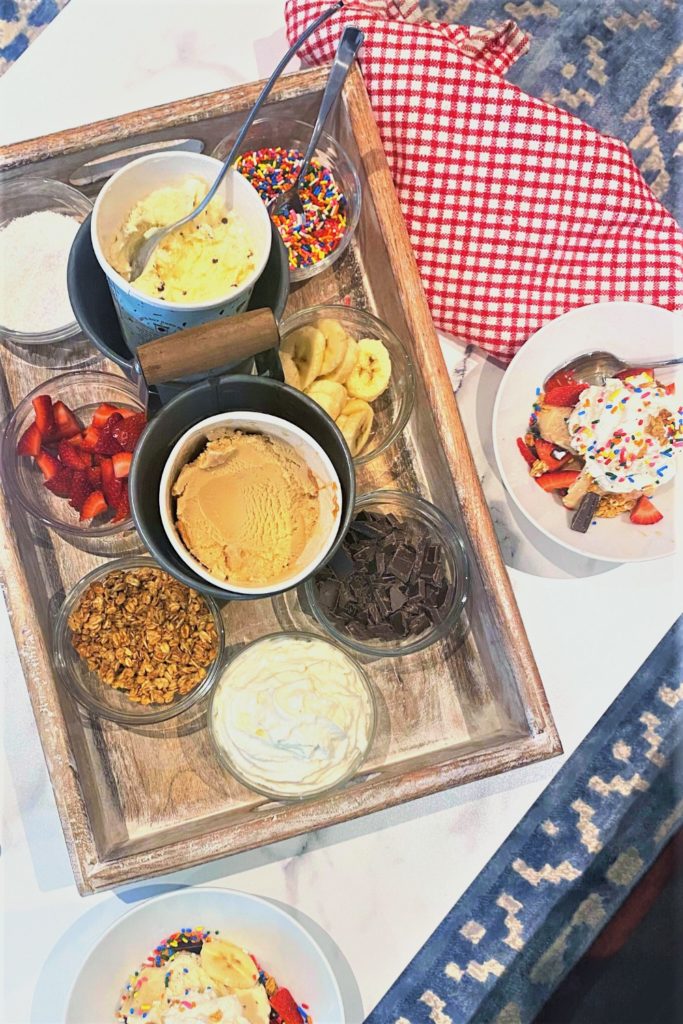 Ice Cream Sundae Charcuterie Board Ingredients
Ice Cream
We choose pints of Halo Top for our ice cream, which is lower in sugar, fat, and calories than traditional ice cream.
However, there are many different low-calorie ice creams on the market to choose from. Check out some other low-cal ice creams here.
Ice Cream Toppings List
Healthy-Ish (what we used):
Strawberries
Bananas
Dark Chocolate
Granola
Sprinkles
Chocolate Syrup
Whipped Cream
Less Healthy-Ish (other delicious toppings):
Nuts
Marshmallows
Maraschino Cherries
Hot Fudge
Gummy Worms
M&Ms
Sour Patch Kids
Peanut Butter Toppings
Ice Cream Sundae Charcuterie Board Equipment
Serving tray: I got mine from Home Goods. I found a similar Wood Serving Tray on Amazon.
Ice cream pint holder: Also a Home Goods find. This double bucket with wood handle was the closest thing I could find on Amazon.
Sauce dishes: These mini bowls from Amazon fit on the tray perfectly and I use them all the time in the kitchen.
How To Make An Ice Cream Sundae Charcuterie Board
Round up your ingredients and equipment.
Fill the sauce dishes with ice cream toppings.
Position the small bowls on the serving tray.
Add ice cubes to the bottom of the metal holder.
Position the metal holder on the serving tray.
Remove the ice cream from the freezer and place it in the metal holder, on the tray.
Enjoy!
PS: if you are trying to pick a drink that pairs best with ice cream, check out this Ben and Jerry's post on 9 Ice Cream and Drink Pairings That Will Make Your Evening.
I Want To Hear From You!
Let me know if you have any questions or comments below.
Also, if you made this ice cream charcuterie board, I'd love to see it! Just tag me on Instagram: @lifestyledbysam_
Other Recipes & Ideas You May Like